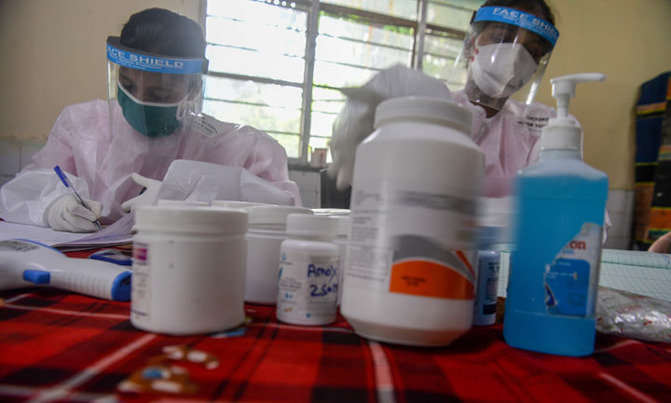 Though the main side effects of the drug are heart complications and blindness, there are other several severe effects it can cause to the human body if used for a long period of time. 
In the earlier months of the COVID-19 pandemic, many countries including Uganda were using hydroxychloroquine in COVID-19 treatment and prevention.
The US president, Donald Trump, for instance, promoted its use despite calls from several scientists and key health bodies to withdrawal it from the COVID-19 treatment regime.
Hydroxychloroquine (HCQ) together with zinc and azithromycin were identified early in the pandemic as potential therapies in treatment and prevention.
In Uganda, Dr. William Worodria, the chairperson case management committee, said during the onset of the virus, some treatment centers were using hydroxychloroquine, a medication used in treatment of malaria, lupus and rheumatoid arthritis, to treat COVID-19.
"In our first guidelines we did include the use of hydroxychloroquine under experimental medication but when we looked at the evidence including local evidence of the two sides; one which used hydroxychloroquine and one which did not, there was no difference. So in our second guideline, we have removed it from therapy," he said.
He noted that though the main side effects of the drug are heart complications and blindness, there are other several severe effects it can cause to the human body if used for a long period of time.
There has been emerging global evidence of harmful effects of the drug. The drug according to experts also causes psychiatric symptoms.
According to the U.S Food and Drug Authority (FDA), Hydroxychloroquine and chloroquine can cause abnormal heart rhythms such as QT interval prolongation (heart muscle takes longer than normal to recharge between beats) and a dangerously rapid heart rate called ventricular tachycardia.
It also notes that these risks may increase when these medicines are combined with other medicines known to prolong the QT interval, including the antibiotic azithromycin, which is also being used in some COVID-19 patients.
"Patients who also have other health issues such as heart and kidney disease are likely to be at increased risk of these heart problems when receiving these medicines," it says.
On July 4, WHO discontinued the trial of hydroxychloroquine and another drug called lopinavir/ritonavir, noting that interim trial results showed that they produced little or no reduction in the mortality of hospitalized COVID-19 patients when compared to standard of care.
COVID-19 treatment regime
According to Worodria, Uganda's treatment regimen now targets to boost one's immunity to fight off the virus. He said the treatment depends on the stage of the disease.
"If it's mild you don't need a lot of therapies. We give routine Vitamin C. if they have respiratory syndrome we give zinc," he said.
He noted that in case a patient develops pneumonia, they give antibiotics and if the disease becomes severe, a combination of other medicines including remdesivir is given.
However, he said, remdesivir has also not shown much effectiveness in patients under intensive care.
"Overall it's nothing specifically attacking the virus. It is the body's immunity that clears the virus," he said.
Uganda s treatment regime for COVID-19 is developed by the case management scientific team. In a recent Facebook post, Dr. Monica Musenero, the presidential advisor on COVID-19, said this treatment regime has so far given 100% recovery for all cases where the outcome is known.
"There is an ongoing study (clinical trial) to assess the broader effects of the drug," she said.
On Thursday, during the Ministry of Health national update on the COVID-19 situation, Prof. Pontiano Kaleebu, the Director of Uganda Virus Research Institute (UVRI) said Ugandan scientists are also developing a protocol which will be submitted next month for a scientific review.
He said the review will be jointly done by a host of a scientific team set up and by the start of October, the protocol will be submitted for the first trial process.
He said the scientists are also testing available vaccines to see if it can work in the management of COVID-19.