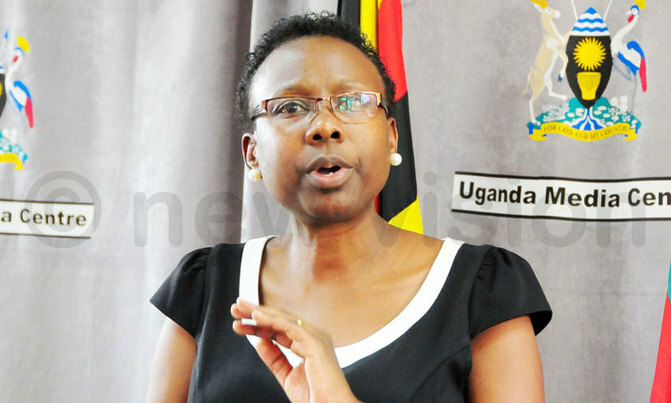 As of today, Uganda has 14 health facilities that offer treatment and care to COVID-19 patients
Dr Jane Ruth Aceng, the Minister of Health, has warned Lubaga Hospital, against admitting and treating people who test positive for the coronavirus.
While addressing the country on Thursday, Aceng said that the hospital has not yet been accredited as a treatment or isolation centre for COVID-19 patients.
Her warning came a day after the hospital issued a press release revealing they have set up an isolation unit to offer free treatment to COVID-19 patients from the local community of Lubaga South.
Dr Andrew Ssekitoleko, the executive director of the hospital, said the unit was set up by the hospital in partnership with Malteser International with support from the German government.
"We encourage the community of Lubaga South to approach the hospital for testing in case they have symptoms suggestive of COVID-19 and to be vigilant in observing the standard operating procedures for its prevention," he said in a release dated July 29.
He also said that, in conjunction with the Kampala Capital City Authority (KCCA), they have set up a community surveillance program at the Hospital to screen for community spread.
On July 28, the hospital recorded its first case. The patient was admitted in the hospital's Intensive Care Unit but was later transferred to Mulago for specialised care.
However, in her remarks, Aceng said they cannot recognise the isolation facility since the ministry has not been informed and neither have they accredited the facility among those offering treatment and care for COVID-19 patients in Uganda.
"I want to appreciate Rubaga Hospital for taking the step but I want to remind Rubaga that procedures have to be followed. For laboratories, we have an accreditation committee that is chaired by Prof. Pontiano Kaleebu. As long as they are not accredited and we have not standardised their laboratories, we cannot encourage people to go there," Aceng said.
She said there is a committee that assesses treatment facilities to ensure that they are safe before they can be accredited. In this case, Lubaga, according to the minister has not yet formally requested for accreditation from the ministry.
"Follow procedures. If we start creating isolation facilities all over the country without control, we run a very big risk of not controlling our activities. The cases will blow out of proportion and we will not have control over them," she said.
She urged the hospital to write formally to the accreditation committees to have their isolation unit and labs accredited.
As of today, Uganda has 14 health facilities that offer treatment and care to COVID-19 patients. These include Entebbe Hospital, Masaka, Gulu, Lira, Arua, Mbale, Jinja, Naguru, Mbarara, Hoima, Fort Portal, Soroti, Kabale and Moroto Regional Referrals, and Mulago National Referral Hospital.
So far there are six testing centres including Uganda Virus Research Institute (UVRI), National Public Health Laboratory (NPHL) at Butabika, Tororo General Hospital, Mutukula border, Adjumani Hospital and Makerere University College of Health Sciences laboratory at Mulago.
Aceng revealed that 12 other laboratories have been assessed and accredited and are ready for operationalisation. Among these include three private labs, three public labs and six research labs.
The private labs include MBN on Plot 28, Nakasero Road, Lancet on Plot 99/101 Buganda Road and Medipal International Hospital on Plot 1-A, Lower Kololo Terrace. Tests at these facilities will be at a fee.