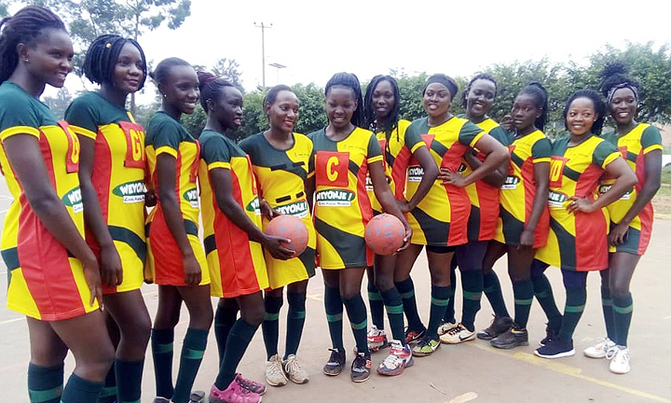 The club was founded in 2017 by janitors of Makindye Division to promote community sanitation through netball
Just five years ago, netball in the country was not as popular as it is today. In fact, Uganda qualifying for the 2015 Netball World Cup in Sydney, Australia changed the landscape of the game in the country.
It started to receive a big following from different sections of the people in the country including Members of Parliament.
The She Cranes' performances both on the African continent and at the World Cup inspired so many people including Makindye Weyonje Netball Club that is currently the only community-based team playing in the first division of the Uganda Netball League.
The club that was founded in 2017 by janitors of Makindye Division to promote community sanitation through netball has fulfilled its dream as narrated by Eddy Ojambo, the club's spokesperson.
"Our dream was to play netball at a higher level and I believe we have achieved it. We are so excited by the team's performance and at the same time, we have championed sanitation within the community," stated Ojambo.
At the start, the team was named Makindye Division Netball Club and at first, they took part in community matches. However, after improving on their game and settling up the club's administrative structure, they decided to register it in the second-tier of the national league where they finished second in 2018 to earn promotion to play in the first division the following year.
After promotion, the team rebranded to Makindye Weyonje Netball Club. They also managed to get funding from Citywide Inclusive Sanitation, an organisation that promotes sanitation and the welfare of women through sports in Makindye as well as changing the mindset of the residents.
What's makes Makindye Weyonje different from other teams is that even if you retire from netball, they can still employ ex-players at Makindye Division offices unless when the player moves to another club.
"We don't have a lot of money but one thing I'm sure of is that our players will be paid even if they get injuries or retire. We feel they have played a big part of us so we have to keep them in the game," noted Ronald Nakabaale the club's organising secretary.
Ahead of their sophomore season in the top flight, Makindye Weyonje is aiming for a top-three finish.