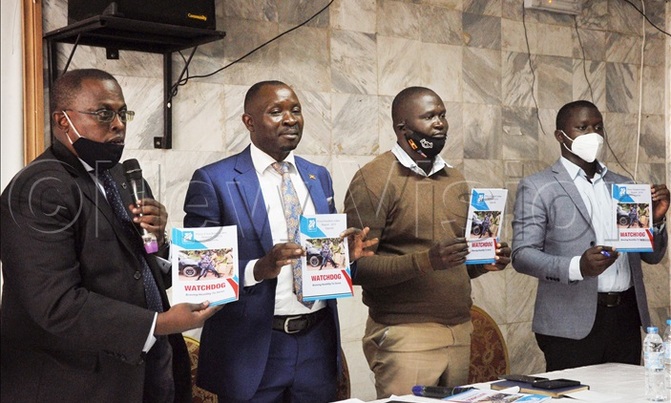 The HRNJ-U executive director, Robert Ssempala noted that the Electoral Commission must issue guidelines and safeguards for journalist during the election coverage.
MEDIA | PRESS | ELECTIONS
As the country prepares for the forthcoming elections, the Human Rights Network for Journalists-Uganda (HRNJ-U) has called on Government to issues safeguards for journalists.
The HRNJ-U executive director, Robert Ssempala noted that the Electoral Commission must issue guidelines and safeguards for journalist during the election coverage.
"We need a commitment from government that the media is going to be free to give space to all politicians. Without that assurance we can talk of the situation as extremely getting ugly," he said.
He made the remarks during the launch of the 11th edition of the Press Freedom Index Report-2019 Uganda, in Kampala.
The report titled; "Watch Dog: Braving Hostility to Serve", highlights the violations and abuses that happened to journalists during the year.
The report was supported by USAID, Freedom House and Open Society Foundations.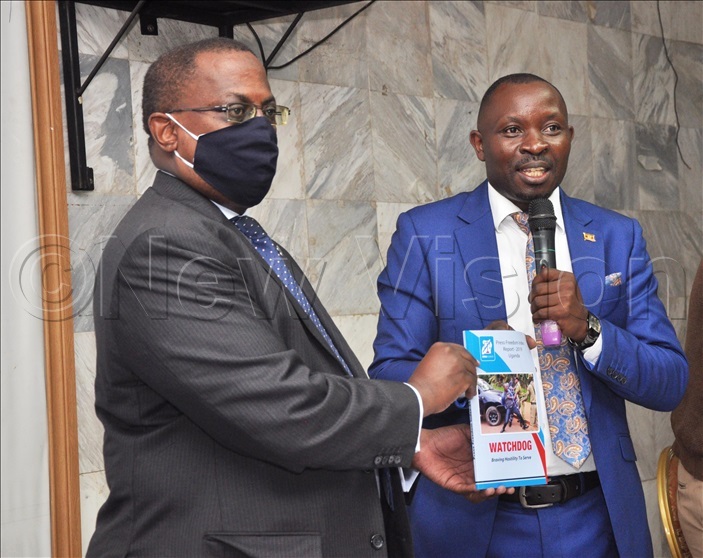 Ssempala stressed that on many occasions, security and other government officials have stormed radio and TV stations, and switch them off for hosting opposition politicians.
He noted that with the intended digital campaign process ahead of the 2021 elections, journalists and media houses need to be protected by the state to avoid seeing ugly scenes in the process.
"Right now there are no safeguards for journalists to do this work. Without safeguards, just know that media houses are going to be left weaker to do anything," he said.
He urged managers and owners to engage various stakeholders to void attacks on journalists.
Report findings
The report shows a slight increase in violation and abuses against journalists down from 163 in 2018 to 165 in 2019.
While presenting the report, Ssempala said though the increase appears minimal, the analysis of statistics points to a disturbing trend.
According to the report, the Uganda Police Force (UPF) and the broadcasting regulatory body, the Uganda Communications Commission (UCC), account for the highest cases of violations.
"This is what I am talking about. How are media houses and journalists safe when those who are supposed to protect them are the same perpetrators? This is so disturbing," Ssempala wondered.
He stressed that most of the perpetrators of the violations are hardly brought to book, thus leading to persistent of impunity.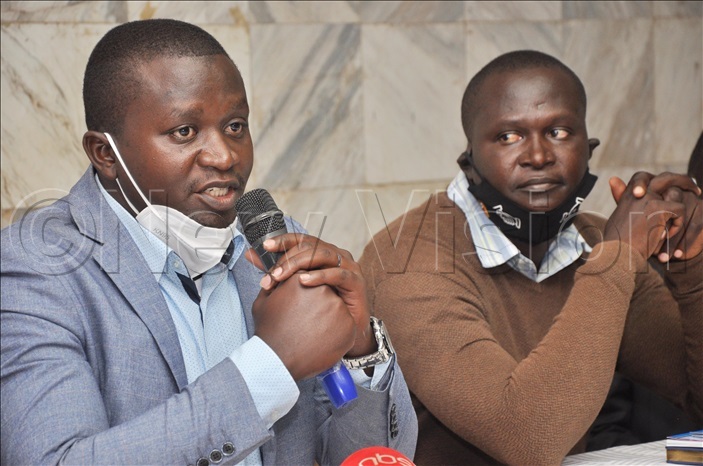 Police, UCC top violators
The report highlights police as the biggest violator of media rights with 101 cases (60%), while UCC accounted for 37 cases (22%).
The Uganda People's Defence Forces (UDPF) and mobs against journalists stood at 3.6% for each.
The report also shows that the Resident District Commissioners (RDCs) are some of the perpetrators of journalists' violation and abuses.
"Some RDCs stormed radio stations, switched them off and forced opposition politicians like Dr. Kizza Besigye out of the studios. These extremist actions even forced President Yoweri Museveni to order RDCs not to interfere with radio programs again," Ssempala added.
Other perpetrators include politicians (4) cases, Judiciary and civic leaders (3) each, media had two (2) cases (media house fighting other journalists), and one case involving an MP.
Nature of violations
Ssempala said most of the recurrent violation or abuse was blocking journalists from accessing news scenes and sources.
"These cases stood at 44 in 2019 as opposed to 40 in 2018. Police and security agencies have increasingly tended to use blocking access to news scenes and sources as a prohibitive measure," he noted.
The report indicates that most of the assault and arrests occurred during mass action like demonstrations.
Other violations included; deletion of footage with four cases, summons and interrogation (5), switching off stations (3), vandalisiing equipment (3), confiscation of gadgets (3), journalists charged (2), and one case of pepper spray, threats and website closure.