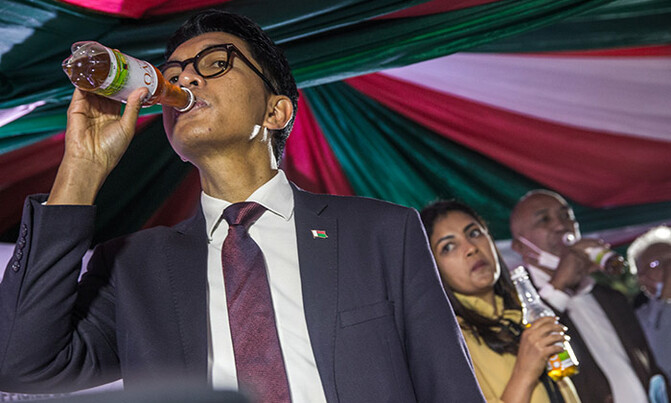 The World Health Organisation [WHO] was the first to caution populations against use of the purported remedy without medical supervision.
A scientist who has studied Artemisia annua has said the plant, also known as sweet wormwood, might actually contain compounds that can cause relief for Covid-19 patients.

This comes almost three months after the Malagasy Institute of Applied Research (MIAR) developed Covid-Organics whose main ingredient is Artemisia annua, and touted the herbal remedy as treatment for the disease caused by the SARS-CoV-2 virus. The claim was immediately rebuffed as unproven.

Dr. Patrick Ogwang, a pharmacist and senior lecturer at the Department of Pharmacy at Mbarara University of Science and Technology in Uganda, has used sweet wormwood — also grown here in south western Uganda — to develop an antimalarial drug (East African). He said the plant, which is a native of Asia, has more than 100 compounds, some of which are antiviral and likely to bring "some form of relief" to persons hospitalised with the infectious disease that's killed over half a million people worldwide. But the scientist called for more research into the herbal remedy.

The Madagascar tonic immediately attracted mixed reactions. Malagasy President Andry Rajoelina said the herbal remedy had treated two patients of Covid-19 at its launch in April [Times of Israel] when it was still unproven and MIAR couldn't release data related to its safety and effectiveness.

The World Health Organisation [WHO] was the first to caution populations against use of the purported remedy without medical supervision. Dr. John Nkengasong, director of the Africa Centers for Disease Control and Prevention, said: "Any remedy should be safe and show efficacy."

Despite the warnings, a number of African countries, including Tanzania, Comoros and Gambia, ordered consignments of the tonic [Medical Express] to treat their population sick with Covid-19.

Madagascar has since moved on from liquid Covid-Organics, and is exploring an option of producing remedy capsules [Africa News]

But Ogwang said he understood where MIAR and Rajoelina, as well as others who advocated for the tonic, were coming from because the herbal remedy "contains compounds that could actually cause relief for Covid-19 patients."

"We always associate Artemisia annua with artemisinin, which is used to treat malaria. But as well as antimalarial compounds, Artemisia annua contains several antiviral and other anti-parasitic and anti-inflammatory chemicals. So, yes, the Madagascar tonic — which largely contains Artemisia annua in its natural form — has elements in it that [are antiviral and] can induce some form of relief for Covid-19 patients that we shouldn't ignore," said Ogwang.

Chinese scientists reported in 2015 [Science Direct] that an extract from Artemisia annua defused the severe acute respiratory syndrome related to SARS-CoV-2 in a laboratory study. But the extract was never trialled against SARS in primates or humans.

Anke Weisheit, agricultural engineer at Mbarara University of Science and Technology, said the ideal situation was to test the herbal remedy for safety and effectiveness. But the situation surrounding COVID-19 was never ideal. "You cannot do anything concrete in three months," said Weisheit, who has also studied herbal remedies.

Rather than dismiss Covid-Organics "just because it is unproven" the scientists called for further research to test the herbal remedy's safety and efficacy.

There is also fear that the unproven herbal remedy could cause a surge in drug-resistant malaria.

Artemisinin is the cornerstone of so-called artemisinin-based combination therapies, which have helped bring down malaria deaths from more than 1 million to about 400,000 every year, said Kevin Marsh [Science Mag] of the University of Oxford, who spent decades studying malaria in Kenya. "We totally depend on artemisinin for malaria in every country of the world, so we are very worried about resistance," Marsh said. This is especially true in Africa, where 90% of the world's malaria deaths occur.

But Ogwang dispelled the view that the herbal remedy could fuel drug-resistant malaria and said consumption of Artemisia annua, especially in its natural form, was more likely to slow or reverse drug resistance than cause it.

"That is the fear [that use of the herbal remedy can spike drug-resistant malaria]. But research [PNAS] has proven that taking Artemisia annua in its natural form does not cause malaria drug resistance. If anything, it delays or reverses resistance," said Ogwang.

"Artemisia annua combines many compounds. So when patients are consuming it in its natural form — or are taking the herbal remedy — they are taking in many compounds, which is less likely to cause drug resistance," said Ogwang. "You can compare it to deploying various soldiers against one enemy. You are more likely to finish him off."

The WHO recommends artemisinin-based combination therapy [ACT] for treatment of malaria and includes a second drug, usually lumartem, to provide adequate cure rate and delay the development of resistance. The science suggests that when the malarial parasite develops resistance to artemisinin, the other drug will still kill it.

Dr. Grace Nambatya, director of the Natural Chemotherapeutics Institute in Uganda, said the herbal remedy could cause resistance when misused — just like any other drug — but could be useful when its usage is guided.