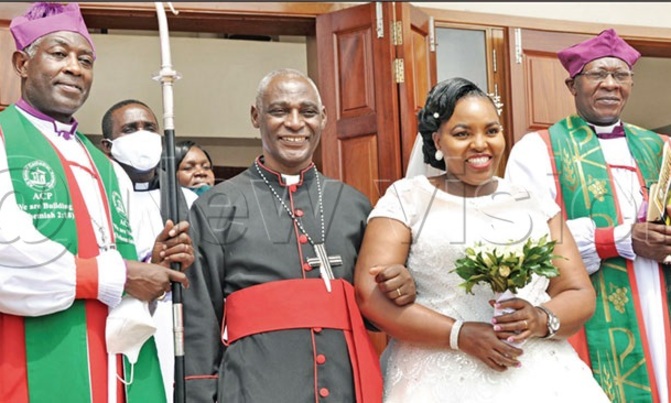 Byamugisha was the first religious leader in Africa to come out publicly regarding his HIV status.
RELATIONSHIP & DATING | RELIGION | HIV/AIDS
"It's a miracle. If in your life you have been searching for a living miracle, then this is it," Rt. Rev. Dr. Stephen Kaziimba, the Archbishop of the Church of Uganda, belted out to thunderous applause from the congregants.

Kaziimba was the main celebrant at a thanksgiving service organised by Rev. Can. Prof. Gideon Byamugisha and his wife Pamela to celebrate 25 years of marriage, while HIV-positive.

The silver jubilee service was held at St Andrew's Church Bukoto recently.

The event attracted a few of their close friends and relatives. This was in line with the Government directive on 'scientific marriage,' which limits the number of people per gathering as a way of curbing the spread of COVID-19.

The couple renewed their vows amidst ululations and songs of praise to God. Their two daughters were the bridesmaids.

Inspirational

Kaziimba noted that looking at how the couple was in 1995 when they got married and what they are today, is a true testimony of God's grace and faithfulness to his people.

"The parents of Gideon who saw him taking the vow can tell the story. They can tell you today that there is God," Kaziimba said.

He described Byamugisha as an inspiration and a ray of hope to those living with HIV in Uganda and beyond.

Byamugisha was the first religious leader in Africa to come out publicly regarding his HIV status.

To date, he does not know how he contracted the deadly disease, but he suspects it could have been passed onto him through a medical syringe.

In a media interview, he said during the 1970s, nurses used to use the same syringes on different people. He took the HIV test in 1992 following the death of his wife, Kellen Byamugisha, in 1991, after a short illness.

Unlike other people who were silently battling the disease, he decided to come out in 1992 in order to put an end to the stigma around the disease.

Friends and well-wishers started the Friends of Canon Gideon Foundation (FOCAGIFO), to raise money for his welfare.

He remarried in 1995 to Pamela, who had also lost her husband to AIDS, and together they have two daughters, both HIV-negative.

"These have been 25 years of hope, 25 years of testing God's faithfulness, 25 years of God's love and 25 years of testing your faith in God and commitment to each other and Christ whom you accepted," Kaziimba told the couple.

He lauded the couple for honouring their vows, adding that in recent years, people have turned the pulpit as a platform for deceit and showing off, whereby, after exchanging vows, the marriages crumble within a few months.

Reminiscing some of the old memories he has of Byamugisha, Rt. Rev. Samuel Balagadde Ssekkadde, former Bishop of Namirembe, said when he met him in 1996, Byamugisha was very thin and was looking for a job.

He said their first meeting was brief, but the second one changed everything.

"He started weeping. I held him and asked what was wrong.

He said he was sick. I told him everyone falls sick. He started crying again and told me he was HIV-positive. I hugged him and offered him a job, which he performed excellently."

Stigma

Ssekkadde said when Byamugisha was made a priest, the Church faced a lot of criticism because of his status but he soldiered on.

At the time HIV was considered a disease for the promiscuous.

Enid Wamani of the Uganda AIDS Commission (UAC) described Byamugisha as an exemplary person who has made an invaluable investment in the fight against HIV.

The couple hosted their guests to a sumptuous luncheon at Forest Cottages in Bukoto.

The ceremony was also attended by the Rt. Rev. Bishop Wilberforce Kityo Luwalira, among other notable prelates. The couple sang an HIV song they composed with FOCAGIFO and other youth activists.

"If we do what we can, God will do what we can't. There is much in our history to give us hope and courage."