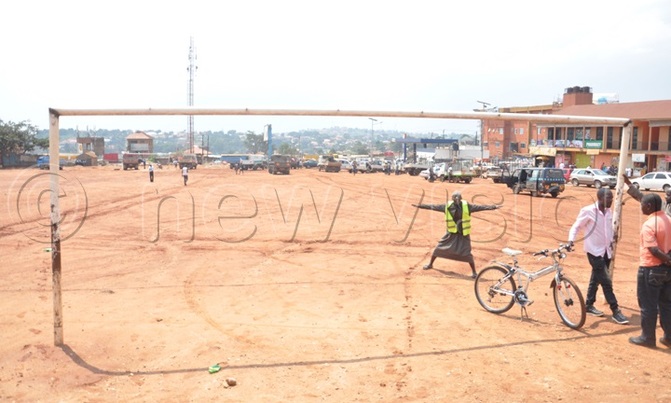 Its status as one of Uganda's leading football grooming grounds is legendary.
Kawempe has brought forth loads of talent including Ibrahim Sekagya, Wilson Ggayi, Livingstone Mbabazi, Abubaker Tabula, Willy Kyambadde, Musa Doka and Lawrence Musoke.
But now this noble nation-building cause is threatened.
Kataka, as the ground is popularly known, like Uganda's numerous other sports facilities, could be snapped for none sector-related ventures.
But this could soon be history. Jinja-Kawempe Muslim Association, who claim ownership of the property, want to transform it into a taxi park!
The association says it is the rightful owner of the property that they say they bought from the Departed Asians Properties Custodian Board.
An application for a taxi park has already been made to Kampala Capital City Authority. This is in line with the city's efforts to decongest the capital.
"Request to gazette part of the land comprised in Block 204 Plots 42 and 136 FRV to Folio 18 at Kawempe into a Taxi Park," reads the association's' June 2, 2020, request to KCCA through T. Odeke and Company Advocates.
"It has come to our notice that KCCA desires to have land at the outskirts of the city to create parks where taxis from outside the city can load and overload passengers.
This is intended to reduce the number of vehicles entering the city. Our client is willing to offer part of her land to the same project on terms that can be agreed on between the authority and the client," reads the letter to KCCA's executive director.
The football fraternity is a key stakeholder on the property. The field, established in 1934, is not only part of Kawempe Primary School but is also used for sports by over 40 schools and none student in Kawempe.
Stars like Sekagya also studied at Kawempe Primary School.
But despite Jinja-Kawempe's move, there is still hope that football and other groups on the property will not be displaced.
Uganda Muslim Supreme Council, who manage Muslim properties countrywide, have dismissed Jinja Kawempe Muslim Association's claims as fraudulent.
"This is unacceptable. This is UMSC property. I am going to call a meeting of all stakeholders," stated Kampala and Kawempe Region UMSC Khadhi Sheik Hamid Sserwadda.
Sserwadda last week re-assured the football fraternity and other groups using the ground that their presence was guaranteed.
But the association's seriousness to have total control over the property is underlined by a separate June 2 letter to all those using the property.
The letter through the same lawyers not only stresses the association as the rightful owners but also directs all tenants to start paying it rent to them. It also called a meeting with all stakeholders.
That even the association has a rift on the property's ownership boosts hope amongst those who want the property's initial management maintained.
Dr Abdul Karim Ssekito, a member of the Jinja Kawempe Muslim Association is against the move by his colleagues.
"We do not agree with the idea of giving away the community land by some of our colleagues like Muhammad Bukenya (secretary) and Abdallah Mukasa Ssemwanga (chairman).
It will not divide us as the Muslim community but also affect our pupils who would like to develop their talent from this playground."
Sheikh Hamid Sserwadda's response on turning the property into a taxi park followed concerns raised by Kawempe Division Football Association.
"We are worried of the growing tendency of some Muslim community leaders selling Muslim properties like playgrounds under the guise of development.
This is not fair. We condemn whoever is behind giving away of Kataka ground that has groomed many great players," stated KADFA chairman Juma Kasolo.
Playground management committee chairman Ramathan Lukwago and Ali Ssebirumbi, a Kawempe resident, are worried about the fate of the numerous schools that have been using the field.
Located five kilometres from Kampala City centre, the ground is usually a beehive of activity because of limited sports facilities in Kawempe division.