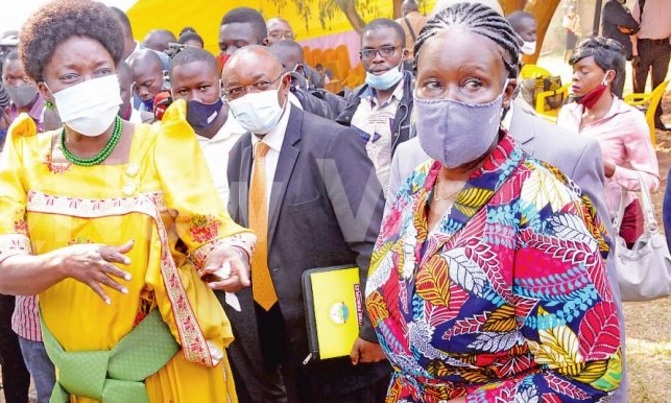 Apart from President Yoweri Museveni, who was declared a sole candidate for both party national chairperson and presidential flag-bearer, the rest of party heavyweights are facing challengers bent on ousting them.

ELECTION WATCH

National Resistance Movement (NRM) bigwigs are facing a tough race to retain their Central Executive Committee (CEC) seats in the forthcoming party elections.

Apart from President Yoweri Museveni, who was declared a sole candidate for both party national chairperson and presidential flag-bearer, the rest of party heavyweights are facing challengers bent on ousting them. Museveni, his six deputies and other members form the NRM CEC.

The top body provides and exercises political leadership in the country and also recommends to the National Enterprise Corporation (NEC) NRM candidates seeking nomination for the offices of national chairperson, and vice chairperson.

The secretary general, deputy secretary general and national treasurer are members. CEC is the second highest policy organ of the NRM, after the National Delegates' Conference (NDC).

According to the NRM constitution, the NRM CEC is mandated to perform 11 functions.

The incumbent first national vice-chairperson, Haji Moses Kigongo, is facing former minister Francis Babu, a 33-year-old Kefa Mafumu.

Babu said no position in the party is ring-fenced for anybody. "Having been given an opportunity to serve in particular position does not mean remaining in the same position forever. Our constitution does not say that vice-chairperson is reserved for anybody," Babu commented in reference to Kigongo, who previously has been elected to the position unopposed.

The Speaker of Parliament, Rebecca Kadaga, the incumbent second national vice-chairperson, a slot reserved for women, is facing three other contestants; state minister for lands Persis Namuganza, Jane Amongi Okili and Deborah Kinobe.

Kadaga was proposed to the NRM electoral commission by local government minister Raphael Magyezi and was seconded by trade minister Amelia Kyambadde.

"I want to assure NRM supporters that I have been nominated. I am asking for your support as usual," Kadaga said. Asked why she always opts for affi rmative action positions, yet she has enough political clout to go for male-dominated seats, Kadaga responded: "Aren't women human beings? That's a silly question."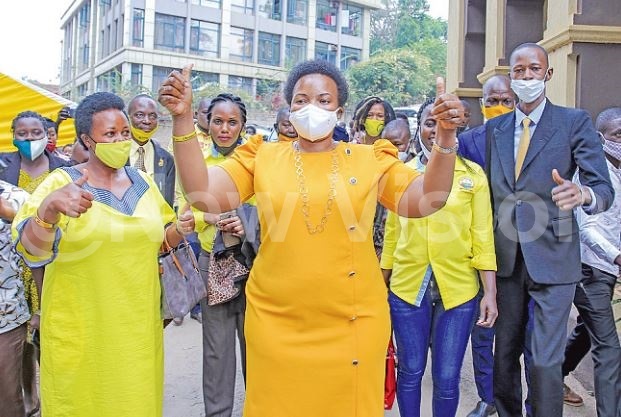 KADAGA'S OPPONENTS ARGUE THAT HER TIME TO EXIT IS NOW

"I cannot stand down for anybody, that is why I have been nominated to contest. Let us compete and the winner will take the seat," Namuganza said.

Okili, who eyes the same seat, said she wants to graduate from the NEC, where she has served for seven years, to CEC.

"I am in touch with NRM grassroots cadres and I have the time and energy to serve women on CEC," Okili said. The vice-chairperson for western region, currently occupied by Maj Gen. Matayo Kyaligonza has attracted four other contenders, including a fruits dealer at Ishaka Central Market, Rogers Tugaine Bifa.

The 39-year-old has promised to deliver on party values and principles at the grassroots.

"The incumbents are overloaded with other national duties and that is why we are coming in to deliver results for our party. Let them concentrate on national duties and let us work for our party," Tugaine said.

But the bigger threat for Kyaligonza is from other contenders: state minister for housing Dr Chris Baryomunsi, Maj. Shaban Batantariza and a youthful medic, Dr Emmanuel Kisembo.

Baryomunsi yesterday blasted Kyaligonza, saying he has not performed to his expectation, reason he is seeking to oust him.

Kyaligonza, who met his opponent, Kisembo and exchanged pleasantries touched Kisembo's tight-fi tting yellow suit and made some unpleasant comments.

"You have worn a tight suit and your pair of trousers is akin to an underwear," he said.

Incumbent central region vice-chairperson Abdul Nadduli is facing state minister for tourism Godfrey Kiwanda, Twaha Kiganda Sonko and Ensi Egumire Kibedi. Incumbent vice-chairperson northern Uganda Sam Engola is facing Deputy Speaker Jacob Oulanyah and Dr Samuel Odong Eledo. Captain Mike Mukula, the incumbent vice-chairperson for eastern region, said his credentials speaks volumes for him as a nationalist and a Pan- Africanist. Mukula is being challenged by former MP Sanjay Tana.

Godfrey Nyakaana, the incumbent NRM vicechairperson for Kampala is being challenged by Salim Uhuru and former MP Singh Katongole. Simon Peter Alepa and Jimmy Lokuru are both vying for NRM vice- chairperson seat for Karamoja region.

VETTING OF CANDIDATES

The names of the nominated candidates will be presented to NEC for vetting. NEC will then submit the final short-list to the party National Conference that will meet in their respective districts for elections. For the NRM, being nominated is the first step. NEC, after scrutinizing your credentials, can decide that you be dropped from the race.

According to the NRM road map, from July 30 to August 5, vetting of presidential flag -bearer, national chairperson, first national vice-chairperson, second national vice-chairperson and the six vice- chairpersons representing regions will take place. From August 7 to 8, NRM National Conference, in strict observance of Ministry of Health COVID-19 guidelines, will elect the NRM presidential flag-bearer.