By departing so propitiously as his alma mater marks its jubilee, Benjamin Mkapa exemplifies what the pre-1970 Makerere was about
Benjamin William Mkapa
Born: November 12, 1938 Died: July 24, 2020
Education: Pugu Secondary School; Makerere University College; Columbia University
Public service: Newspaper editor; Ambassador to Canada and the United States; Minister of Science & Technology; Minister of Foreign Affairs; President of the United Republic of Tanzania (1995-2005)
That one of its greatest trans-border alumni should rest in the very month that Makerere marks its 50th anniversary as a post-University of East Africa institution is a quirk of fate that not even the most forward-looking of the ivory tower's planners and thinkers could have envisaged.
In July 1970, Makerere transited from being a constituent (university college) of the University of East Africa into an autonomous institution, full-fledged, a sort of first among equals alongside the University of Dar es Salaam and Nairobi University. As the jewel of the University of East Africa's crown, Makerere ("an academic Eden atop the mountain of learning") had been the intellectual training ground for young men and women who would become leading lights in post-Independence Africa. A rollcall would turn up non-Ugandan names like Mwai Kibaki, John Ngugi (wa Thiongo), Cleopa Msuya, Josephat Karanja, Edwin Mtei, David Rubadiri, Joseph Mungai, Peter Anyang' Nyong'o and, the diamond of them all, Julius Kambarage Nyerere.
Benjamin Mkapa was one of those lights. A Literature and English language student from Tanganyika, he came to Makerere in 1957, doing his Higher School Certificate and then the degree, and would go on to a distinguished career in journalism, taking up some ministerial postings before becoming the third President of the United Republic of Tanzania.
When I visited him in Dar es Salaam in April 2015, the relaxed nature of his home in the plush Upanga suburb reflected the very nature of the man - secure in his achievements, confident of his intellect, honest in his thoughts, forward-looking in his vision. Latterly the chief tenant of State House, he was a little concerned that his country was being left behind in the global economy. "Where are the start-ups?" he asked, rhetorically.
Before you meet Mkapa, you first encountered the relaxed orderliness of his surroundings. On driving through the gate there was no garrison, but a soldier or two, standing guard (similar to what I noted at the residences of Cleopa Msuya and Abed Karume, respectively former Prime Minister of Tanzania and ex-President of Zanzibar). An urbane man, impeccable of manners and cultivated of speech, Mkapa was an otherwise simple person. Inside a high-ceilinged meeting room, there was the surprising absence of the giant portrait of Nyerere that otherwise hangs, Big Brother-like, on walls everywhere else in Tanzania in official and semi-official places. In its stead, next to the other official picture of the then President, Jakaya Kikwete, the retired Mkapa had strung up, almost apologetically, a small black & white shot, a thumbnail, of himself in warm embrace of Nyerere.
Mkapa's years at Makerere, 1957-62, were the peak of the university college's legend, the run-up to the autonomy that would almost inevitably be granted 50 years ago this month. One Tanzanian's account makes a romantic description: "The Cambridge School Certificate was the passport to Makerere College. And of course once in Makerere a person reached the end of it all. People forgot his name and simply referred to him as Mr Makererean" ('Village in Uhuru'. Gabriel Ruhumbika; Harlow: Longmans, 1969)
I was in Dar es Salaam to speak to Mkapa (among others) on his views of Tanzania's economic journey, the interview having been set up by Walter Bgoya, a Dar publisher and literary type. I had first heard of Bgoya from James Tumusiime, one of my mentors at The New Vision and now the head honcho at Fountain Publishers in Kampala. Sharp as a tack, Mkapa's memories of Makerere remained penetrative more than half a century later, and he regaled me with tales of life as a student, one of his buddies being the irrepressible John Nagenda who, he said, was still a frequent visitor.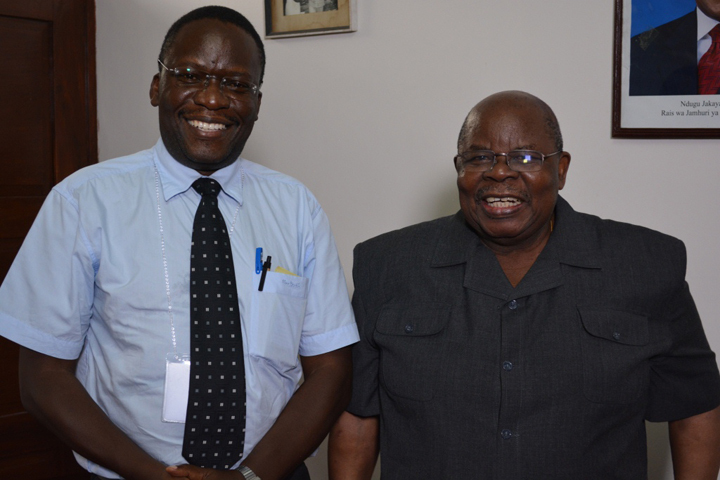 The Makerere connection to governance in Tanzania goes beyond Mkapa and Nyerere. I spoke to a few more of their compatriots, some contemporaries at university, but all subsequently partners in Tanzania's development journey: Cleopa Msuya, former Vice President and two-time Prime Minister, was at Makerere from 1953 to 1956. He thought me blessed upon learning that my father's family - the Terah Womerakas of Makerere East - housed Nyerere, the lonely foreign student, during the long holidays in the 1940s when he could not travel south to Tanganyika. Pre-teen, my dad Daniel Nkata and his teenage brothers Ibrahim Mutezi and Nuwa Kajubi, were to teach Nyerere how to ride a bicycle, cycling from Makerere to their country home off Semuto Road in today's Wakiso District (Kyaddondo North).
Edwin Mtei, who was the first African Governor of the Central Bank of Tanzania, was at Makerere from 1954 to 1957. Among his university recollections was Jack Sentongo, who was a class ahead of him, and would go on to serve as Finance Minister in the post-Amin government in Kampala in 1979-80. I told him that Sentongo was living in the UK. Beyond his Makerere years, Mtei's sentiments of Uganda revolved around the war that ousted Idi Amin in 1979, when he was Tanzania's Finance minister: "It was me, a diplomatic figure, other than the Defence or Foreign ministers, who was given leave to raise resources for the war. We prosecuted the war, chased Amin out, and placed our man there." One account puts the estimated cost of the war $1million per day.
Ernest Mulokozi was Mtei's contemporary, and he also studied at Makerere when it was still awarding degrees from the University of London. Mulokozi would go on to serve as Permanent Secretary in a number of ministries, including Agriculture, which was probably the key influence in his rather atavistic vision of Tanzania as a purely agrarian economy.
Ibrahim Kaduma came to Makerere in the early 1960s, and he recalled his youthful zeal taking him to Kololo on October 8, 1962, to see the Union Jack go down and the Ugandan flag being raised at the stroke of midnight on October 9. A dyed-in-the-wool Nyerereist and admirer of World Bank chief Robert McNamara, Kaduma took the skills and knowledge imparted by Makerere back home to negotiate Tanzania's first multilateral loans as Permanent Secretary in the Finance ministry, before serving as Foreign minister and as the first African Vice Chancellor of the University of Dar es Salaam.
By departing so propitiously as his alma mater marks its jubilee, Benjamin Mkapa exemplifies what the pre-1970 Makerere was about - the building of human capacity for African nations to take their Independence in their hands. The gaining of autonomy and full-fledged status in Kampala, Dar, and Nairobi was a great gain all round whose little dent for Makerere was the otherwise inevitable loss of opportunity to train such continental leaders.
Upon graduation, Mkapa returned home to practice journalism. His career included a six-month stint on the Mirror Newspapers in London and Glasgow in 1966, before returning to Dar where he edited the party newspaper. In the 1970s, Mkapa headed 'Daily News', then the largest English language paper, before quitting the newsroom to take in some ministerial posts, a couple of ambassadorships and then the Presidency.
As we parted ways, I told him that I, too, had been at Makerere. Then that like him, I had also read Literature (he raises an eyebrow). Then, that like him, I had also edited two national newspapers (he applauds). But that unlike him, I am not heading to State House (he guffaws).
At 50, Makerere has, in legacies like Mkapa's, the embodiment of the foundations that make the institution a vital cog as a bedrock of Africa's recent past, the cementing of the present and of building for the future.