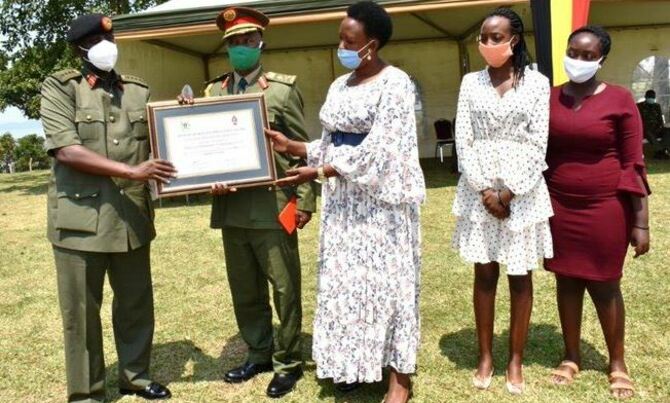 UPDF | GENERALS | ARMY
The Uganda People's Defence Forces (UPDF) has retired three generals, who have given long and dedicated service to the country on various fronts.
The retired officers include one major General and two brigadiers. They are; the late Maj. Gen. Eric Mukasa, who was retired posthumously. Mukasa, a former UPDF Chief of Staff for Land Forces, died early this month at Nakasero hospital after a long illness.
The others are brigadiers; Geffrey Mujuni and Tumusiime Nyakaitana. Little is known about Mujuni, but Nyakaitana became famous while he was the commanding officer of the UPDF 2nd Division Command in Mbarara, then at the rank of lieutenant colonel. In 2001, however, Nyakaitana was sent for further studies abroad and he was replaced by Andrew Gutti, then a colonel.
Nyakaitana also commanded the Kasese-based 307 brigade that was at the forefront of the fight against the Allied Democratic Front (ADF) rebels. He was credited for his cooperative spirit that helped UPDF to wipe out the ADF rebels from the Rwenzori Mountains.
A former aide to retired Lt. Gen. Henry Tumukunde, Nyakaitana was one of the senior officers who attained excellence in command, administration and leadership within the UPDF.
The Chief of Defence Forces, Gen. David Muhoozi, presided over the retirement ceremony that took place at the army headquarters in Mbuya, Kampala, today. Mukasa, who had applied for retirement before his death, was represented by his family members at the function.
UPDF spokesperson, Brig. Richard Karemire, said in a statement that the officers have each served for over 35 five years. "Uganda salutes them for the many years of selfless service and sacrifice .The UPDF recommits itself to jealously defend the Unity, Peace and Stability of our country," he said in a tweet.
Some of the retired officers were among the several senior officers that President Yoweri Museveni, who is also the commander in chief of the Defence Forces, promoted in March this year.
Eleven Brigadiers were promoted to the rank of Major General, 24 colonels were promoted to the rank of Brigadier, while five Lieutenant Colonels were promoted to the rank of Colonel. Many of these officers are due for retirement.
In July last year, UPDF retired 19 generals. Gen. Joram Mugume was the highest ranking of them all, followed by four Major Generals; Nathan Mugisha, Jim Willis Byaruhanga, Samuel Turyagyenda and Eng. Timothy Mutebile Sabiiti.
The remaining 14 retired officers were at the rank of Brigadier. They were; John Baptist Mulindwa, Mathias Sewankambo, David Kaboyo, John Mary Kaganda, Dr. Kenneth Ocen Obwot, John Mugogo Tumwebaze, Charles Wacha Angulo, Adolf Serwadda, Sam Kakuru, John Charles Anywar, Emmanuel Musinguzi and Francis Achola Ongom.
In a congulatulatory message he shared on his Twitter account, Karemire, said; "The UPDF salutes the gallant 19 Generals set to retire today at a ceremony presided over by His Excellency the President and Commander in Chief of the UPDF (Yoweri Museveni). Their years of sacrifice during active military service have not been in vain. Uganda is now very peaceful. We wish them well."
Since 2014, a number of soldiers attained retirement age, but the army then said there was no money to retire them since they require retirement benefits.
By 2014, the Ministry of Defence needed not less than sh5 trillion to pay pension, gratuity and retirement benefits of retired soldiers including those in all previous regimes. Then, a four-star general was earning sh2m as monthly salary while a private was earning sh380, 000.
Although they have retired, the generals still fall under the Reserve Force, are bound by the military code of conduct and they can be recalled at any time back to service. The officers will retain their escorts, and ceremonial military paraphernalia which they can wear on official functions.
Some of these retired officers have already been conscripted into the countrywide Operation Wealth Creation project led by Gen. (rtd) Salim Saleh.