The party's spokesperson, Semujju Nganda said the process is still on to identify the presidential flag bearer.
FDC | POLITICS | ELECTIONS
The Forum for Democratic Change (FDC) leading opposition party has postponed the nominations for the party's presidential flag bearers.
Initially the entire exercise of picking forms and nominations were scheduled to take place between July 30th and August 3rd.
The party's spokesperson, Semujju Nganda said the process is still on to identify the presidential flag bearer.
He said the nominations, have been postponed from July 30th and 31st to August 3rd to 4th due to the Eid Adhuha celebrations.
He noted that to qualify for the nomination, one must be a cardholder and eligible to stand for the president under the national Constitution.
Up to now, FDC remains uncertain on whether their former party president and three-time presidential flag bearer Col. Dr. Kizza Besigye will run again.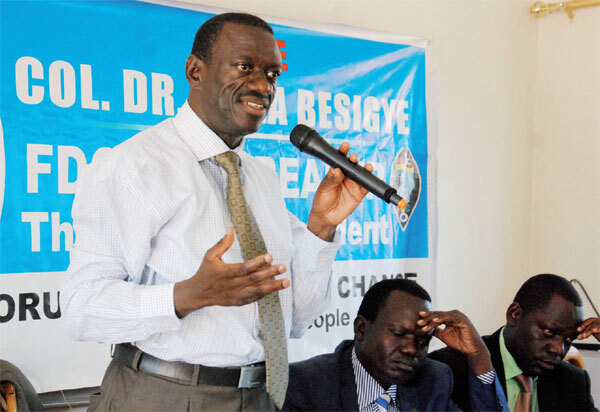 However, a highly placed source at the party headquarters who preferred to speak on condition of anonymity told the New Vision that Besigye has opted not to stand in the coming election, though he was still pressurized by some party members.
"He said he was ready to support whoever comes but he will not stand again. He wants to keep his legacy because many people including some opposition members have been calling him all sorts of names, saying he has failed the struggle. He wanted to give them space," a source noted.
The party also warned party flag bearers against working with political pressure groups like People Power.
The party's Electoral Commission boss, Boniface Toterebuka Bamwenda said all those standing on the FDC flag, must respect party principles and decisions.
"Once we give you our flag, you must respect the party rules and regulations. Everything must be decided by the party's top organ. We have structures that must be respected," he said.
He insisted that party values must be respected before any decisions are made.
"Those who go to People Power will be doing that on their own, but it is not a party decision. As FDC, we have not gone into any coalition with any group. This is an independent party with values that must be upheld. That is what makes who we are and this time we are looking at our flag. That is why we have to be careful because different political groups have different objectives," he added.
He noted that candidates who flout party rules and regulations will be summoned and an appropriate action taken.