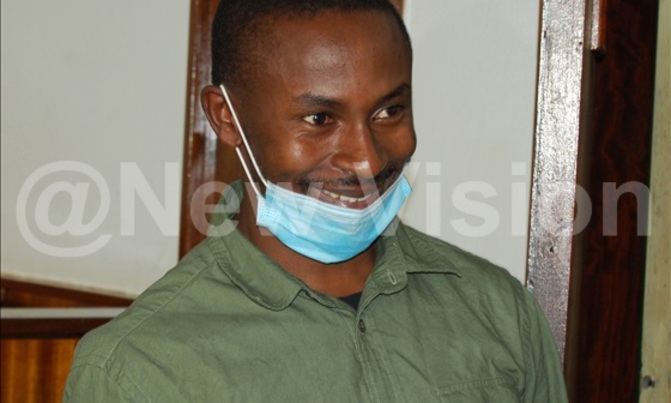 On Tuesday, Sseruwu denied the brief facts after which court was to sentence him, saying Police detectives forced him to admit to the charges.
COURT|CRIME
In a twist of events, Jude Sseruwu, 31, a data entry clerk attached to the Commercial Division of the High Court in Kampala has changed his plea on charges of forgery and uttering false documents and denied the offences.

Sseruwu had pleaded guilty but denied to charges of theft. However, on Tuesday he denied the brief facts after which court was to sentence him, saying Police detectives forced him to admit to the charges.

"Brief facts are not true because while at the Criminal Investigations Directorate (CID) headquarters at Kabuli, police detectives forced me to confess," Sseruwu said.

He added that he was intimidated to not deny anything and forced to accept statements which were not of his own, therefore opting to change plea.

After changing his position, Buganda Road Court's Chief Magistrate, Miriam Ayo Akello declined sentencing him.

"The accused now denies the brief facts and changes his plea to not guilty," Akello said.

Immediately, the state prosecutor, Peter Mugisha informed the court that investigations regarding the matter were still ongoing and requested the court to adjourn the case for mention.

However, the accused through his five defense lawyers led by John Bulungu invited court to grant him bail on grounds that he had substantial sureties.

"Five sureties are in court to stand out the accused, we pray that court finds them substantial," Bulungu said.

The sureties included the accused's sister, Annette Nakyewa, an office attendant in the Ministry of Defense, Regina Nyakairo, his mother and Musa Musoke, his uncle, among others.

However, the prosecution objected to the bail application saying the charges against the accused involve colossal sums of money and releasing him would interfere with ongoing investigations.

"This is a case involving over sh1.6b and the accused is the center of all investigations, we pray that court declines granting him the same," Mugisha requested.

This prompted the trial Magistrate to decline granting the accused bail and remanded him back to Kitalya Prisons until August 13, 2020 for mention of the case.

"I decline to the application and the bail is objected, the state is hereby ordered to speed up with its investigations," Akello ruled.

Charges

Prosecution alleges that on June 24, 2020 at Eco Bank, Rwenzori branch in Kampala district, Sseruwu and others still at large stole over sh1.6b from Bank of Uganda, the property of the High Court.

It is also purported that on June 4, this year, the accused and others still at large, at unknown place in Kampala, forged a court order to wit HCT-00-CC-NO.08 of 2006, arising from Tax Appeals Tribunal at Kampala, application number TAT 9 of 2005, purporting to have been issued by the High Court Commercial Division and signed by Dr Agnes Nkonge, the deputy registrar of the same court, whereas not.