Museveni nominated as NRM presidential flag-bearer for 2021

The NRM chairman says top on the priority list for his government is the fight against the coronavirus, with saving life ... The NRM chairman says top on the priority list for his government is the fight against the coronavirus, with saving life the most important aspect.
ELECTION WATCH

KAMPALA - President Yoweri Museveni has been nominated as the national chairman and presidential flag-bearer for the ruling NRM party for the 2021 general elections after he returned his nomination documents to the party's secretariat on Tuesday.

"I want to thank the electoral commission of the NRM for performing their mission. I want to thank the members of CEC [Central Executive Committee] for coming to be here and to give us moral support. Maama Janet and myself are very grateful to all of you," he said in his speech.


I thank the @NRMOnline party that has this morning nominated me as its national chairman and presidential flag-bearer for the 2021 elections. In due course, we shall unveil our detailed plan and message/manifesto. I thank you. pic.twitter.com/hGY1S1DvsI

— Yoweri K Museveni (@KagutaMuseveni) July 28, 2020


Successful nomination paved the way for Museveni to seek a sixth elective term as President in polls that will be held early next year.

He said top on the priority list for his government is the fight against the coronavirus, with saving life being at the heart of this battle in Uganda as is in other parts of the world.

"We want to save life. This is our biggest challenge," said Museveni, who had started off his delivery by apologising for his hoarse voice, which he later described as his "weapon that is a bit rusty" but would soon be mended.

Doctors, he said, took samples and later ruled out COVID-19, recommending lemon, ginger and honey as a supplement to the medication given to clear the soreness.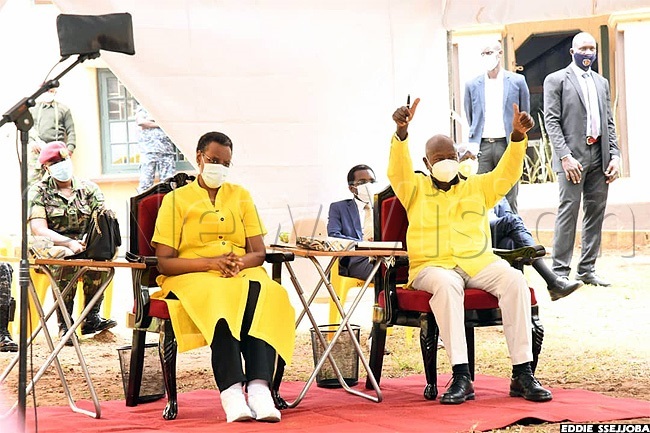 The issue started on Sunday.

"I must apologise for the hoarse voice. Last week, we had long meetings and it seems when you speak in the mask for a long time, it may affect your voice," said Museveni.

"On Sunday, I started feeling some sore throat and a rough voice. My first call was COVID-19. So I called the doctors early Sunday, they took the sample and by evening they came back and said 'no coronavirus'. Apparently there is also another bacteria that can cause a hoarse voice - that one was not there, but the voice was hoarse.

"Yesterday [Monday], I went to cabinet briefly and I came back and rested the voice.

"Apart from the modern medicine, they have prescribed lemon with honey and ginger. So I am really taking big quantities of those," added the President, wrapping it up with a tone of optimism.

"So I hope the voice will sort itself out."

'The biggest challenge'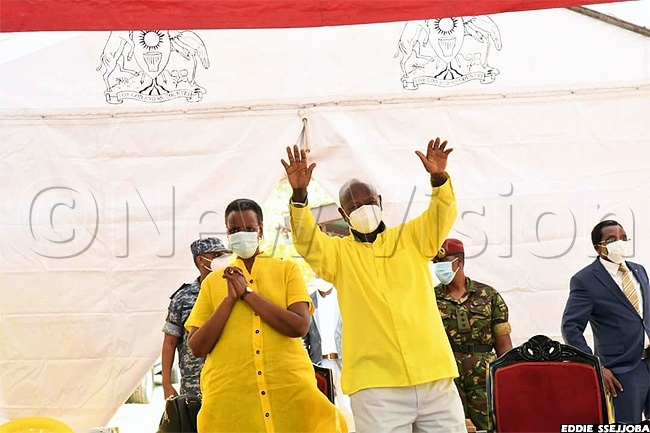 Museveni went on to briefly lay out some of the plans ahead.

"The way forward, number one, is to fight the coronavirus. Really, I am amazed at how some people mix up issues. (...) What is at issue now in the world is life. We want to save life - this is our biggest challenge," he said.

Uganda had until recently managed to battle the coronavirus without registering any death. Last week, the first coronavirus-related death was recorded, the victim a woman from Namisindwa district in eastern Uganda.

The second death was of an 80-year-old female resident of Mengo in Kampala days later.

Museveni used these two cases to re-emphasize his call to all Ugandans to heed guidelines by officials to prevent infection. "If you don't listen, we are really going to have enough work burying people."

He talked of how he saw boda boda cyclists exercising reckleness on the road - not wearing helmets and masks - only hours after his last address to the nation, during which he announced several measures to be observed by boda bodas to resume ferrying people.

On Tuesday, several top leaders of the NRM were at the party's head office. Prime Minister Dr. Ruhakana Rugunda and Speaker of Parliament Rebecca Kadaga were among them.

The same day, Hajj Moses Kigongo was nominated as the party's national vice-chairman. He was presented for nomination by Kadaga, nominated by Rugunda and seconded by Wilson Owere.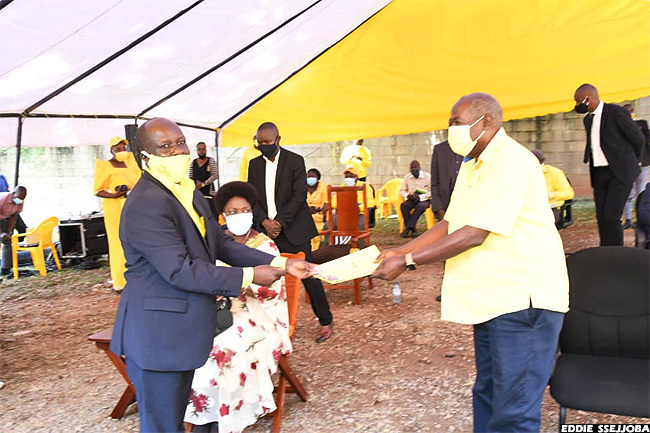 Meanwhile, as Uganda awaits a vaccine against coronavirus, Museveni urged this fellow countrymen and women to avoid getting infected with coronavirus by sticking to the basics: wear face masks, wash hands with soap and water and keep a social distance, among other measures.

He also once again struck a positive outlook of the economy, underlining that while a number of sectors have been hit hard by the pandemic, the economy "has not collapsed". He touched on the issue of a regional federation, saying that while things may not be perfect, it is still important.

Those are some of the contents in the NRM manifesto, whose detailed version Museveni said will be unveiled in due course of time.

NRM electoral commission chairman Dr. Tanga Odoi, who declared Museveni as the party's duly nominated presidential flag-bearer, said the doors were open for any interested person.

He said no-one was barred from picking nomination forms for any position as long as they adhered to the requirements set by CEC.