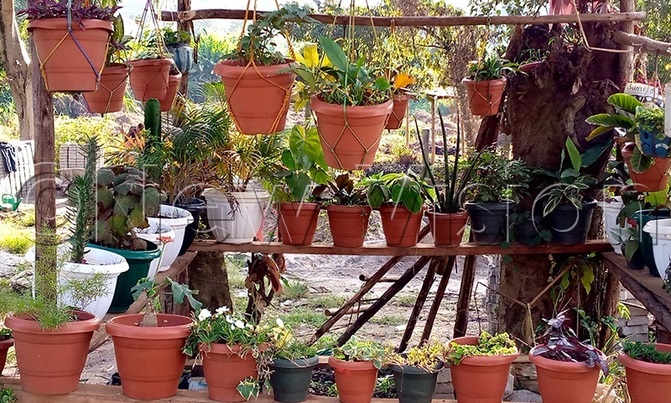 Bagonza has more than 100 species of plants on her 50x30ft piece of land. The commonest plants at her home are the palms, agapanthus, anthurium and orchids.
AGRIBUSINESS HORTICULTURE HARVEST MONEY
Harriet Bagonza is no botanist but you will be amazed by the different species of plants that grace her compound in Kawanda.

Bagonza picks the plants from forests, friends and buys others from nurseries. This is something that she started as a leisure activity but now, she makes money from it and she has started selling some on the main road of Kampala-Gulu highway.

"I had a neighbour who practised horticulture", she narrates the genesis of her love for plants. "I bought a few plants from her so I could tend to them. When she shifted, I was depressed. I needed something to occupy me".

When her neighbour visited her, Bagonza's plants were doing so well. She advised her to do business from these plants.

"She taught me how to propagate, multiply certain plants and how to make seeds germinate", Bagonza says. This was in 2015.

As she learnt how to tend the plants, she linked up with people interested in plants and flowers. Since then she has never looked back.

"Flowers are not much appreciated by local people here as in Kenya and other countries. I decided to settle for house plants because a cross-section of people like them, but because of space I have also decided to start on the main road of Kawanda," says Bagonza.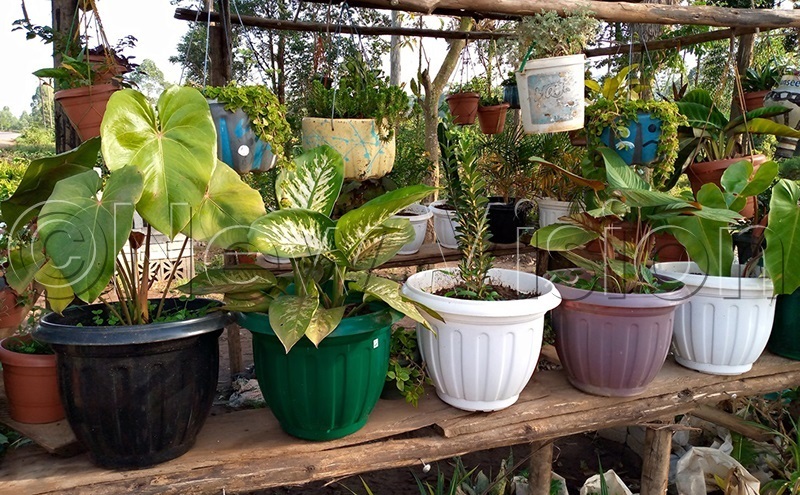 The passion for her plants have her awake by 5:00 am to water them. The water is collected during the rainy season. She observes that tap water is expensive if you have to water the plants daily.

She has two boys who help her with the work. Bagonza has to be patient with the plants. Plants like the palms, Bagonza says, take time to be appreciated. Others like the croton and Begoma take three months.

The process involves collecting soil from forests, composite soil which is got by steaming, adding sand, ash and charcoal dust.

Bagonza says that after this process you add other fertilisers and then you start potting (putting the plants in pots).

For the orchids, Bagonza says most of them do not need soil so she uses charcoal blocks to plant them. When you use soil, the plants die.

Before the plants are ready for planting, she propagates them to develop roots, then transfers them into the planting bags.

"To make a plant get to maturity takes time", Bagonza says, answering the question on my mind about her patience.

Bagonza has more than 100 species of plants on her 50x30ft piece of land. "I don't even know the names of some of the plant species. I pick the plants from the plains, experts, neighbourhood and I buy some from the nurseries", she says explaining that some of the names of the plants depend on where the plant was developed. The commonest plants at her home are the palms, agapanthus, anthurium and orchids.

To boost her trade in plants, Bagonza reads books. She takes it upon herself to know the latest species on the market and give them a try.

It's important to know that these plants attract snakes; according to Bagonza cats chase away rats, snakes among others.

She sells her plants to both large organisations and individuals who purchase plants to sell to offices. "There are times when everything is sold out and the compound is virtually empty", Bagonza says.

When the season has been productive, Bagonza can earn up to two million. In a year, there are two seasons for plants.

But tending plants is not an easy thing. Bagonza says there are no proper planting materials.

Trays for propagation, forks, gloves, plant fertilisers and sprays are not easily available. The pots are heavy and the planting bags and pots are very expensive.