The skills attained brought changes in our community including domestic violence which was a result of lack of money in homes.
LIRA-Sandra Akulo is a 21-year-old girl from Lira Municipal council in Lira district. Being deaf, to her, has been a blessing in disguise as her opportunities are always inclined on her disability.

A primary seven drop out says she was always wondering who will ever liberate her family which suffered greatly during the insurgency.

She however says the coming of a project to skill youth in the region has been a turning point to both her parents and life at large.

"When this project came to lira, I went and applied, nobody thought I would manage. During the training supported by the Skills Development Facility (SDF) project, I challenged them and I was sourced as the best student who was eligible to be retained at the centre.

I acquired good skills in tailoring and designing and right now, I am able to get at least sh10, 000 a day which has changed my life.

After benefiting from the project, I am now able to send money home to help my siblings to attain good education since the reason for my dropping out of school was due to lack of school fees," she narrated.

Akulo says the project has empowered her to the extent of not thinking of becoming a house wife but rather a working class who is not dependent on a man.

"My ambition is to liberate my family from poverty by making sure that all my siblings are educated so that we can leave a better life," she stated.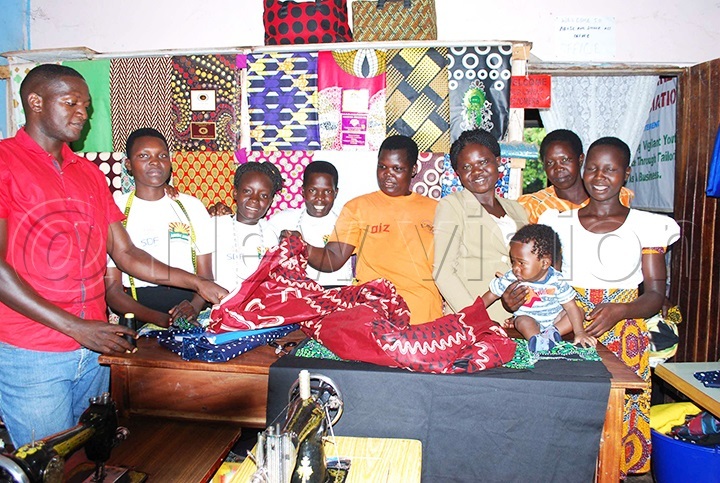 Akulo is just part of the many youth in the region from the districts of Otuke, Dokolo and Oyam, who benefited from the SDF through Private Sector Foundation (PSFU) supported by the World Bank.

Winnie Abonyo, the executive Director Arise and Shine youth Association says the organisation which started in 2013 supports vulnerable youth who dropped out of school through empowering them.

"We didn't have the capacity to train many youths but through the support from the World Bank about 35 youth have received training.

When we applied for the grant in 2017, we were shortlisted among the organisation to be supported and we were able to receive about sh37m to train youth from January to December, 2018.

The grant has helped vulnerable people who had been buried in the village, and were able to acquire skills.

This has improved household income; women can now earn money, look after their families and send their children to school," she explained.

She revealed that some trainees were able to get contracts for making school uniforms citing groups in Otuke and Dokolo who are current suppliers of Kotido Technical institutions among other schools.

Abonyo states that ever since the organisation received the support, it has increased its income which has helped it to procure land for construction of an office block which is part of the effort to put up a vocational training institution.

"We have been receiving orders for dresses and bags from abroad. Last year's festive season, we made dresses for the children of Germans and those from California which earned us about sh4m.

We managed to also train youth on how to make sanitary reusable pads which we distributed to schools to enhance school retention of girls," she said.

Abonyo encouraged youth to join hands in the skilling process to reduce the jobless youth especially those in the villages.

"The skills attained brought changes in our community including domestic violence which was a result of lack of money in homes.

We are happy that our women are working, and no longer beg men for money which has brought peace in their homes, "she said.

She requested the government to look for vulnerable youth in the villages to be the beneficiaries of the grant, other than the few who stay in the city suburb.

She observed that demand for vocational skills is very high than wanting for white collar jobs.

She asked the Head of the Project to consider extending the training period to at least six months to ensure that all the trainees can master everything.

The head SDF Ruth Biyinzika Musoke said the project; is part of the sh360 billion Government of Uganda project, funded by the World Bank.

"It is implemented by PSFU through the Ministry of Education and has benefited over 80% youths, "she said.