Districts get additional cars for immunisation services
Health Minister, Dr Jane Ruth Aceng, said the new cars will support districts that did not have vehicles at all.
The health ministry has dispatched additional vehicles meant to scale up immunisation programs in 35 districts.
The vehicles, 35 in total were procured with support from the Global Alliance for Vaccines and Immunisation (GAVI) and UNICEF.
The beneficiary districts include; Kalaki, Kaliro, Kapelebyong, Kasanda, Kasese, Katakwi, Kiboga, Kibuku, Kikuube, Kitagwenda, Kitgum, Kotido, Kumi, Kwania, Kyegegwa, Kyenjojo and Lira.
Others districts include; Lyantonde, Maracha, Mbarara, Moroto, Naibilatuk, Nakapiripirit, Namayingo, Namisindwa, Nebbi, Omoro, Oyam, Pader, Pakwach, Rakai, Rubanda, Rukiga, Yumbe and Zombo.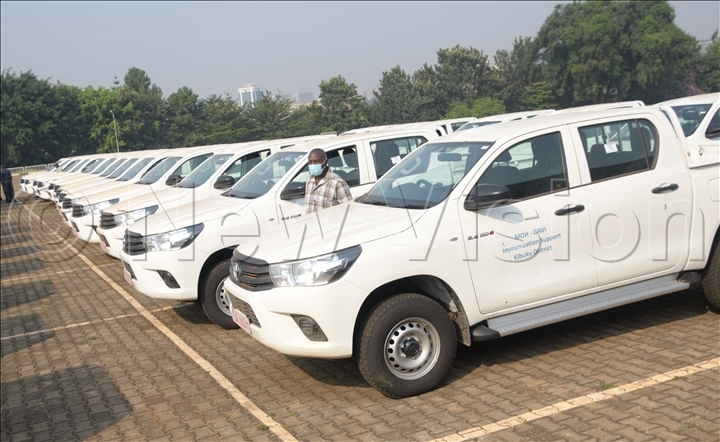 The health ministry registered a 20 per cent decline in children whose immunisation schedules were meant to take place since the first COVID-19 case was registered on March 21.
The drop was particularly seen among children who were expected to receive the Diphtheria, Tetanus, and Pertussis Vaccine (DPT-3).
DPT-3 is given to babies at 14 weeks. This is when babies also receive the pneumococcal vaccine.
Children who do not complete these vaccines are at risk of getting pneumonia, meningitis and tetanus.
While flagging off the vehicles at the Kololo Independence grounds yesterday, the prime minister Dr Ruhakana Rugunda called upon the district leaders to utilise the vehicles correctly.
"While we are focusing on controlling the pandemic, let us make sure we do not miss our target on immunisation. Our control of the pandemic should be seen as additional work.
"We should not compromise the lives of our children by being diverted from focusing on immunisation," Rugunda said.
Health Minister, Dr Jane Ruth Aceng, said the new cars will support districts that did not have vehicles at all.
This she added, will facilitate health workers to take vaccines closer to the population and to ensure that no child is left behind.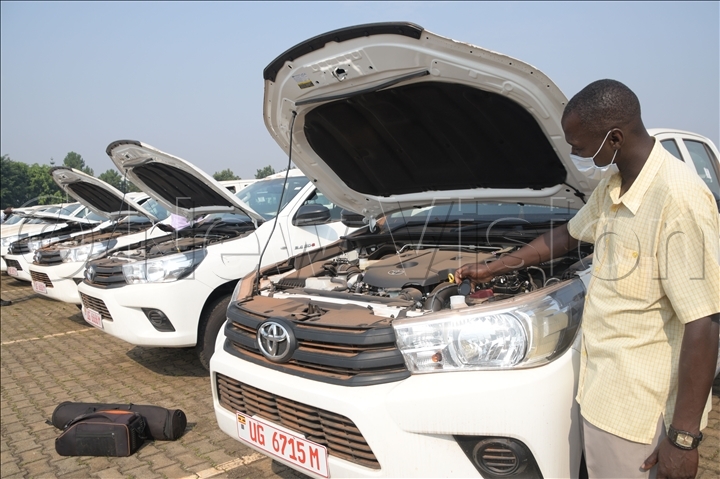 "We are working towards ensuring that at the end of this pandemic, no activity in health is affected or damaged. We are therefore hopeful that the districts will adhere to this program," she said.
Dr Richard Driwale, the program manager Uganda National Expanded Program on Immunisation (UNEPI) at the health ministry said despite the challenges immunisation services are slowly recovering.
He called upon parents whose children missed out on their vaccine schedules to take their children health facilities saying the vaccines are readily available.
Jon Blasco, the acting deputy representative for operations at UNICEF said the first batch of vehicles were given in 2015 and more cars will be given to districts.
He said the total cost of the cars is sh5.5bn (USD 1.5m).