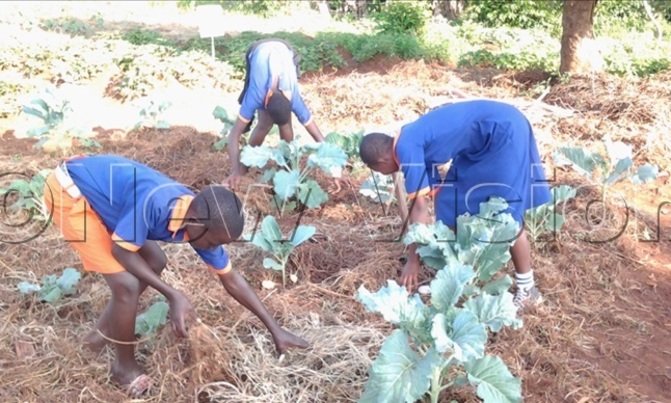 The project aims at supporting government's efforts to clearly link agriculture, nutrition, health and education through school-based demonstration gardens and nutrition education.
WORLD BANK | EDUCATION
Whereas government primary schools founded under the Church of Uganda in Busoga sub-region boost of chunks of land on which they could grow food to feed their learners and teachers, the land remained idle without optimally being utilized.
Edith Musekwa, a head teacher at Namunsaala primary school in Namungalwe sub-county, Iganga district said whenever government delayed remitting funds, her staff would go hungry yet 5 of the school's 7 acres were unutilized land.
Jessica Nakadama, a teacher at this school who was among the affected staffs said they had to improvise measures to ensure that they had lunch meals.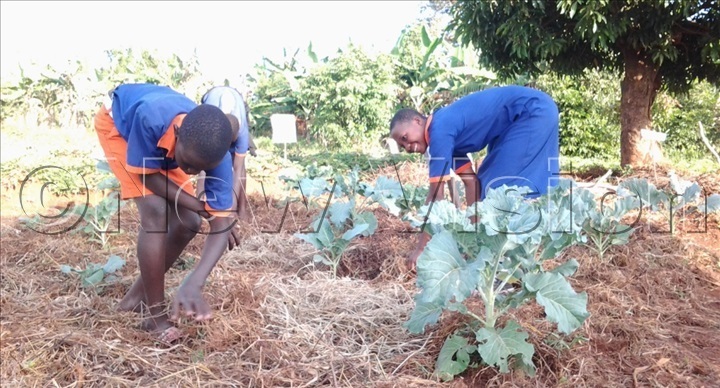 According to Nakadama, they used to contribute money which they would pull together and buy food that was prepared for them.
However, this was not a sustainable mode since some teachers couldn't afford contributing.
Similarly, Stephen Mukwana, the head teacher Bugiri primary school in Kapyanga sub-county said his teachers were in the same boat like those of Nawansaala as his staffs would also raise some money which he would top up for them to have lunch meals.
However, this is now history among teachers and pupils in the 3 districts of Iganga, Bugiri and Bugweri from Busoga sub-region after benefiting from a $27.6m World Bank project geared at improving nutrition among pupils at schools including their surrounding communities.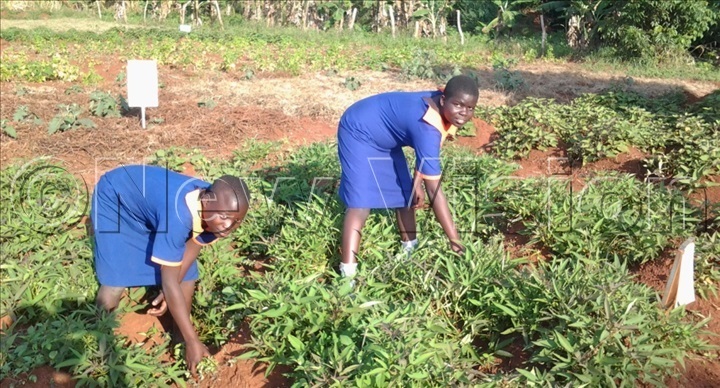 The 5 year project which is winding up this December is being implemented under the Uganda Multi-Sectoral Food Security and Nutrition (UMSFSN) in selected 15 districts across the country which had been evidenced with malnutrition and anemia incidents among children and pregnant mothers.
The project aims at supporting government's efforts to clearly link agriculture, nutrition, health and education through school-based demonstration gardens and nutrition education.
During a fact finding mission on the impact of the project in Iganga and Bugiri districts on Wednesday, the state minister for agriculture Agrey Bagiire said the project had worked well in Uganda and was rated among the best World Bank projects in Africa.
Bagiire said it was important for the beneficiaries to come up with strategies of sustaining the project in case the WB fails to renew its funding.
Julius Twinamasiko, the project's national coordinator said it was being implemented in selected districts in West Nile, East and Western Uganda.
Twinamasiko said the project aims at increasing the production and consumption of micronutrient rich-foods and utilization of community based nutrition services in small holder households in the project areas.
Under this initiative, Twinamasiko said the 1,500 beneficiary schools were encouraged to promote good feeding among learners by growing foods, fruits and vegetables of all types which are rich in minerals and vitamins to tackle stunting.
Accordingly, Musekwa said they designated specific days of feeding their pupils on special diet whenever they harvest.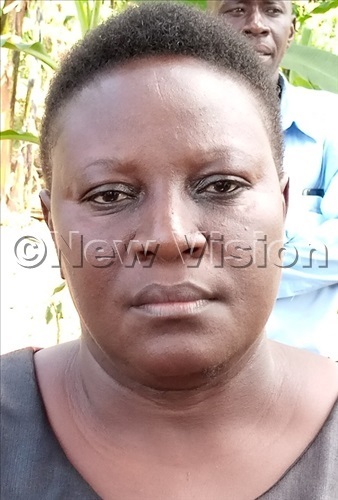 For instance the primary one and two classes are fed every Monday, while on Tuesday, Wednesday and Thursday it is the primary three, four and five turn respectively.
The primary six and seven are prepared the special meals on Friday.
Eva Kwesiga, the Iganga resident district commissioner attributed malnutrition cases in Busoga to tendencies of hiring their land for sugarcane growing.
Kwesiga said most families were not retaining land for food production which had kept them in abject poverty as well as frustrating education by sending children to schools without packing for them food.
Also, Bagiire emphasized that majority Basoga have poor eating lifestyles which have undermined the quality of education in the region.
In academics, Bagiire said Busoga was second after Kigezi but it declined partly due to poor feeding among learners.
"We used to produce professionals who excelled and held big offices but this came with proper feeding from infancy level, feasting on heaps of food doesn't mean eating well but that which is rich in nutrients to keep our bodies and brains on form," he said.
He lashed at those who assume that fruits are meant for children as they keep laughing at old people who eat them.
"My father is 81 years but he is strong like me because he got a good foundation of eating correctly, stop judging men's wellbeing their weight on tummies," he cautioned.
He said non-communicable diseases emerge due to wrong eating which is avoidable.
Paul Isiko, the project coordinator Bugiri district named some of the foods being promoted for growing which included the Orange sweet potatoes (kipapaali), iron rich NARO beans which are none locally.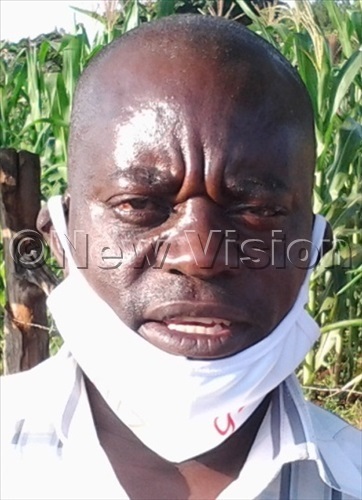 While the locally available foods include Amaranthus (dodo), pumpkins, spider plants, bitter tomatoes, egg plants, cabbages, green peas, Nakati, lettuces and sukuma wiki.
Meanwhile the fruits include pawpaws, oranges, jack fruits and magoes among others.
Isiko said the project was being embraced by 100 primary schools and 58,469 households in 10 rural sub-counties in Bugiri district.
He explained that 70% of the households around the implementing primary schools were regularly consuming the micronutrient rich foods.
Since Bugweri district was curved from Iganga when the project was underway, Iddi Bateganya, the Iganga district project coordinator said they had to continue with it.
He said 61 schools under Universal primary education were benefiting from the project in Iganga district while 39 are in Bugweri district.
Bateganya said the two districts had so far received sh2.7b for the project.
Before this project, Twinamasiko said stunting cases stood at 29% in the 3 districts.
Whereas there are indicators reflecting a reduction in stunting, Twinamasiko said they had embarked on a nutrition assessment to verify how it had impacted across the 1500 schools and surrounding communities in the country.
According to Dr. Robert Musenze, the assistant district health officer for Bugiri, records of malnutrition cases have greatly declined with mild cases of underweight.
Musenze said severe cases of underweight in most of their rural sub-counties had been minimized save in Buluguyi and Muterere which were at 19.64% and 5.65% between January to March 2020 respectively.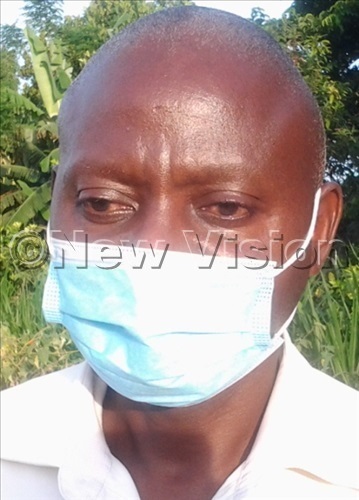 He attributed the high prevalence to the heavy elnino rains which greatly affected people's gardens as well as displacing them.
He said most families took refuge in schools which undermined their proper feeding as they had been.
However, Bagiire noted that extension workers were frustrating the project by failure to guide the beneficiaries on the best farming practices.
"The extension workers are frustrating this project and this is a problem, they must be committed lest I will get their medicine," he remarked.
Whereas Busoga soils had lost fertility, Bagiire said the extension workers were not sensitizing the beneficiaries and general public on how to apply the locally available fertilizers to improve on their gardens as well as preserving the environment.
He said the banana gardens at the schools he inspected were of good quality but were more of a forest while the vegetable gardens seemed to have been tended to following his visit.
Unlike in Iganga district where gardens were visibly hit by the sun, in Bugiri, the schools and members of the beneficiary project had mulched their gardens to the impression of the minister who gave cash to the learners present.
"Our communities don't know how to improve on their gardens, it is important for them to use farmyard manure like cow dung and chicken droppings for the plants to keep health," he urged.
The minister was optimistic that the project would resurrect food production in Busoga which was a food basket for Uganda.
"Busoga was a power food house now it is second after Karamoja in the poverty index but with this project, it will regain its glory in food production," he said.
VOX POPS
Wilberforce Kayongo, Chairperson PTA, Nawansaala P/S, Iganga district says water for irrigation remains our biggest challenge during dry seasons to enable us keep producing throughout the year.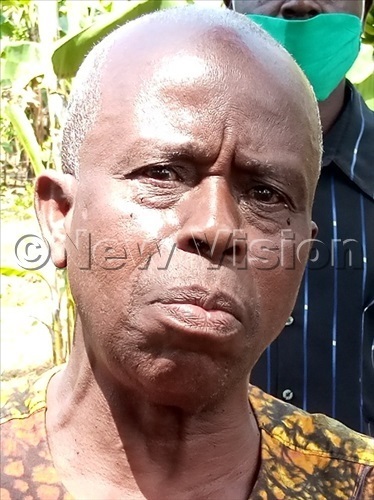 Edith Musekwa, Head teacher Nawansaala P/S said enrollment has increased because of the nutrition feeding aspect yet the surplus vegetables are given out to our pupils and teachers yet they have also established gardens at their homes.
Iddi Bateganya the Iganga/Bugweri district coordinator states that he interdicted and imprisoned some head teachers who mismanaged the project funds contrary to the guidelines.
Paul Isiko, the Project coordinator, Bugiri district revealed they have performed well and Bugiri should be a case study in case of enrolling the project in the country.