Just when you think he is down and out he comes back with renewed vigour.
Like the proverbial Phoenix, Joshua Cheptegei is not short of surprises.

Just when you think he is down and out he comes back with renewed vigour.

Still fresh to the world is his 2017 seeming rise to the crest of cross-country running then his unexpected collapse.

That he eventually managed to rise from the ashes into one of today's biggest names of long-distance running, is one of the biggest comeback stories.

Back to 2017 when Uganda hosted the World Cross-country at Kololo, memories are still vivid of Cheptegei as a world title favourite.

Kololo debacle

After decimating all that Uganda had to offer early that season, Cheptegei was a sure bet for the senior men's crown that had long eluded Uganda.

Led by President Yoweri Museveni the huge Kololo crowd had all reason to believe that this was their moment.

Cheptegei's team-mate Jacob Kiplimo had moments earlier further boosted the host's expectation with a historic run to the junior men's title.

And indeed Cheptegei seemed not to disappoint when the blue ribbon race of the biennial event — the senior men's 10km was flagged off.

He took a commanding lead shortly after the start and by the fourth of the five two-kilometer laps, looked comfortably in charge.

The crowd was ecstatic as Cheptegei raced into the final lap.

Struggling at Cheptegei's heels were defending champion Kenya's Geoffrey Kamworor and the equally mighty Ethiopians.

But unknown to many wildly cheering Ugandans was that their star had also been drowned in the mood of the moment.

Hydration blunder

Fired up by Museveni and the huge crowd, Cheptegei had ignored one crucial requirement of long-distance running. He had not hydrated at the water points.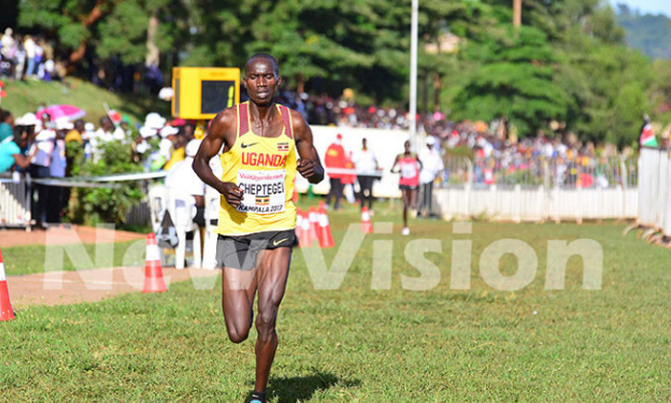 Then with 200 metres left the nation started toasting to what by all measures looked like a sure victory, the unexpected happened.

The afternoon heat on the picturesque Kololo course took its toll and Cheptegei burnt out.

The rest like they say us history. Images of a drunken-like Cheptegei staggering to the finish line are still vivid as Kamworor raced to his second consecutive title. Cheptegei eventually finished a disappointing 30th.

To many, Cheptegei was down and out.

With local and international televisions continually replaying what Ugandans came to call the Kololo debacle, Cheptegei was psychologically shattered.

Looking back, he said in a February interview: "It took me time to even return to training. But I eventually came to accept that life is not a straight line. There are highs and lows. I was hopeful of rising again."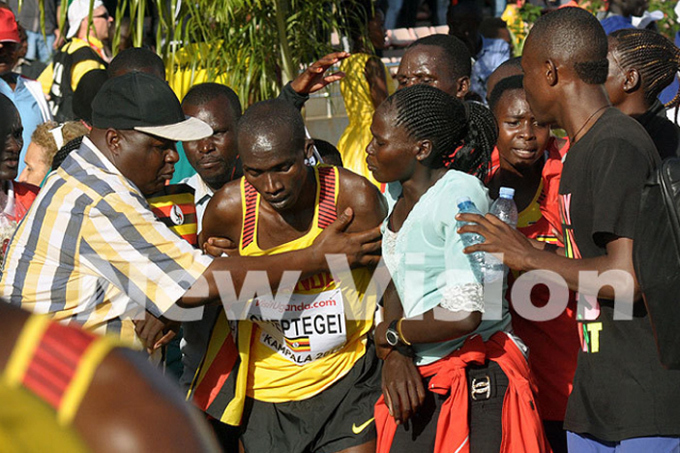 That was his motivation back to serious training. Those who thought he was finished were mistaken.

Written off

Cheptegei's light was due to shine even brighter. What many did not realise was that this was not the first he was being written off by his critics.

When he first struck gold in the 10,000m at the World Junior Athletics Championships in 2014 in Eugene, he was dismissed as a fluke by powerhouse Kenya.

Some Kenyans even accused Cheptegei of being overage. But the Ugandan teenager was not about to be intimidated.

Next on his radar was a medal at the Rio 2016 Olympics.

That never happened and his critics celebrated saying they had foretold that he was not good enough.

But Cheptegei knew better. Besides as coach Nalis Bigingo put it at the time, the athlete, who had just graduated to senior level, was still a work in progress.

Cheptegei meanwhile was winning the African 10000m and national Cross-country titles.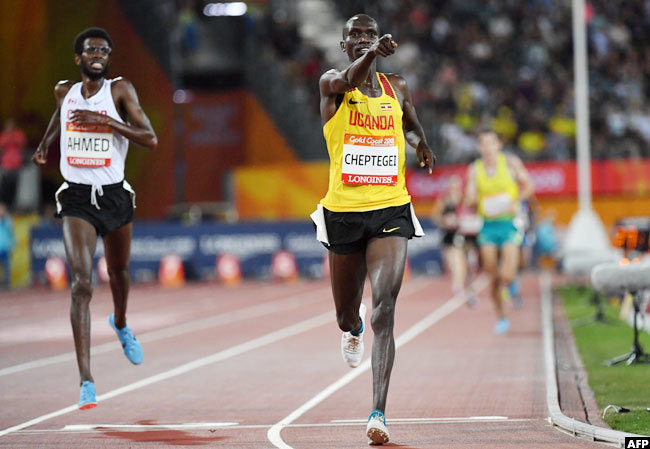 After the Kololo disappointment, he bounced back with a silver medal at the 2017 World Championships in London.

Farah cheats Cheptegei

What hurt Uganda, even more, was the fact that it could have actually been a gold. Briton Mo Farah who won that final had stepped outside the inner lane.

That called for disqualification had Uganda appealed. Efforts by yours truly to question Uganda Athletics Federation (UAF) president Domenic Otucet why he had not taken action did not pay off.

Otucet said that Farah was not only on home ground but that he also doubted that World Athletics head Sebastian Coe, also a Briton, would act against a fellow Brit.

Much as the chance was swept under the carpet, Cheptegei did not lose heart.

It was also at this point that the patriot in Cheptegei was revealed.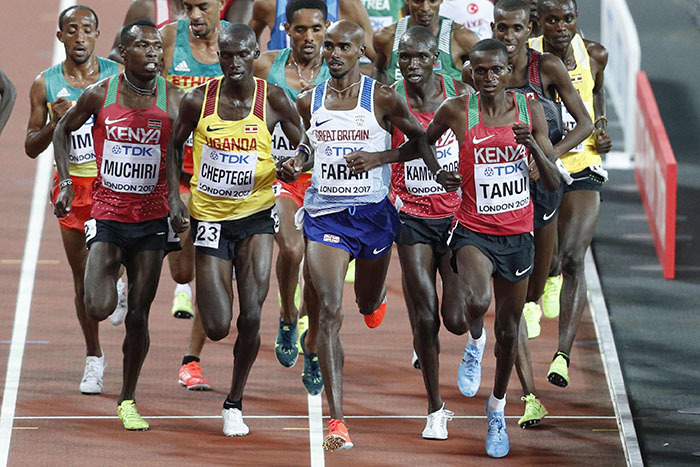 Patriot Cheptegei

Rich Arab states were scrambling for his signature to change nationality for as much as $500,000(sh1.9b) on top of more money in allowances from their bottomless oil reserves.

"I refused because I love my country. I also felt I still had a lot more to win for Uganda."

Cheptegei's patriotism was indeed again on display at later that year celebrating with the Ugandan flag when he set the world 15km world road race record in the Netherlands.
To prove that he was seriously back at the top, he won 5000 and 10000m gold at the 2018 Gold Coast Commonwealth Games.

It was at that point that Kenya accepted Cheptegei as a real force in long-distance running.

Cheptegei then wound up the year with a 10km world road record.

Disaster strikes again

But disaster was to strike again later that year as he was involved in a road accident that left his back injured.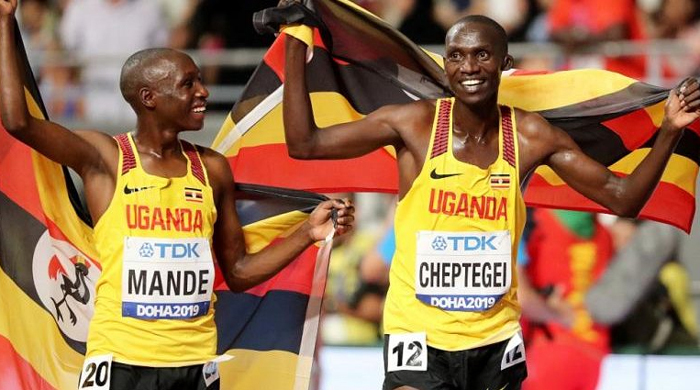 He struggled through the cross-country season not only losing the national title to fast-rising teenager Jacob Kiplimo but also evoking the wrath of critics that his career was on a nosedive.

But he again kept his calm consoling himself with his previous comebacks.

By the time Uganda travelled to Aarhus, Denmark for the World Cross-country, Kiplimo, who had won a string of A-class races in Europe was favourite.

Little did many know, that Cheptegei had not only learned his lesson from Kololo but had also fully recovered from the injury. During the race proper in Aarhus, Cheptegei refused to take the lead and instead chose to use his more enthusiastic teammate as a pacesetter.

Cheptegei rises again

Kiplimo indeed was in the spotlight leading until the final kilometre when Cheptegei cruised to the lead and went on to win Uganda's first senior world title. Kenya again conceded that the Ugandans, who had this time outrun Kamworor to the third position were a force to reckon with.

This marked the start of what was by all measures one of the best long-distance seasons.

Cheptegei followed up the Aarhus triumph with a 5000m Diamond League and 10000m World Championship title.

Athlete of the year

He was amongst the World Athletics nominees for Athlete of the Year but the title inexplicably went to Kenya's Eliud Kipchoge for becoming the first man to run the marathon inside two hours.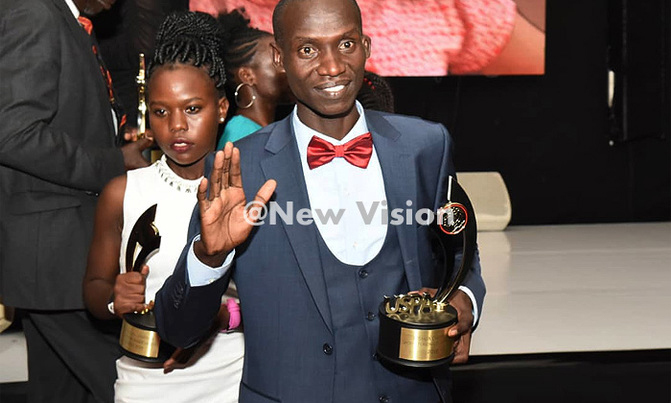 That this race was not on the IAAF calendar again raised doubt about the impartiality in choosing its crème de la crème.

All eyes are now on the Tokyo Olympics. But with COVID-19 decimating almost everything in its way, Uganda's prayer is that Cheptegei is again in winning form by August 2021.

He is a sure bet for Olympic history as the first Ugandan to win double gold at these games. Like the phoenix that he is likened to, Cheptegei should after his previous lows be at his brightest in the Japanese capital next year.