The group's national chairman, John Mugisha Mushaijaomwe said the opposition has for a longtime tried the same strategy of forming alliances without any fruits.
POLITICS | GOVERNMENT | OPPOSITION
By Jeff Andrew Lule With several attempts of failed opposition formations to defeat President Yoweri Museveni in the past elections, the National Resistance Movement (NRM) mobilisers say they can not be threatened.
The group under their umbrella body "Team Thorough YKM2021" said the 2021 general election, is going to be a walkover for the NRM right at all levels.
TTYKM2021 brings together all NRM party coordinators, campaign managers and mobilisers at various levels
The group's national chairman, John Mugisha Mushaijaomwe said the opposition has for a longtime tried the same strategy of forming alliances without any fruits.
"Since 1996, these people have been forming alliances to defeat the ruling party but we always defeat them. That is why we are not bothered by their planned formation if at all they are even successful," he added.
Mugisha who was addressing journalists at the TTYKM2021 offices in Kololo, stressed that the NRM's good programs, policies and mobilization capacity at hand, they still have an upper hand over their opponents.
He also noted that the opposition parties are disorganized, thus making it hard to form a solid coalition.
"In 2011 the opposition formed the Inter-Party Cooperation (IPC) but some opted out after failing to agree. This was the same in 2016 when they tried to form The Democratic Alliance (TDA) but it still failed to work out. Today they are still uncertain whether it will work out. Just imagine how disorganized these people are," he added.
Mugisha revealed that his team has already started its work to rally support for their flag bearer President Kaguta Yoweri Museveni.
Four opposition youth join NRM
During the same event, they also initiated four youth from the renowned "Jobless brotherhood" into NRM.
The four including; Ivan Munyali Mulyuli, Peter Napoko, Derrick Wakiwuna and Aggrey Welikhe, were received and initiated by the Director Mobilisation and Political Affair at State House, Robert Rwakandare.
This explains the saying; "there are no permanent enemies or friends in politics".
The youth are part of the bigger group which has been criticising the ruling party for the last seven years. The group is popular for using piglets which they always painted yellow (NRM colour) and dump them at Parliament and other city streets, to demonstrate their dissatisfaction with the performance of government.
The four denounced their group and any connection with the opposition, saying they were only being used by selfish individuals who are fighting government without an agenda.
They were given NRM T-Shirts and caps.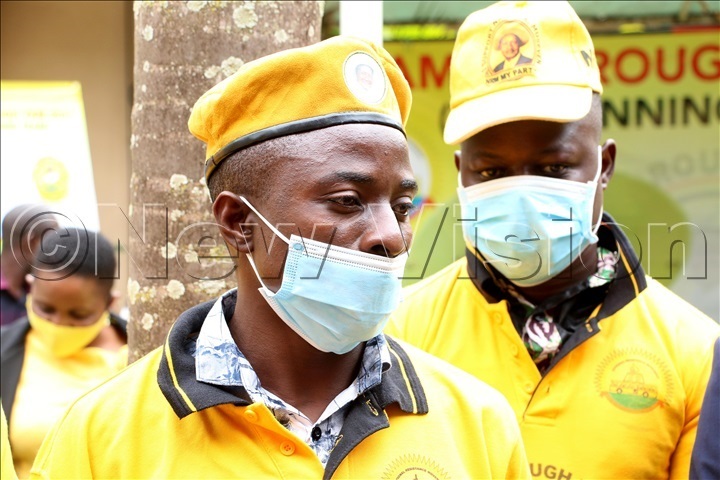 They vowed to work with other TTYKM2021 members and other mobilizers in the in the NRM to campaign for President Yoweri Museveni ahead of the 2021 elections.
"We have decided to join the yellow team after realizing we are being used by some selfish politicians for selfish gains. We would be arrested, but none of those people would come to rescue us. Even some of the members still have cases in court," Munyali said.
He explained that the boss of the group, Norman Tumuhimbise formed it as an alternative method to protest against many things to make government act, and address them, but was a waste of time.
"We realised we were not gaining anything from these protests. We also realised that President Museveni had the vision of the country. Our objective is to get more votes for President Museveni and get more youths to join NRM," he added.
They declined to reveal the funders of the group saying it was not safe for them. "There is a funder but I cannot reveal for security reasons".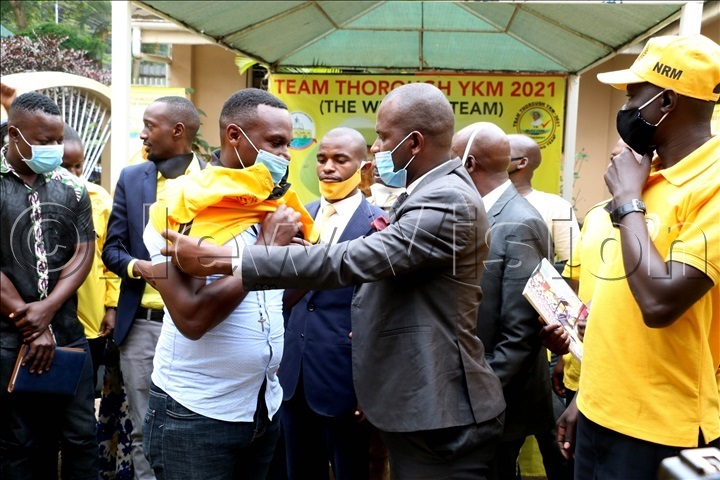 Mugisha (TTYKM2021) said his team is committed to continue convincing more opposition member to join NRM.
"These are some of the people who have been terrorizing Kampala, but they are now on our side. We are going to continue convincing opposition members especially youths who are being confused by opposition," he added.