Women can partake in virtually every sport and the number of female participation has equally grown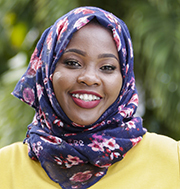 When I interact with parents whose daughters love sports, more often than not, they want to know what future sports holds for girls and women.
Women began playing sports during the 16th century when some girls competed in a footrace in the Greek Heraea festival in Olympia. It was in the 1900s, however, that more women began to emerge out of the male-dominated sports space.
Madge Syers was among the trailblazers, being the first woman to compete at the ice-skating World Championships, winning her first silver medal in an all men's event in 1902. This triggered the creation of a ladies' championship in 1908, where she won her first Olympic gold. In Uganda, Judith Ayaa won a bronze medal in the 400 metres at the 1970 Commonwealth Games, becoming the first Ugandan woman to win a medal at the prestigious Games.
Football for women also became noticeable in 1927 when a group of female factory workers set up a team called Dick Kerr Ladies. The team's mission was to raise money for wounded soldiers. In 1920 while playing against a French side, St. Helen's Ladies attracted 53,000 fans, setting a record for the highest fans at a female football match.
Interestingly, the following year, the Football Association (FA) outlawed women's football from being played on association members' pitches on the grounds that "the game of football is quite unsuitable for females and ought not to be encouraged".
It is thought the decision may have been a result of the envy of the large crowds that women's matches attracted. Although the ban was lifted 50 years later, it begs the question, would football still be viewed as largely a male-dominated sport? Despite the shaky beginning, these historic moments inspired radical change.
Indeed, women can partake in virtually every sport and the number of female participation has equally grown. This has also birthed a new breed of sportswomen whose abilities are breathtaking. Serena Williams, for instance, reigns in professional tennis and has won 23 Grand Slam singles titles.
Marta Vieira da Silva, the Brazilian footballer is considered the best female player of our time. She holds the record for most goals scored at FIFA World Cup tournaments. Back home, the talented Juliet Nalukenga was recently crowned as Airtel FUFA female player of the year 2019 at just 17 years old and many girls who watched her drive home a sleek car and prize money were inspired.
Needless to say, underlying issues in women's sports like cultural biases, physical changes, and stereotyping continue to disrupt the progress. Women are regularly forced to abandon their careers because of childbirth and often times adolescent girls stop playing sports because they are embarrassed by their physical changes.
As if that is not enough, issues of unequal investment and pay still haunt the industry. It is not surprising that women footballers around the world are taking action to address pay discrepancies at the World Cup and in their local leagues. For the 2019 Women's World Cup, FIFA set aside $30 for preparations and prize money compared to $400 for the 2018 men's World Cup. Imagine that!
Countries like Norway, Finland, Netherlands, and Australia consequently have embraced an equal-pay policy for both female and male national football players. How soon African countries follow suit is a story for another day.
Sports is a multibillion-dollar industry with opportunities for different professionals and athletes. This means that if one cannot play professional sports, they can still dream of becoming a sports doctor, manager, photographer, administrator, or head of a sports organisation.
Role models like Fatma Samoura broke the glass ceiling for women in sports when she became the first African and non-European as well the first woman, to hold the post of FIFA (International Federation of Association Football) Secretary-General. Women like Anisha Muhoozi, current CEO of KCCA, are among women breaking ground by heading male football clubs in Uganda.
During a recent online conference by World Football Summit under the discussion on Women's leadership in global football, speakers including Ornella Desiree Bellia, Head of Professional Football, FIFA, implored fellow women to always seek the best knowledge and skills within their line of work. They agreed that being knowledgeable gives women the confidence not only to compete for the best jobs but also to speak out on any imbalances or injustices within the industry.
In the end, the sports industry is experiencing a great shift and women are leading the transformation.