I must say I have played my part and I'm glad to pass on the mantle. You should also know that the NITA-U Act mandates the Executive Director to serve for not more than 10 years. In August, I will have served my 10 years.
INTERVIEW CORPORATE NEWS
In August this year, James Saka, the Executive Director of the National Information Technology Authority (NITA-U) will be retiring from his position, one he has held for the last ten years. As he winds his journey, New Vision's Edward Kayiwa caught up with him and below is what they discussed.

Soon, you will be coming to the end of your tenure at the helm of ICT coordination and regulation in Uganda. Looking back, how has your journey been like?

It has been an honour for me to serve Ugandans and play a role in seeing lives transformed through ICT. When I joined NITA-U in 2010 I knew there was an uphill task ahead. We had an un-operationalized National Back born Infrastructure (NBI), costly internet and a great need for automation of government services.

As we speak the NBI is fully operational with 4,000 kilometres of fibre laid across 49 districts, with 480 government offices connected including seven major border points. The Last mile Project that will connect 1,000 more sites across 58 districts to the network is already underway.

Over the years, we have made great strides and I'm confident that the team will continue to push forward the digitization agenda with the same zeal. I am extremely proud to be associated with the NITA-U family.

Whereas the cost of internet to government was at an average of $1,200 (sh4.44m) when I joined, we have managed to bring it down to $70 (sh260, 000) per Mbps, representing a significant saving of taxpayers' money whilst improving service delivery.

I am proud to share that currently, our cost of internet is 71% cheaper than what the private sector charges in Uganda. Owing to our aggressive pricing, this has influenced a drop in market-led prices for internet to approximately $300 (sh1.12m) per Mbps.

When benchmarked across the East African region, our NITA-U pricing is 56% cheaper than the average cost. All these efforts in astutely managing the NBI have resulted in Government of Uganda realizing revenue of $20m from the operation of the NBI.

Also, we set up a tier 3 cloud data centre, the first of its kind in Uganda with the capacity to host all government applications and data. To date, there are 101 applications hosted in this Government facility. Owing to this initiative of building a scalable Government Data Centre that all entities can use, we continue to save the government sh10b annually in costs that individual agencies would have used to build their own data centres.

Our crucial objective is to have citizens relate with the government without physically going to government offices, enabling fast and efficient service delivery. This is called e-government. That is why we built a citizen's portal which is a one-stop centre for online government services. That is why 98% of government Ministries, Departments and Agencies (MDAs) now have functional websites.

Why aren't you seeking another term of office?

I must say I have played my part and I'm glad to pass on the mantle. You should also know that the NITA-U Act mandates the Executive Director to serve for not more than 10 years. In August, I will have served my 10 years.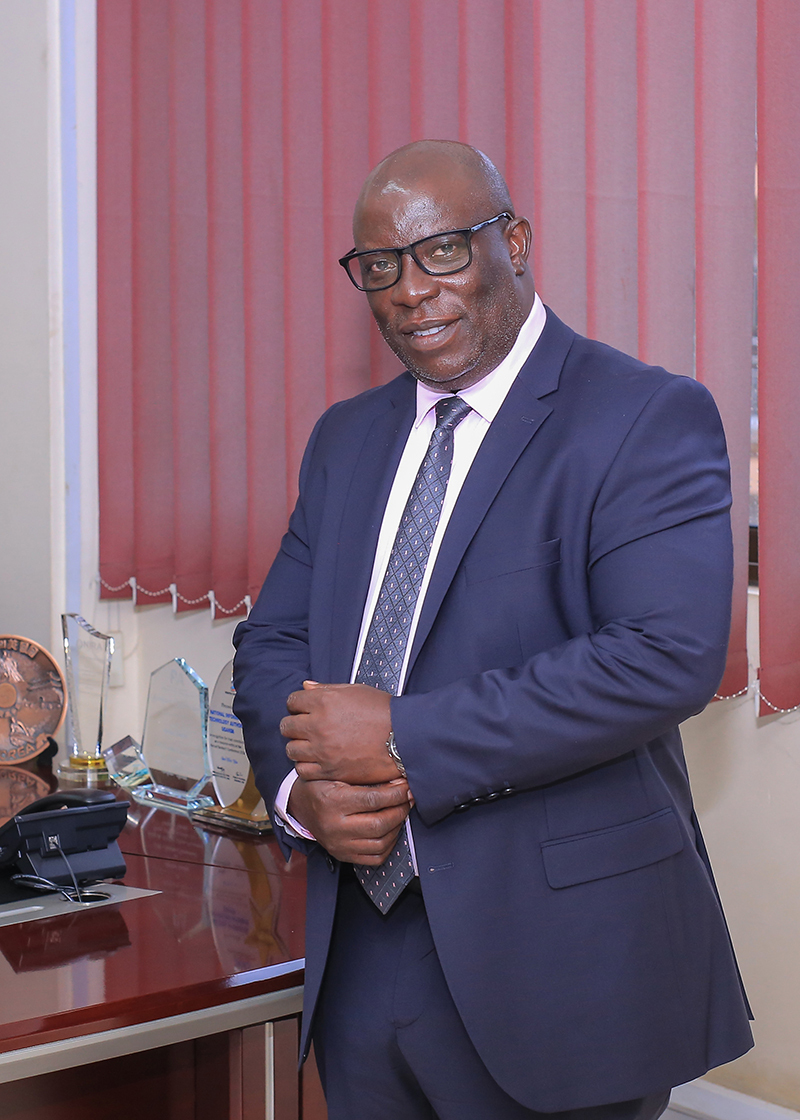 I am honoured and thankful for President Museveni, the ICT Ministers I have served under and the NITA Board, who have given me an opportunity to play a significant role in changing lives of Ugandans for years to come.

What will you be doing after your term has ended?

I will continue to serve Uganda and share my ICT knowledge and experience to contribute to Uganda's social-economic development. I'm also part of the 70% of Ugandans employed in agriculture and a passionate one at that, so I will definitely be spending quite some time tending to my farm.

My team and I have created an enabling environment that will allow people like me or anyone in the private sector to continue to contribute to the Digitalization effort from outside of NITA-U.

How does Uganda fair on the global front in as far as internet security and affordability is concerned? What should the ideal picture look like?

In the last 10 years, the Government of Uganda through NITA-U created an enabling environment for ICT to flourish by ensuring that the right laws, regulations and Policies are in place. These include the Electronic Signatures Act, The Electronic Transactions Act and the Data Protection and Privacy Act. Uganda was the first country in the East African region to have a Data privacy law enacted. This highlights the dedication and effort my team has extended towards the promotion of the use of ICT.

In 2018, Uganda Ranked as the most cyber-secure country in Africa in the national cybersecurity Index. This ranking did not happen by mistake. It is as a result of a deliberate effort to make our cyber space secure as it can get.

The Ministry of ICT and National Guidance through NITA-U developed the National Information Security Framework (NISF) which serves as a conceptual structure for guiding information security activities in Uganda.

In addition, a national coordinated approach for handling Information Security incidents, a National Computer Emergency Response Team / Coordination Centre (National CERT/CC) was established among other interventions. The CERT is the reason Uganda has always been safeguarded from global cyber-attacks, by the time an attack happens in the Western world, our CERT is immediately informed and straightaway implements mitigation measures to ensure the continued safety of Uganda's cyberspace.

On the issue of cost, there is a need for more investment in ICT infrastructure by the Government to increase internet penetration across the country using the NBI. This infrastructure shall remain open access, which will make it cheaper for private Telecoms to roll out their services across the country. Today our internet penetration stands at 37.9%. We will need to take it around 80%. This alone will have the effect of lowering cost.

The reality is that we need to lower internet costs further which can only be achieved by increased investments by the Government in ICT infrastructure. Currently, the cost of internet to Government stands at $70 per MBPS per month. We need to lower this cost further to $20per MBPS per month. As evidenced, this will in effect lower market-led prices.

Government has invested huge resources in developing the backbone infrastructure, as it endeavours to offer digital services to all citizens. In your opinion, are Ugandans ready for online services?

With Uganda's mobile penetration at 30.5 million phone subscribers, out of a population of 43 million, it is clear that the phone can be used to improve service delivery for a big percentage of the population. Today, 70% of the population is under 35 years of age and the number of smart handsets used is increasing by the day. With the growth rate of 25%, the ICT sector is the most aggressive when compared with other sectors in the economy. These figures clearly show you that Uganda is ready.

These benefits have already started to be realized. Take for instance a job seeker who can now apply for a Tax Identification number online without spending valuable time in line or the entrepreneur who can now get a trading license in 15 minutes as opposed to the former one-day waiting period. Whenever people try to suggest that Ugandans are not ready for online services, I ask them to look no further than the popularity of mobile money services.

What stood out as your biggest challenges for the time you held office and what lessons did you pick from that?

Mindset. Changing the mindset of people who are used to doing things a certain way can be challenging. There's always a phobia that comes with the idea of change. Along the way I have learnt that it's important to ensure multi-sectoral stakeholders appreciate what you are doing. Digitalization is a collective effort. Digitalization is a journey.

The other aspect is the cost; sometimes the cost of implementing the systems seems high in the short term but it goes down if discounted for the long term. There's need to convince the people that they have to shoulder that kind of budget. Therefore, we always have to do business justification to show the returns to stakeholders.

If time was to be rewound, would you still end up an ICT expert or you would pursue other interests?

I would definitely choose ICT. The satisfaction of witnessing lives transformed through ICT is unrivalled. I have had the opportunity to be one of the authors of the future. When my Grandchildren are able to get all Government services using a simple gadget in the palm of their hand, I will know I was part of the story that made that possible.