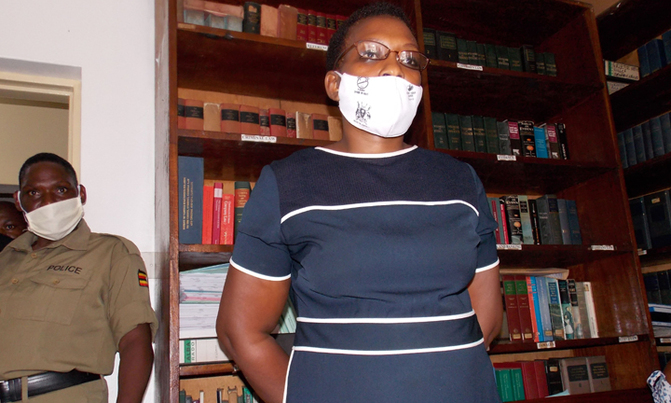 The trial magistrate granted the accused a cash bond of sh500,000
A 40-year-old businesswoman has been charged for stealing cash $2,500 (over sh9m) agreements and books of accounts.
Prossy Boonabaana a social worker and resident of Bugolobi, Nakawa division in Kampala, on Monday appeared before the Buganda Road Chief Magistrates' Court in Kampala and charged with two counts of theft, contrary to section 254 (1) and 261 of the Penal Code Act.
Grade One Magistrate Asuman Muhumuza read her the charges of which she denied having committed all the offences.
The prosecution led by Patricia Cingatho informed the court that inquiries in the matter were still ongoing, therefore requesting for an adjournment.
However, the accused's defence counsel, Shiller Tumwine, invited the court to grant her bail saying the offences were bailable as she had substantial sureties.
Among the sureties presented was Sula Nuwamanya, a businessman residing at Kyengera in Kampala and Andrew Isoke, who deals in metal fabrication.
Responding to the bail application, the state objected to the sureties saying they had no introduction letters from their area of residences and therefore not substantial enough.
Delivering his ruling regarding the bail application, the trial magistrate granted the accused a cash bond of sh500,000 and ordered the national identity cards of the latter and her sureties to be retained by the court until the conclusion of the case.
"Though the sureties have not availed introduction letters from their local authorities, I find national identity cards genuine and hereby grant the accused a cash bail of sh500,000," Muhumuza ruled.
He further ordered the sureties to avail to court the said local council introduction letters before Friday and adjourned the case to August 13, 2020, for mention.
Under the law, any person who steals anything capable of being stolen commits the felony called theft and is liable, unless owing to the circumstances of the theft or the nature of the thing stolen to imprisonment not exceeding ten years, upon conviction.
Prosecution purports that on March 27, 2020, at Rumme building, Lumumba Avenue, central division in Kampala district, Boonabaana, and others still at large, stole personal books and cash $2,500, the property of Henry Mugisha.
It is further contended that during the same place and time, the accused stole receipt books, agreements, books of accounts, and register books, the property of Lloyds Fx Limited.