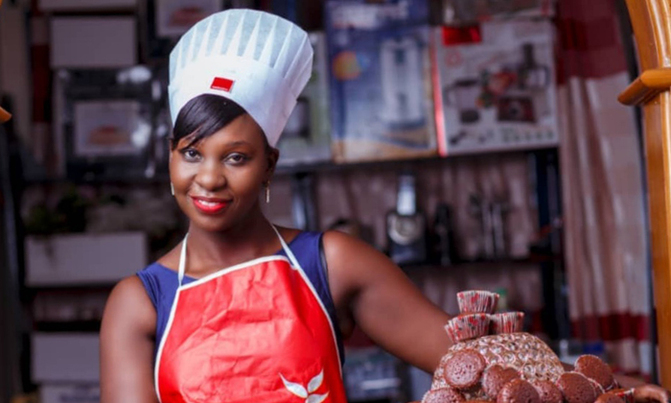 Baking helps to cope with the anxiety of being confined at home.
When you log on to Facebook, it is easy to notice many young urban women have taken to baking at home under the coronavirus (COVID-19) lockdown.
With people restricted at home to contain the spread of the virus, there is not much to do. Life has become monotonous and boring compared to pre-pandemic times.
In Uganda, baking is saving the day. Young urban women with no busy work schedules to run, have become creative and embraced baking, besides they are sharing their skill and experience online to keep connected with the outside world that had been cut off.
Facebook that has about 2.4 million Ugandan users according to 2019 statistics, is swarming with pictures and video posts from users about their experiences baking under lockdown while others are busy sharing recipes.
One Ugandan baker Asha Batenga who is the brain behind Kampala Cake Fair has been sharing recipes on her Facebook Group Cake Shop Uganda with over 100,000 members.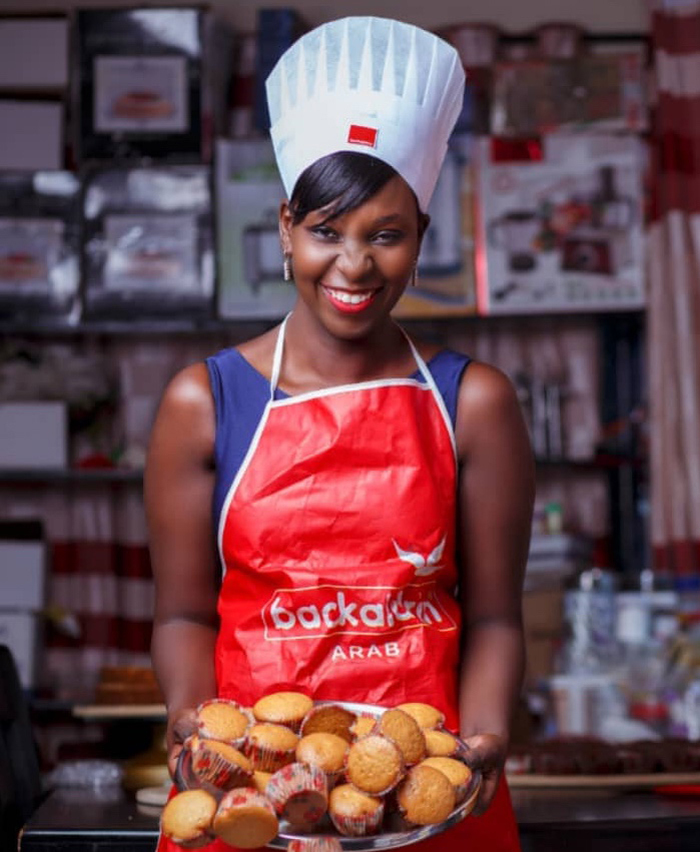 She is sharing baking videos too. "Most videos out there are not customized to Uganda, people struggle to find recipes given. I share recipes in our markets, and where to find them during lockdown at a fair price," she says.
Those sharing recipes like her, plus posting pictures and videos online of freshly baked cakes, bread, scones, buns, cookies, doughnuts, pancakes, or some new food whether perfectly cooked or not, have motivated many others to bake or try cooking new foods.
One such user, Marita Wa Mungu posted in Cake Shop Uganda Group: "I've been silently seeing people's nice pics and posts so I decided to go at once and make buns, cake, and cookies and I must say my people are happy. My buns need some more work, though yummy too but the cake is moist well well."
Pamela Kadenyi posted a birthday cake in the group with the caption: "It's been a while. Hope we are all keeping safe. This is to brighten a girl's life on the seemingly gloomy day. This too shall pass. Happy birthday Christine."
Uganda was put into lockdown on March 18, 2020, even though the first COVID-19 case was registered on April 22, 2020.
To date, public gatherings are not allowed, and no movement is allowed. Uganda's 45 million population save for essential workers are confined at home to contain the spread of the virus.
Though put out of work, baking is trending under lockdown. "People are involved and doing it with family to keep busy and survive under lockdown, and also using it as a stress reliever," says Batenga.
The effect of lockdown on mental health
Guston Byamugisha a lecturer in the Department of Psychology at Kyambogo University and President Uganda counseling Association says not many people are used to staying at home.
He says under this lockdown (which is now being eased) is the longest families and couples have spent time together.
Byamugisha explains when redundant, it is easy to notice the shortcoming of the others, get moody, and into unnecessary conflict. He says tension in families and relationships is getting high under lockdown.
Police in Uganda recorded at least 328 cases of domestic violence during the lockdown, according to the Uganda Police Deputy Spokesperson Polly Namaye in her mid-April media briefing.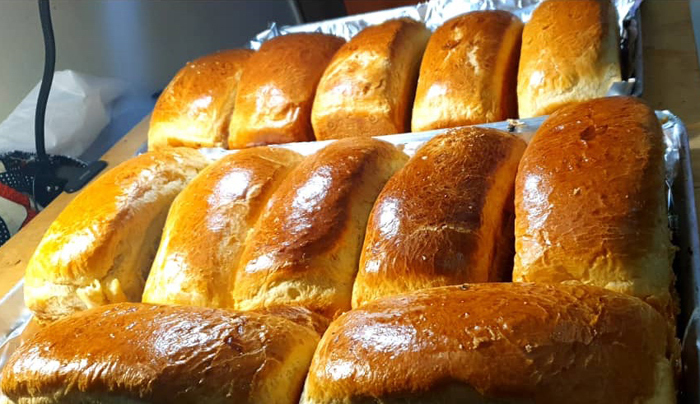 Byamugisha says previously people would get into disagreements, leave for work and come back calm. Now they have to spend all their time together. "Being under lockdown and idle, causes anxiety and depression," he says.
Byamugisha also says most people now wake up to eat and go back to sleep. It has become a repeated routine and created a lot of idleness.
"People who had set goals for the year and had their life all planned out now know they are failing and may not achieve their dreams," he says.
"Right now it is not easy to predict when we are going back to normal. Uncertainty creates other emotions. When the depression is severe one can get suicidal," adds Byamugisha.
How baking is providing peace of mind
"All muscles in our body have different roles to play, when we use the hand the brain is stimulated, you keep alert," says Anne Otwine Tweheyo a counseling psychologist and Dean of Faculty of Nursing and Health Sciences at Bishop Stuart University in Mbarara, Uganda
Baking helps to cope with the anxiety of being confined at home. "By engaging in baking and cooking new food recipes it cuts out the worry," adds Tweheyo
Byamugisha equally agrees that baking is very beneficial. He says to maintain good mental health engage in a hobby.
"Cooking is one of the activities many people are doing and baking is the easiest unlike cooking other dishes," says Byamugisha.
Others are sharing recipes. "It creates a sense of value even if you are not earning from it. When you bake, you get to show off your skill and work.
The likes from other Facebook users feels good. It gives one a sense of purpose and satisfaction that could be lacking by keeping idle at home,"
Batenga who is so much into baking cakes has under the lockdown focused her energy on making bread.
I'm baking bread for my neighboours and friends under lockdown. Every weekend I make sure each one gets a loaf of freshly baked bread free of charge. The experience is satisfying and baking keeps me busy.
Denis Asiimwe a marketing communication consultant and Ugandan music critic who is a neighbour to Batenga in Naalya a residential suburb in Kampala says the lockdown has shown various sides of life in terms of self-efficiency and relations.
"I'm a fresh bread fanatic. When a neighbour reaches out with free fresh bread its heartwarming. The free weekly delivery means I do not have to incur the costs of getting bread during these uncertain times of lockdown. It's a beneficial gesture which is helping us pass through this unprecedented time," he says.
"Baking during the lockdown cuts out costs. Imagine buying bread at sh4000 a loaf yet you can buy a pack of baking flour at sh6000 and use it more than once to bake fresh bread for your family and friends. It helps bring the cost of living down," says Tweheyo.
Also in this period where many people are losing their jobs, if you are not working you can survive without the job by selling your cakes or food.
It thereby boosts the mind and puts it to rest. You know you can survive even without a job and rely on your skill.
One such Facebook user Lynette Fleshy posted several pictures of freshly baked buns, cookies croissants, and doughnuts with the caption: "Being used to earning daily, I had to think of a way out. The lockdown of Owino has enabled me to discover my talent. Food, power, water bills are all catered for."
For Batenga baking is fulfilling in many dimensions. She says sharing recipes and helping others improve their baking skill during the lockdown is satisfying and brings a sense of achievement.
But there are challenges
"Baking or cooking alone can be too much work and make one miserable," says Tweheyo.
To reduce the load and make the process fun, make it a shared responsibility.
She explains that by involving the whole household in baking or cooking during the lockdown, it makes it fun.
For those not into baking or cooking
Tweheyo says it is okay not to force it, for the sake of forgetting the fear of COVID-19. The mind eventually adjusts to new situations.
But "If you just sleep, wake up, sit, watch television, and put your leg up on the sofa during this lockdown, you are not helping your body," says Tweheyo.
She says being confined in once place is trouble if one is not active.
"To overcome despair, make sure you use all your body parts to keep active. Go out of the house to the compound, if there is a weed in the compound garden pick it up, pick flowers, see the sun," says Tweheyo.
Byamugisha says one should avoid being idle during the lockdown, engage in a hobby to keep mentally healthy.