Edith Nankabirwa is a single mother and resident of Lwadda in Wakiso district, who works in Kampala. The mother of three says she is worried her eight-year-old daughter is growing fat in this COVID- 19 period. But there is a solution for Nankabirwa.
COVID-19 has shocked the world with its ravaging effects nearly bringing the world to a standstill. The pandemic has had global consequences on economic growth and development.
In the same vain, the government took measures to curb the spread of Coronavirus by putting in place a lockdown and curfew. As a result, schools were shut down and children returned home.
Edith Nankabirwa is a single mother and resident of Lwadda in Wakiso district, who works in Kampala.
The mother of three says she is worried her eight-year-old daughter is growing fat in this COVID- 19 period.
At such a tender age, the girl weighs 40kg yet the average weight is supposed to be 33kg, according to Haspha Nassolo, a nursing officer at Joint Clinical Research Centre.
Nankabirwa says recently, she consulted her doctors and she was told her daughter was obese.
"The doctors advised me to ensure that the time she spends watching TV and just enjoys any foods is minimised. They advised me to encourage her to get involved in physical exercises and as much outdoor activities or games as possible," she says.
The World Health Organisation (WHO) defines childhood obesity as a condition where excess body fat negatively affects a child's health or wellbeing.
As methods to determine body fat directly are difficult, the diagnosis of obesity is often based on Body Mass Index (BMI). Due to the rising prevalence of obesity in children and its many adverse health effects, it is recognised as a serious public health concern. The term overweight rather than obese is often used in children.
With the lockdown, many children are less involved in physical exercises. According to WHO's global database on child growth and malnutrition, childhood obesity is associated with serious health problems and the risk of premature illness and death later in life.
More so, overweight children stand a high chance of being overweight as adults, which comes with health-related conditions, such as cardiovascular (heart) diseases.
In developing countries with emerging economies (classified by the World Bank as lower - and middle-income countries), the rate of increase of childhood obesity has been more than 30% higher than that of developed countries.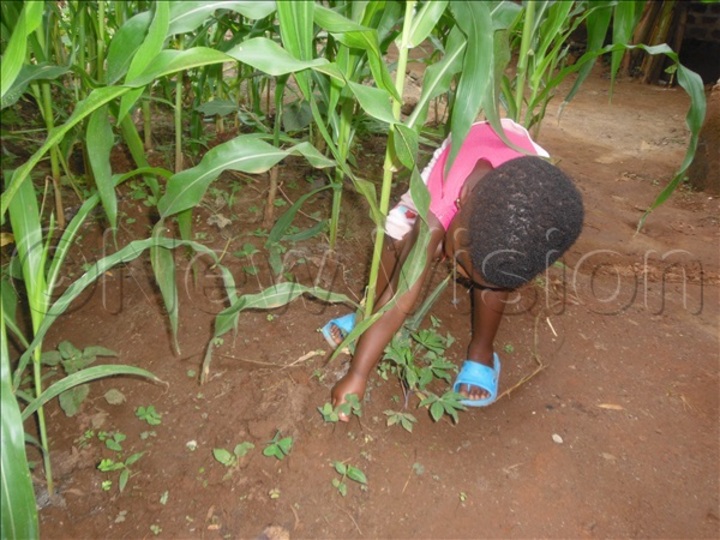 Children inactive during lockdown
Children are not active in the lockdown due to many factors such as: watching TV, homework, holiday package and lack of physical exercises in some homes.
Robert Kagawa, a trained physical educator at Kampala International School Uganda (KISU), says for healthy growth and development, children need to be active at least twice a day.
"Physical exercises make children's brains more alert and also improve academic performance. They make them fit and the children feel happy. Children develop self-confidence and improve their learning and attention during these exercises," he says.
Nassolo says physical exercise may improve a child's academic performance, health and well-being now, and also later in life, because the body will be refreshed.
"It is a parent's responsibility to make sure your child gets the right amount of exercises on a daily basis. If a child moves around, it does not mean they are getting the right type of exercise. Some of the muscles are often not exercised, once or twice will be enough and good for the day," she says.
Nassolo says children are naturally energetic, but without encouragement, they may become inactive.
"Many children spend more time sitting in class, watching TV and some spend time sitting in school buses, others on computers for a long time and do not want to move," she says.
It is the responsibility of a parent to keep a child active. If you do exercises, then the children can also start.
Aerobics
Aerobics, which may include swimming, walking and running, increases the intake of oxygen by the body cells. It also improves the blood circulation.
This makes the child's brain relatively more alert and helps the child to perform better at school.
According to Dr. Hassan Mayanja in Kampala, exercises such as walking enhance blood circulation and emotional development.
"It also improves the physical fitness of the child. For parents who have children between four and five years, these children can participate in games such as jumping, running and skipping. Such games can improve your child's social skills," he says.
Mayanja explains that children above five years need guidance from a trainer when they are doing exercises.
Aerobic activity should be done by your child for at least an hour each day.
Nassolo says such activities can strengthen your child's muscles and bones.
Building strong bones in childhood helps to maintain bone health later in life.

Children who get involved in exercises early may develop a lifelong healthy habit of being physically active and enjoy better health.
Physical activity can decrease the risk of obesity, various types of cancer, diabetes, high blood pressure, stroke and heart diseases.
Encouraging your child
According to Kagwa, it is important to involve the whole family in games such as bicycle riding, swimming, football, jogging, dancing or any other exercises.
"Exercising together with your children may also increase the amount of quality time you spend together with your family," he says.
Physical education
Kagawa says physical education programmes in schools are needed to increase competence, health and enjoyment of physical activity for all children.
Physical education can be a major force in helping children socialise with others successfully and provide opportunities and skills from others.
For children who are five - 10 years, Mayanja says they need to increase their intensity during workouts such as walking and cycling. This improves the skills of children and also helps to increase coordination and alertness.
He says children above 10 years can specialise in any sporting activity of their choice and can also be spotted for their talents. Any trainer will need to develop the children's talent.
Childhood obesity cases have increased dramatically since 1990, according to the report by Harvard T.H. Chan School of Public Health.