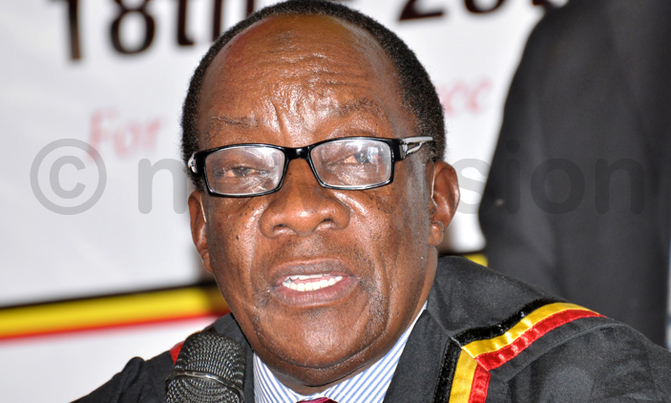 The plaintiff says the land he bought at sh30m is currently valued at sh55m
The former Electoral Commission boss, Eng. Badru Kiggundu has denied allegations of any fraudulent transaction on a piece of land in Wakiso district.
The land in question is in Busiro Block 345, plot 444 situated at Kazinga Zone, Kikajo, Kyengera Town Council in Wakiso district.
In May 2020, Athanaus Wampamba sued Kiggundu in the Land Division of the High Court in Kampala, alleging that Kiggundu sold him land that belongs to another person.
However, in his defence, Kiggundu denied the allegations and asked the court to dismiss the suit with costs.
"The element of fraud is denied and the plaintiff has no claim whatsoever against me," Kiggundu contends.
Kiggundu says he was not served with a notice of intention to sue and submitted to the court that Wampamba is not entitled to the remedies, declarations, and orders sought.
Wampamba seeks general damages with interest at a court rate and costs of the suit arising out of breach of contract between him and Kiggundu for the purchase of land.
The plaintiff says the land he bought at sh30m is currently valued at sh55m.
Court documents indicate that on August 17, 2019, Kiggundu executed a sales agreement with Wampamba and sold the land to him.
"I made due diligence by confirming that the land belonged to Kiggundu and that Luyimbazi is his lawful attorney upon which I made payment for the land to a tune of sh30m, he contends.
Wampamba, however, says before utilizing the land, he surveyed it and discovered that the land described on the title reflects a different piece of land on the ground. Olivia Nakawuma occupies the land.
Wampamba claims Kiggundu showed him land knowing it belonged to another registered proprietor formerly known as George William Mabirizi.
"The defendant taking consideration for the purchase of land from me well knowing that he had not performed his obligation of handing over vacant possession of the land is a fraud," he asserts.
The plaintiff avers that he paid for the land but Kiggundu failed to hand over its vacant possession, hence a breach of contract.
Wampamba contends that Kiggundu fraudulently handed over a duplicate certificate of title different from the area agreed between them with fully signed transfer forms. He attached a copy of the sales agreement and power of attorney, to his suit as evidence.
A power of attorney is a legal document giving one person (the agent or attorney-in-fact) the power to act for another person (the principal).
The complainant says as a result of Kiggundu's actions, he has been denied access to the land for which he has failed to commence construction, hence incurring losses and damages.