studies have proved that handwashing with soap and water significantly reduces the incidence
The National Sanitation Working Group through its partners headed by the Ministry of Water and Environment has launched a campaign to respond to the COVID-19 pandemic through the provision of handwashing facilities.
The campaign is targeting the provision of information, education and communication materials, hand washing facilities as well as soap to vulnerable people and the high-risk populations like the traffic officers and other essential workers within the Kampala Metropolitan area.
Speaking after receiving the items from the Water Supply and Sanitation Collaborative Council headed by the International Water and Sanitation Committee (IRC), Alfred Okot Okidi the permanent secretary in the Ministry of Water and Environment, said that supporting the vulnerable population will greatly help in fighting COVID-19.
Okidi said that available studies have proved that handwashing with soap and water significantly reduces the incidence of diarrhoea and acute respiratory infections among children under five by 47% and 25% respectively.
"We are very grateful to Water Supply and Sanitation Collaborative Council (WSSCC), IRC, Unilever Uganda and World Vision for the support and partnership towards the COVID-19 response and we look forward to future opportunities," said Okidi.
He asked the collaborators to continue to spread the message on the importance of handwashing with soap after visiting toilets, cleaning children faeces and before handling food.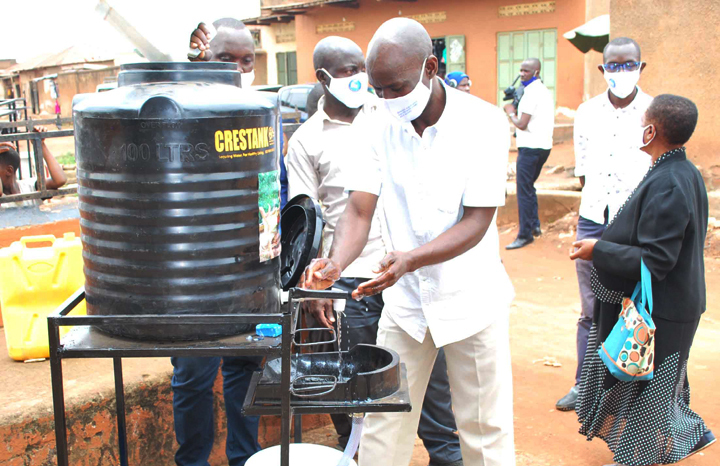 "We should also encourage the population to practice improved sanitation and hygiene not only at their homes but also at the workplaces," he said.
The commissioner rural water, Eng. Joseph Oryono Eyatu, observed the need for the continued use of the facilities as a measure to promote handwashing with soap.
"We have seen a lot of these facilities in strategic positions but when people are just bypassing them, we need to use them so that they remain relevant in the communities they are placed in," he said.
The items provided were distributed starting to vulnerable people in Bunamwaaya.
They include tanks buckets, soap, face masks and posters among others.
According to the Mirembe Village LC chairman, John Bosco Tamale, residents of slum areas have not effectively responded to the threat of the COVID-19 pandemic due to the lack of support.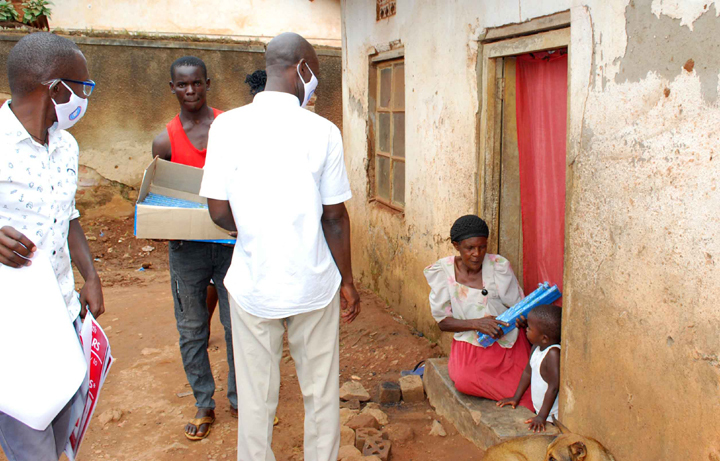 "Since we are living in low land, coupled with poor construction with no respect to drainages, the level of sanitation is very poor yet their earning is very small to comply with government measures of wearing face masks, and handwashing with soap," he said.
Saidhat Nantambi the public health officer Sabagabo division applauded the sanitation working group for helping the slum dwellers cope with the COVID-19 pandemic.
"There priority number one is food and accommodation which makes it hard to implement issues of sanitation among them, but with this support, I hope they will embrace handwashing since soap and other items are being provided," she said.
She said that Bunamwaya slum has greatly suffered from diarrheal diseases like typhoid, bilharzia and dysentery.
Justine Nakku after receiving soap said this had relieved her from such diseases.
"I will make sure that I promote handwashing with soap in my family and I hope to save the money I have been spending on other home needs," she said.