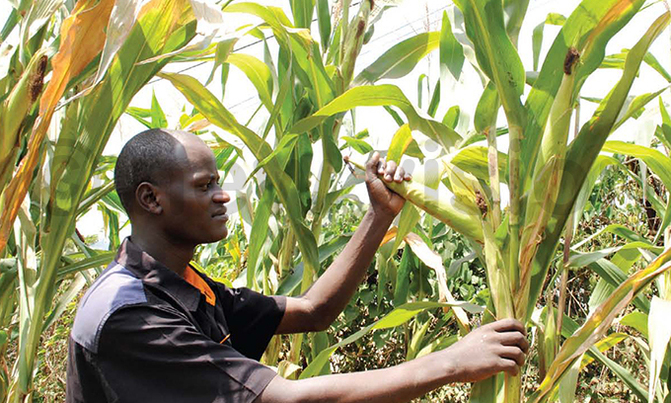 The cold winds are expected to continue in Uganda for the coming two weeks.
Environment
A sudden change in weather patterns over the last few days has left farmers across the country in a state of confusion.

Heavy rains on Monday and Tuesday left some farmers wondering whether they should plant or not.

"I am no longer sure of when to plant and not to plant," Dan Musisi, a resident of Kanyogoga in Mukono district, said.

For those who are harvesting, the weather pattern has equally left them in confusion.

"This is supposed to be a dry season when we embark on harvesting crops, such as maize and beans. However, the rain has made it difficult for us," Moses Kagimu, a farmer in Masaka district, said.

Moses Mulindwa, a commercial maize farmer, observes that the onset of rains, regardless of the season, often pushes farmers into panic mode to plant.

"The weather is unpredictable, so the moment you see rain, you cannot wait for the usual season. What if what we call the normal planting season comes with no rain?" he asked.

Mulindwa added that, as farmers, they often plant when they experience persistent rain, even when it is supposed to be a dry season. The planting season normally starts in October.

Not favourable for plants

Experts say the current cold weather and rains are expected to persist for weeks. However, they have asked farmers to wait for the right planting season.

"Farmers should not plant because the current rain will not support growth of crops," Godfrey Rwamahe Mujuni, a principal meteorologist at the Uganda National Meteorological Authority (UNMA), said.

He added that farmers should only plant if they have supplementary means of irrigating their crops.

"These are off-season rains and they are not good for seasonal crops," Mujuni said, adding that a dry season does not mean that there will be no rain at all.

He described the rain that has occurred on Sunday, Monday and Tuesday in the Lake Victoria basin and parts of western Uganda, as occasional rain.

Mujuni noted that the rain has been caused by the cold winds blowing from the southern hemisphere, where severe winter conditions are prevailing over countries in southern Africa.

The cold winds are expected to continue in Uganda for the coming two weeks.

kigezi temperature lowest

The situation is worse for Kigezi region, which is, sometimes, referred to as the Switzerland of Africa, sitting in south-western Uganda.

The mountainous districts in Kigezi have recorded the lowest night temperatures of 10 degrees Celsius.

The lowest temperature of Kigezi is 13 degrees Celsius, according to Mujuni.

"We expect the temperature to drop below 9.9 degrees Celsius within the coming two weeks," Mujuni said.

"It is very cold when the temperature is at 10 degrees Celsius," he said, adding that it would be a nightmare for Kampala residents who are used to temperatures between 19 and 20 degrees Celsius.

Mujuni advised the vulnerable population — the young and elderly — to wear appropriate warm clothing. This, according to him, will keep them warm and prevent them from getting sick.

"He further warned that the temperature drop which started in June, is expected to drop, to 17 degrees Celsius, as opposed to the average minimum temperatures of 20 degrees Celsius.

Motorists affected

Mujuni pointed out that the weather is going to be cloudy and this will partly contribute to a drop in temperature.

This, according to Mujuni, is going to reduce visibility for motorists and aeroplanes across the country.

"This is going to lower the temperature further, because the clouds are going to obstruct the sunlight from reaching the ground," he said.

UNMA is slated to release a detailed advisory soon, according to Mujuni.

North given a green light

Mujuni said northern Uganda, which lies in the northern hemisphere, is experiencing rainfall.

He noted that the rain in northern Uganda started in April and is expected to continue to October.

This, according to Mujuni, is favourable for farming, unlike in the southern sector (eastern, central and western Uganda).

He explained that the rain in northern Uganda is being influenced by the Inter Tropical Convergence Zone (ITCZ) or the rain making belt.

"When the rain making belt is over the northern hemisphere, then we expect rain in northern Uganda," he said, adding that ITCZ is in the northern hemisphere.

"Northern Uganda will continue enjoying favourable rains," he said.

The prevailing rain in northern Uganda is also being experienced in South Sudan, Sudan and Ethiopia, according to Mujuni.

Lake Victoria influence

Mujuni explained that Lake Victoria influences Uganda's weather systems.

He said the lake is warmer than the land and this protects Kampala's temperature from dropping.

He pointed out that Nairobi is colder than Kampala because it does not have a lake influence like Kampala.

In July, temperatures in Nairobi drop to as low as 5 degrees Celsius, according to Mujuni.

Asked whether the unusual temperature in Kampala is because of climate change, Mujuni said: "I cannot tell whether it is climate viability or not. We need an analysis over time to explain this from the context of climate change."

Kenya experience

The current winds from South Africa have in the past affected Kenya. In 2017, a snowy experience was created by hailstones in Nyahururu, Laikipia county in Kenya.

This was attributed to the influence of cold winds from South Africa. Snow rarely falls in Africa, but on mountains like Mountains of the Moon and Mt Kilimanjaro in Tanzania.

However, hailstones in a manner similar to snow are experienced in South Africa.

To wait or not to wait

While this time of the year is supposed to be a dry season, when farmers harvest their crops, heavy rains have left them wondering whether they should start planting or not.