133 Somalis repatriated out of Uganda
The 133 are part of over 350 who have so far been evacuated by the Somali Government out of Uganda ever since the outbreak of the Coronavirus.
A total of 133 Somali nationals were on Saturday repatriated out of Uganda to Mogadishu in Somalia after over three months stay due to suspension of flights because of COVID-19.

The 133 are part of over 350 who have so far been evacuated by the Somali Government out of Uganda ever since the outbreak of the Coronavirus.

Majority of these were Somali students studying in various universities in Uganda, while others included visitors, tourists and Somali businessmen and women.

The first batch of the Somali citizens left Entebbe Airport on June 1, 2020, the second batch departed on June 18, 2020, and the third one left Entebbe aboard a chartered flight from Mogadishu on July 4, 2020.

Speaking at Entebbe Airport on Saturday, the Somali Acting Ambassador to Uganda H.E Ali Mohamed expressed gratitude with the Somali Government for extending a helping hand towards supporting its nationals return back home to their families.

"I would also on a similar note express my heartfelt thanks to the Ugandan government, President Museveni, Ministry of Foreign Affairs, Ministry of Internal Affairs, UPDF, Ministry of Works & Transport, Civil Aviation Authority and Ministry of Health for the clearance given to us," said Ali.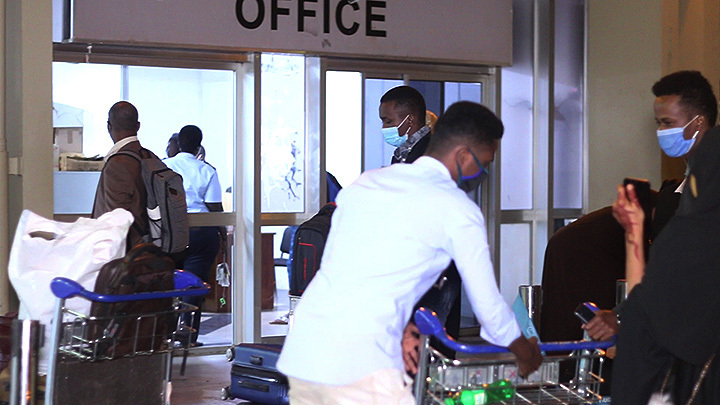 He said getting clearance amidst this COVID-19 pandemic to specifically allow planes into Ugandan airspace to evacuate Somali citizens wasn't an easy affair.

"All those leaving Uganda for Somalia have duly been checked and are negative of COVID-19. We thank the Ministry of Health for this," he said.

Ali noted that the Somali Government through its Embassy in Kampala is still registering those Somalis whom the lockdown got in Kampala.

"But our target was in numbers ranging between 300-400, so the remaining numbers are minimal," he said.

The ambassador thanked the Minister of Foreign Affairs and International Cooperation, Amb. Ahmed Issa Awad for tirelessly facilitating the repatriation process.

The 133 flew out of Entebbe aboard Chartered flight at 9am on Saturday to Aden Abdulle International Airport in Mogadishu.

Despite its challenge with security caused by the civil war, the Federal Government of Somalia through the leadership, of President Mohamed Abdullah Mohamed 'Farmaajo' under the supervision of Prime Minister Hassan Ali Kheire, the Head of the COVID-19 National Task Force has so far evacuated close to 3,000 Somalis from seven African countries and Asian states stuck due to the suspension of flights due to the Coronavirus.

Somalia is among the first African states to evacuate its citizens from various countries.

According to the Ministry of Foreign Affairs and International Cooperation of Somalia, close to 3,000 Somali nationals have been flown in from India, United Arab Emirates, Saudi Arabia, Turkey, Pakistan, Kenya, Oman, Uganda, and South Sudan among many others.

Nur Ali Abdi aged 80 years, one of those who returned home expressed happiness with the Somali Government.

Nur, who was residing in Mengo had visited Uganda for medical treatment when flights were suspended.