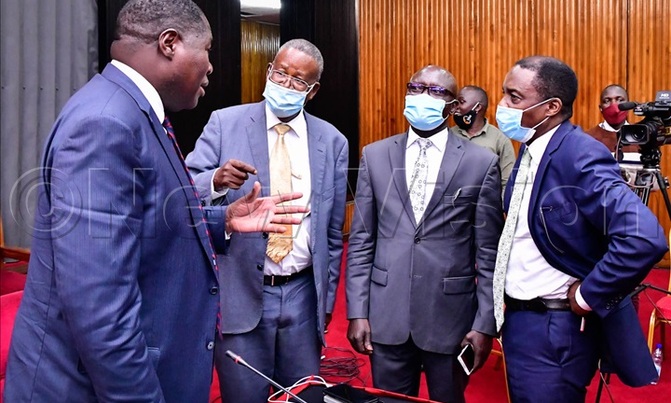 Constitutional lawyer Peter Walubiri, who is also a member of Uganda People's Congress, said if the regulations are approved by Parliament, party leaders will become demigods.
POLITICS|ELECTIONS|POLLS

The Government's proposed regulations that will guide political party leaders in selecting flag-bearers for their respective parties in the 2021 polls have drawn mixed reactions from seasoned lawyers and leaders of political parties.

The Government, through the Minister of Justice and Constitutional Affairs, Prof. Ephraim Kamuntu, on Thursday presented to Parliament a raft of new regulations for political parties that will also empower top party organs to elect their flag-bearers through virtual meetings, resolutions by circulation, phased elections and secret ballot.

The regulations empower political party executive committees to carry out a number of functions that ordinarily are performed by other organs under the party constitution.

The move to table the regulations is in response to an argument raised against the decision by the Electoral Commission to issue a revised roadmap for 2021 polls at a time political gatherings are prohibited under the coronavirus control measures.

The Speaker of Parliament, Rebecca Kadaga, forwarded the regulations to the legal and parliamentary affairs committee for scrutiny.

MIXED REACTIONS

Shadow attorney general and Ndorwa East MP Wilfred Niwagaba said the Government is bringing regulations and counter-referencing them to regulations passed under the Public Health Act aimed at combating COVID-19 in Uganda.

"So, we have to look at the constitutionality of the Public Health Act and the constitutionality of regulations made there under and also see whether these particular ones (on elections) meet the criteria of the constitutional requirement of participatory democracy and the Political Parties and Organisations Act principles," Niwagaba said.

He, however, said on the face of it, the election regulations are outrightly unconstitutional.

"But we will have to see whether they pass the test. You cannot reach for a small group of people to determine the fate of the majority and also try to evoke virtual meetings. How do you hold virtual meetings with the majority of citizens who are computer illiterate?" he asked.

Constitutional lawyer Peter Walubiri, who is also a member of Uganda People's Congress, said if the regulations are approved by Parliament, party leaders will become demigods.

"So it is going to cause a lot of strife and disharmony in political parties and this is intentional. Anybody who really supports these regulations is working with President Museveni to kill the political parties. These regulations are contrary to the spirit and practice of democracy. They are not necessary and they shouldn't be supported," he said.

Walubiri instead argued that they should be campaigning as a country to return to normal meetings.

"If we think that there are health threats, we can regulate the meetings and ensure social distancing, wearing of masks and washing of hands, but to do away with organs of meetings and to give a blank cheque to party leaders to do whatever they want, you will not have political parties after the forthcoming elections," he contended.

"So, what is going to happen is that you are going to have thousands of independents and that is what President Museveni wants because he controls the National Resistance Movement (NRM) because of money. The only political party that will survive will be NRM, the rest of the parties will just splinter. So this is a death nail for political parties and it is deliberate," Walubiri opined.

Prof. Frederick Ssempebwa, who was the chairperson of the Constitutional Review Commission, argued that the Government has no business forcing political parties to do anything contrary to their constitutions.

"They should leave it to political parties to devise ways and means within the context of existing lockdown (measures). If they breach the rules of the lockdown, then that is another matter. How do they know that I can actually organise my members secretly in a 'scientific' manner and we go through the democratic process? That is entirely up to me so long as I do not breach the current rules for preventing the spread of coronavirus," he said.

The Leader of Opposition in Parliament, who is also Gulu Woman MP, Betty Aol, said the proposed regulations would kill internal democracy within parties and that implementing them would require amendments to constitutions of political organisations.

"Unless we are saying there is no internal democracy within political parties. We need to practice internal democracy before opening ourselves up to national elections. Internal democracy is very important," she added.

However, Aol said the regulations can be discussed by political parties beyond the Inter-Party Organisation for Dialogue (IPOD). "But then IPOD does not include parties without representation in Parliament. Asking, for example, Forum for Democratic Change leaders to choose candidates without holding primaries is a lot of work," she said.

DP deputy President general Mukasa Mbidde said his party does not have issues with the proposed regulations, but said the conditions under which the campaigns will be conducted would hardly deliver a free and fair election. Makerere University history don Prof. Mwambutsya Ndebesa said the elections should have been postponed instead of holding them through mechanisms that would disenfranchise people and lock some out of the political processes.