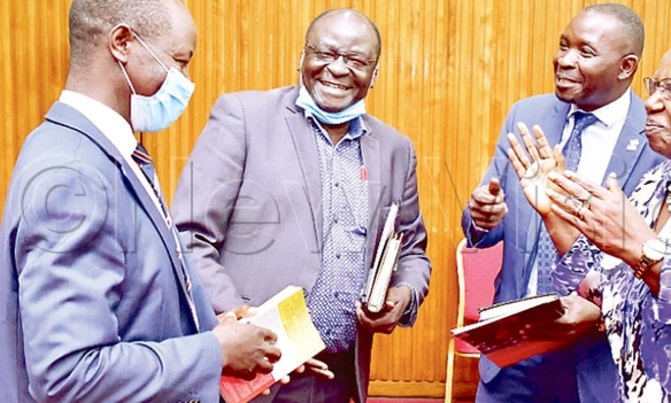 Failure to present a special Bill or amendment of the electoral laws, the Government should consider postponing the elections.
Politics
Members of the electoral advocacy group, Citizens' Coalition for Electoral Democracy in Uganda (CCEDU), have asked the Government to enact a special law for the 2021 'scientific' polls.

According to CCEDU, given the COVID-19 circumstances, there is need to establish a law that provides for protection of Ugandans, as well as political rights.

Appearing before the committee on legal and parliamentary affairs recently, Charity Kalebo Ahimbisibwe, the executive director CCEDU, told the committee that is currently scrutinizing the revised 2021 general elections roadmap that countries like Singapore had developed a similar law to guide their elections amid COVID-19.

"We also need to develop a Bill to ensure both the health and safety of voters and also safeguard the political rights of all stakeholders. That Bill has to look at regulations that guide parliamentary, presidential and local government elections Act, as well as the Political Parties and Organisations Act, among other regulations that govern elections in Uganda," Ahimbisibwe said.

In April 2020, Singapore developed a COVID-19 special arrangements Bill as an appendix to sections of their parliamentary elections Act, to enable the country hold their 2020 elections amidst the COVID-19 scare.

The Uganda Electoral Commission (EC) last month announced a ban on mass campaign rallies for the 2021 general elections due to COVID-19. It instead opted for campaigns using the media.

This, according to CCEDU, contravenes the different electoral laws that govern elections in Uganda, thus the need for a special law to provide for the changes.

Postponement

According to CCEDU, failure to present a special Bill or amendment of the electoral laws, the Government should consider postponing the elections to avoid electoral petitions.

Defending CCEDU's position on postponement of the polls, Dr Miria Matembe, the chairperson board of directors CCEDU, described COVID-19 as a real war which warrants postponement of the planned elections for the safety of Ugandans and protection of the constitution election rights of citizens.

Matembe expressed concern over Prof, Ephraim Kamuntu's (Justice Minister) remarks that there is no situation in the country to warrant postponement of elections.
She noted that if the Government cannot hold elections in a normal way or inclusive 'scientific' way, the only option is to postpone them.

According to CCEDU, the EC had lost out on its electoral activity timelines for important activities, such as civic and voter education, which they said might affect voter turnout.

"Voter education has been non-existent for about six months. This has affected citizen's participation in elections. We are afraid it will affect voter turnout," Ahimbisbwe said.
Digital campaigns

CCEDU also expressed concern over the planned digital campaigns by the EC, which they said will affect special interest groups, such as people with disabilities and opposition-leaning candidates.

Robert Ssempala, a member of CCEDU, said the EC roadmap does not cater for politicians, especially the opposition that are likely to be bounced by government- leaning candidates off their media platforms.

"The media is not free for delivery of a free and fair electoral process. Ownership of these media houses is largely by people with political ambitions and the EC has not provided a platform where these candidates will express themselves," Ssempala said.
CCEDU, which brings together 972 electoral democracy civil society organisations, is of the view that with the current media environment, a 'scientific' election is not viable.
Supporting CCEDU, Asuman Basalirwa (Bugiri Municipality Member of Parliament), said there is need by the President to declare a state of emergency for postponement of elections to ensure credible and fair elections.