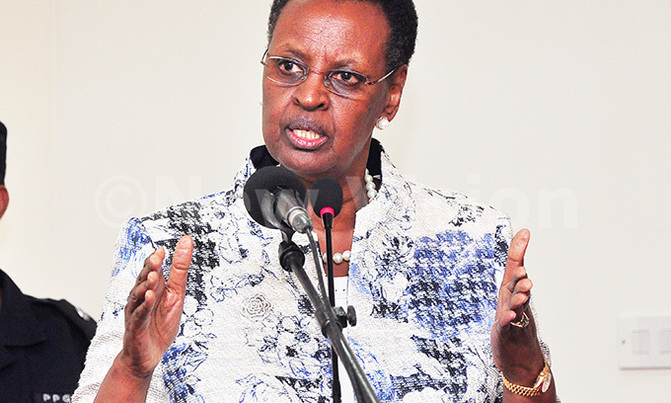 E-LEARNING |

Uganda's university education is set to take a new turn after the First Lady and education minister Mrs Janet Museveni instructed all universities to start online teaching.

This was in her televised address, on Friday night.
Mrs Museveni said, "It is our desire as a Sector that all universities and tertiary institutions do e-learning as soon as possible. The Ministry has already put up guidelines for implementation of e-learning. The Executive Director of the National Council for High Education will communicate these guidelines."

She also noted that that the critical requirements in these guidelines for e-learning is that, "No continuing learner should be left behind or excluded from learning when a learning institution starts implementing the e-learning approach as a COVID-19 response intervention."

Mrs Museveni said the sector is to put forward a comprehensive sector-wide agenda to guide the delivery of formal education through e-learning mechanisms; "Because it has implications on quality of education for the country and its citizens. Once the ICT and E-Learning Framework is complete, we shall communicate it to our stakeholders and the public at large because you all deserve to know."

Mrs. Museveni also clarified that the Government is not against e-learning in schools and universities, and is not against this development, as has been portrayed in some media.

She said, "There has been a misconception in the media that the Ministry of Education and Sports prohibited e-learning. This is absolutely not true; we cannot be the ones banning what we are promoting."

She added, "A number of institutions including Uganda Christian University, Makerere University and several International Schools in Basic and Secondary levels have been utilizing e- learning; even before the outbreak of COVID-19."

Universities like ISBAT, Victoria University, IUEA, and Makerere university had already started e-learning during the COVID-19 pandemic. ISBAT last week signed a contract with a telecommunication company to offer free online sessions to students.

New guidelines set by NCHE

The Executive Director for NCHE Prof. Mary Okwakol says, guidelines to be followed by all universities, have already been released.

The guidelines will have to be adhered to, by all universities in the country; which will be conducting Open, Distance, and eLearning (ODeL).

Many universities all over the world, have switched to online learning on the onset of COVID-19, and many of Uganda's universities were largely left out because they were unprepared.

The state minister for higher education Dr John Chrysostom Muyingo says, "It is unfortunate that most universities were caught off-guard. But we must change the trend and be more prepared, not only to revise but also teach online."

His remarks follow the directive a month ago, for all universities to conduct online revision for their students.

Dr Muyingo says, "We need to actually be teaching all our students online, in future. We can do face-to-face and online learning, which is also known as blended learning. But there is nothing wrong if the entire teaching of the Programme (course), is done online."

Blended learning (also known as hybrid learning) is when traditional classroom teaching is combined with online learning and independent study, allowing the student to have more control over the time, pace, and style of their learning.

The former director of basic and secondary education Dr. Yusuf Nsubuga says, "In future, university owners will understand that online education is not only a potential source income but an officially recognized core to every University's resilience and academic continuity."

Guideline highlights

Among the guidelines, all the online courses and teaching will be subjected to accreditation and there must be internal organisation structures to facilitate the development, coordination, support, and management of the programmes. But before this is done, a needs assessment or feasibility study should be undertaken.

Prof. Okwakol reveals that part of the guidelines also requires that an institution has the financial capacity and human resources, to run the programme.

The other guidelines are that there must also be infrastructure and facilities, good course designs, and a good monitoring and evaluation system.

How will it work

This kind of teaching, according to Okwakol, "Can be adopted and used to capture the philosophical and increasingly technological aspects of new and transitional learning modalities."

She adds that many institutions have expressed the desire to mount programmes under ODeL.

But she also notes that it will increase access to Higher Education for persons who are constrained by distance, time, and space to be available for the traditional mode of learning.

She explains that this kind of teaching will be done through, traditional distance education, e-learning provision, blended learning, and virtual education.

In Uganda, traditional Higher Education Institutions have offered programmes under the face-to-face mode of learning where the lecturer physically interacts with learners in the delivery, practicum, and discussions.

However, because of the increased demand for access, and the need to ensure lifelong learning through opportunities for progression, many Higher Education Institutions, globally, have opened up opportunities for ODeL to operate as an additional mode of learning. Some universities abroad, like Cambridge University, have now completely switched to virtual learning; as reported by BBC last week.

Prof. Okwakol says that there is a growing number of universities and institutions in the country which have proposed to offer programmes or are already offering programmes using ODeL mode of learning.

She says, "The new guidelines, are meant to ensure that the quality of graduates whether from ODeL or traditional mode of learning is not compromised."

Universities' preparedness

At Makerere University, the First Deputy Vice-Chancellor (in-charge of academics) Ass. Prof. Umar Kakumba says, "Makerere University has made significant strides into this direction of e-Learning."

He says the university has a well-written policy to spur open, Distance, and eLearning (ODeL) approaches (the policy on ODeL).

"The University has highly qualified certified blended learning developers in the Institute of Open Distance and eLearning, that can be leveraged upon providing eLearning continuous professional development for other faculty and staff in the University," Prof. Kakumba says.

Prof. Kakumba explains, "About 50% of faculty have been trained in the use of MUELE but active usage only stands at 32%. This state of affairs is attributed to the training approach employed prior to 2015, which only emphasized eLearning technology at the expense of eLearning pedagogy."

He also explains that Makerere has an e-Learning infrastructure consisting of the institutional learning management system, MUELE, with its mobile version, Mobile MUELE, College Local Area Networks (LANs) connected through University-wide fibre backbone, the bandwidth of 2Gbps and departmental computer labs exist to spur eLearning.

At the International University of East Africa, the Vice-Chancellor, Dr Emeka Akazuwa says that they have already applied to the NCHE to start conducting blended learning.

"Students will have an opportunity, to decide which years of their study can be done online and the other with the face-to-face sessions with lecturers."

"We have already submitted our programmes, to the NCHE for approval," he says.

The Vice-Chancellor of Victoria University, also says that they have the infrastructure and most of their students have access to gadgets to use, in online learning. "As soon as the lockdown is done, we will also make a follow up on the programmes we submitted to the National Council for Higher Education, to be approved."

He explains that the lecturers have already been trained in using the online and other e-Leaning platforms to conduct lectures and assessment of learners. "We are set for online teaching. Once we have more online programmes approved, we are ready to support the Government, to change the wat teaching is handled in the universities in Uganda."

At Uganda Christian University, Mukono, the Vice-Chancellor Rev. Can. Dr John Ssenyonyi says, "Right from the time the students join the university, we start using online applications to help them access additional learning materials."

"Before we were stopped by Government to conduct online teaching and assessment, we were ready to have our students sit for their end of semester examinations," Dr Ssenyonyi explains.

"We will wait for the guidelines and we will work with the NCHE to ensure we meet the set requirements. We have a team of staff that is already well versed with blended lecturing and this will be easily achievable by our team," he adds.

Setbacks

Much as online studies, is a welcome move in various public and private universes, there are setbacks of students and lecturers lacking skills, gadgets, have cheaper online platforms and ethical considerations.

UNESCO estimates that despite the efforts of governments worldwide to provide alternative remote learning, at least 500 million children and youth are currently excluded from the public educational provision, partly because of lack of connectivity.

While the share of students with no access to the internet at home is under 15% in Western Europe and North America, UNESCO says, it is as high as 80% in sub-Saharan Africa.

"Although mobile phones can enable learners to access information, connect with teachers and with one another, about 56 million learners, almost half of them in sub-Saharan Africa, live in areas that are not covered by mobile networks," according to UNESCO.

Michael Niyitegeka, an information and technology expert, and lecturer at Clarke University says that most of the universities in Uganda, do not have lecturers who are skilled to handle online teaching. "This would require skilling of almost all lecturers, to effectively handle this e-Learning," he says.

He also notes that there is a need for content development, and having the new online programmes approved. "You just do not just get the current programmes and start teaching them online," he says.

Prof. Kakumba says much as Makerere seems to be on the top of the situation, "MUELE is hosted on a server with limited capacity to handle an upsurge in concurrent use. MUELE lacks a supporting server to handle huge storage and video streaming."

He also explains that access to MUELE is constrained by limited ownership of computing devices by faculty and students, high cost of Internet connectivity while off-campus, and lack of technological and pedagogical skills.

Solutions

Prof. Kakumba says that this calls for the need to provide training to faculty in both e-Learning technology and pedagogy.

"Staff ought to be trained in pedagogic online course development and facilitation. Similarly, it is vital to sensitize and train students on learning with technology. This will also need to adjust admission letters to prepare students for blended learning. "

He adds that due to the high internet costs when off-campus, for students and lecturers, "There is need to have enhanced computing devices acquisition like the ICT bank or ICT hire purchase, zero-rating of connectivity to educational resources and ODeL continuous professional training. "

He says that the university has also proposed to the Government to support Computer Manufacturing Companies, to export to Uganda cheaper tax-waived laptops for students.

"We will later ask a commercial bank to help students access cheaper loans, for those who need money, to purchase the computers. This would ensure that all students have enough gadgets to use."

More so, Niyitegeka proposes that the Government starts a pre-entry programme for al university entrants, "To prepare them for the online learning, or blended learning."

He says, "The Senior six students always have a long holiday, which can be utilized; to train the prospective undergraduates in the usage of computers and graduates."

He also proposes to the Government to negotiate with the telecommunication companies and offer university students sim cards, "Which can guarantee them cheaper internet packages, to facilitate their learning. This will also ensure that there is equity in access to the internet."

He also proposes a model like that UNESCO is using in other Africa countries, in partnership with telecommunication companies.