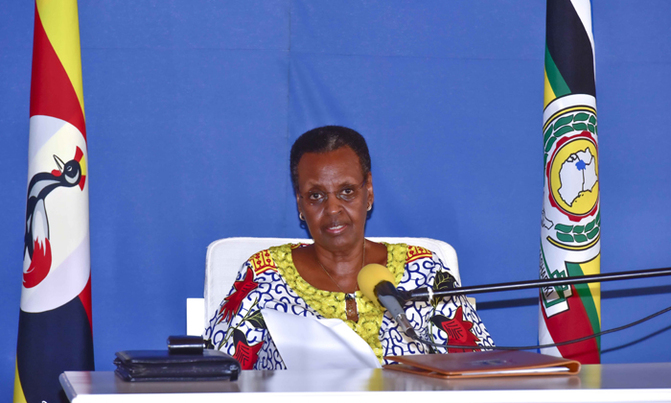 The Ministry of Education and Sports has refuted media reports that it has banned schools from delivering lessons via electronic media and internet-enabled technology devices.
Speaking to the Nation on the Ministry of Education and Sports Preparedness and Response to COVID-19 Pandemic on Friday at State House, the First Lady and Minister of Education and Sports, Hon. Janet K. Museveni said it was not true that her ministry had prohibited e-learning.

"There has been a misconception in the media that the Ministry of Education and Sports prohibited e-learning. This is not true; we cannot be the ones banning what we are promoting. Several institutions including Uganda Christian University, Makerere University, and several International Schools in Basic and Secondary levels have been utilizing e-learning; even before the outbreak of COVID-19," Mrs. Museveni said.

"What we are doing as a Sector is to put forward a comprehensive sector-wide agenda to guide the delivery of formal Education through e-learning mechanisms because it has implications on quality of education for the country and its citizens. Once the ICT and E-Learning Framework is complete, we shall communicate it to our stakeholders and the public at large because you all deserve to know."

Mrs. Museveni also said that the Ministry has already put in place guidelines for the implementation of e-learning that the Executive Director of the National Council for High Education (NCHE) would communicate these guidelines.

"However, allow me to observe that one of the critical requirements in these guidelines for e-learning is that, no continuing learner should be left behind or excluded from learning when a Learning Institution starts implementing the e-learning approach as a COVID-19 response intervention," she said.

Mrs. Museveni added that the Ministry was in advanced stages of developing home-schooling study materials for the entire Primary and Secondary Education levels.

"We are also going to provide printed learning materials for all subjects and all learners. In addition to that, all lessons in the printed materials form shall also be broadcast through the radio and TV stations. Therefore, I wish to call upon all families and villages/communities to support the government in ensuring that this second phase of continuity of learning becomes effective," Mrs. Museveni said.

The Minister also said they have received Sector-specific Standard Operating Procedures (SOPs) from the Ministry of Health to guide them in determining their readiness to re-open Institutions of Learning, adding that the Ministry will review the SOPs and advise Cabinet in due course.