Celebrating Ruth Ddungu's life
Tributes have been paid to Ruth Nambweere Ddungu, the wife of veteran entrepreneurial industrialist Canon James Lutaaya Ddungu, who succumbed to high-blood pressure-related complications on Sunday (June 28) at the age of 78.

The warm tributes were delivered during the deceased's burial at Uganda Martyrs Anglican Shrine, Busega (Rubaga Division) on Wednesday (July 1).

Delivering his homily during the funeral service, the Bishop Emeritus of Namirembe Anglican Diocese, the Rt. Rev. Samuel Balagadde Ssekkadde described Ruth Ddungu as an exemplary Christian, who loved God genuinely and also supported the Church unceasingly.

"Our sister Ruth loved God with all her heart. She was also committed to her husband, Canon James Lutaaya Ddungu, whom she has lived within marriage for 63 years.

We the Bishops of the Church of Uganda are very grateful for the extra-ordinary generosity that Ruth and her husband Ddungu have extended to the Church. They have built churches, schools, and also, helped the ministers of the Church."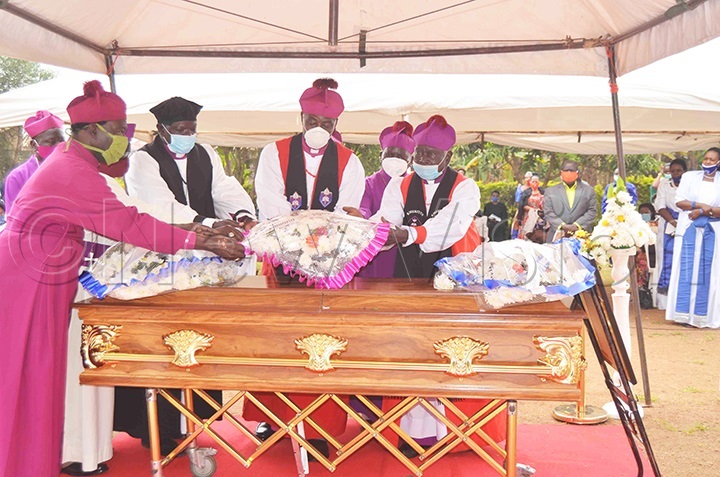 The Bishop Emeritus of Mityana Anglican Diocese, the Rt. Rev. Dr. Dunstan Copliano Bukenya also spoke highly of Ruth's deep faith. She said Ruth was a genuine Born-again Christian, who, together with her husband Canon James Ddungu, had immensely boosted the Anglican marriage ministry.

The Katikkiro of Buganda, the Rt. Hon. Charles Peter Mayiga said Ruth and her husband Canon James Ddungu had demonstrated the ideal marriage institution that the kingdom desired.

"Buganda needs hardworking people of great integrity, who also love to empower and uplift the living standards of other people. Buganda also needs stable and self-sustaining families. Ruth and Canon James Ddungu have taught us the tenets of work and marriage through their entrepreneurial career and marriage. They have had a 63-year stable marriage. They have also worked hard and got rich without cheating or stealing from anybody."
The Lands Minister, Hon. Beti Olive Namisango Kamya attributed the successful industrial-business career of Canon James Ddungu to his wife Ruth, who she said had been amazingly supportive to him.

"The government of Uganda acknowledges the contribution of Canon James Lutaaya Ddungu to the development of the country. He was the first local entrepreneurial industrialist.

By setting up industries and businesses, he created jobs for Ugandans. He also helped the government to carry out its obligations by paying taxes. But Canon Ddungu would certainly not have been successful if it were not the support his wife Ruth has been giving him."

Canon James Lutaaya Ddungu described his wife Ruth as a loving and faithful wife, who had given him immense love and care during the 63 years she had spent with her in marriage.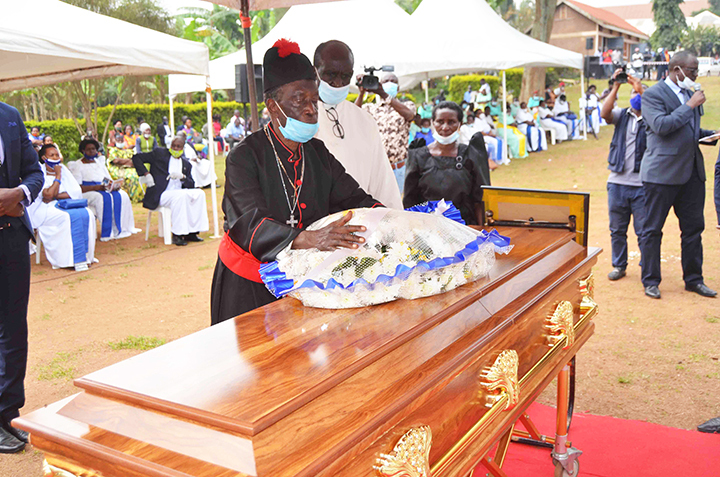 "I married Ruth in 1957. She has been very supportive to me in good and challenging times. She loved to pray. I have been going with her to church every Sunday. I have also been going with her out to preach the Gospel. She has been a faithful wife."

The funeral of the late Ruth Nambweere Ddungu was graced by several Anglican Prelates who included the Archbishop of the Church of the Province of Uganda Dr. Samuel Stephen Kaziimba Mugalu, Bishop Wilberforce Kityo Luwalira of Namirembe Diocese, Bishop Emeritus Wilson Mutebi (Mityana diocese), Bishop Emeritus Dr. George Sinabulya (Central Buganda diocese), Bishop Michael Lubowa (Central Buganda diocese), Bishop Emeritus Dr. Kefa Ssemakula Kamya (West Buganda) and Bishop Henry Katumba Tamale (West Buganda), to name a few.

The Kabaka of Buganda, Ronald Muwenda Mutebi II also sent a special condolence message, which was delivered by the Katikkiro.

Nambwere's 16-year old grave

The scientific burial function of Nambwere did not end without astonishments. Mourners were surprised to learn that the magnificent grave in the mausoleum behind Anglican Martyrs Church Busega, in which Nambwere was buried, was constructed by her husband Canon James Ddungu, in 2004 (16 years ago).

Ddungu actually constructed two graves in the mausoleum; one for his wife Ruth and the other one for himself. In an earlier interview with the New Vision, Ddungu said he never wanted to bother his relatives and friends with burial expenses, which was why he thought it right and just to construct the two graves.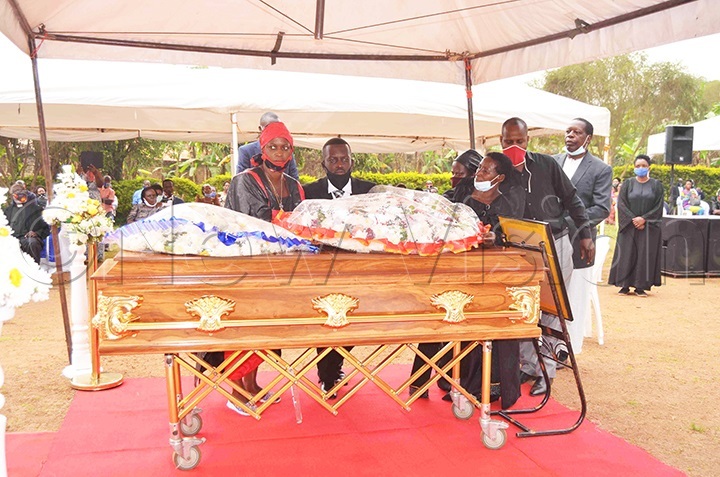 Canon Ddungu nonetheless thought he would die before his wife, because he has been falling sick frequently as compared to his wife whose health was steadily fine. Interestingly, Ddungu also bought the executive coffin in which her wife was buried.