"The police officers demanded money from him, but he kept on arguing that his motorcycle was wrongly impounded. After some minutes, he poured petrol on himself."
Two policemen have been arrested over the death of a man who set himself ablaze after his motorcycle had been impounded by officers from Masaka central police station.
However, it turned out that the man was a cook at the same police station - he had simply bought a motorcycle to supplement his income, but he was not a Boda-boda rider himself.
Although he did not divulge their names, the Greater Masaka police commander, Enoch Abaine, said police officers who include the officer who impounded the bike, were arrested to help in investigations into circumstances under which Hussein Walugembe torched himself.
Speaking to New Vision on phone, Abaine, an Assistant Commissioner of Police, confirmed that Walugembe was a police cook and that he did not even know how to ride a bike.
"He bought the bike to supplement his income. He thought that given his position, policemen would accord him special treatment. As a result, he got frustrated," explained Abaine, who said investigations into the matter were ongoing.
Earlier on Thursday, Abaine told the media that the matter had already been handed over to the police's Professional Standards Unit for investigations.
At first, Police officers at Masaka police station claimed that Walugembe's bike was impounded for breaching COVID-19 directives when they allegedly found him riding after 5:00 pm when Boda-boda riders are supposed to stop working.
But other witnesses alleged that policemen found his motorcycle parked near Shell Buddu petrol station in Masaka town and impounded it.
Walugembe, 26, later followed the officers to Masaka police station and demanded that his motorcycle be released because it had been wrongly impounded.
However, sources said police officers instead allegedly demanded money from Walugembe, which angered him.
Walugembe is said to have been a resident within Masaka police barracks and known at the police station as he used to cook food for inmates. He is also said to have bought a motorcycle to run errands to supplement his income.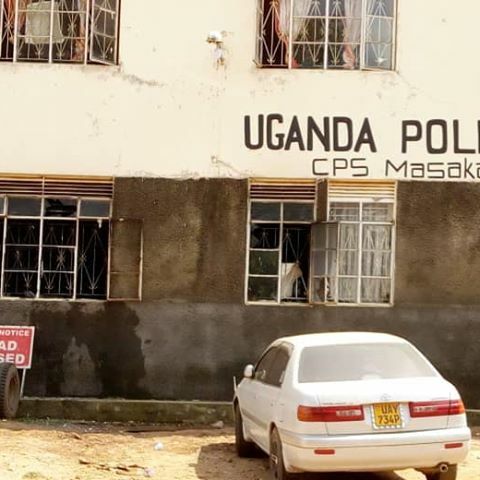 "The police officers demanded money from him, but he kept on arguing that his motorcycle was wrongly impounded. After some minutes, he poured petrol on himself and used a matchbox to set himself on fire," an eye witness said.
Walugembe's brother, Twaha Kaweesi, corroborated reports that police officers had asked for money to release the motorcycle.
Kaweesi said that when Walugembe went to claim his bike on Wednesday, police officers asked for sh40,000 to release his bike, which he did not have.
"Walugembe went back on Thursday morning again to demand his bike, and shortly I got a call that he had burnt himself," Kaweesi told Bukedde, a sister newspaper.
Walugembe and Kaweesi hail from Mbirizi in Lwengo district. He added that the police officers had resorted to issuing him with an express penalty ticket after he failed to raise the money.
Boda-boda cyclists in Masaka town turned rowdy upon learning of the news of their colleague's death and thronged the police station.
However, the Greater Masaka police commander (Abaine) and Masaka Resident District Commissioner, Herman Sentongo, came in fast and calmed them down.
Sentongo urged Masaka residents, especially boda-boda riders to stay calm, saying the matter would be investigated and that if they find that officers acted outside the law, they would be prosecuted according to the law.