"It takes me only seven hours to complete a ball using our casual means"
Sporting activities in Uganda seem to be at a standstill, but in the background, the action continues.
Douglas Smith, a third-year student of Medical Laboratory Technology at Chemequip Medical School is proof of this. The young man's ingenuity has produced Uganda's first-ever football made from waste in Rwenkoba village.
It is an urban myth that Western Uganda wouldn't be an ideal destination if one is in search of football talent in the country. But still, the young dreamers all over the country play with balls made out of old polythene bags and banana fibre.
It is clear that the motivation to make a real ball is not far-fetched.
"I am very passionate about sports," Smith stated. "I started The Smith Soccer Foundation where I have used football to impact communities and most especially disadvantaged children."
"My biggest challenge has been footballs. I didn't have money to always buy enough of them to run the project programs and in the process, I sent hundreds and hundreds of emails to different organisations and different individuals from across the globe to support my amazing work especially in providing equipment, but I failed to get the expected feedback," he told New Vision Sport.
After the revelation that 100% of the balls we use here are imported from Japan, Pakistan and China, Smith stepped out of his comfort zone and started to make research and decided he can manufacture his own ball.
"Our production process starts with doing football geometry to know which size of ball we want to make, we then do the cutting of leather which is always backed by polyester made from recycled plastic waste, we then do screen printing of logos on the outer layer and finally hand stitching to produce a ball," he said.
"It takes me only seven hours to complete a ball using our casual means but I have a belief that it can take less than that with scientific means," Smith stated.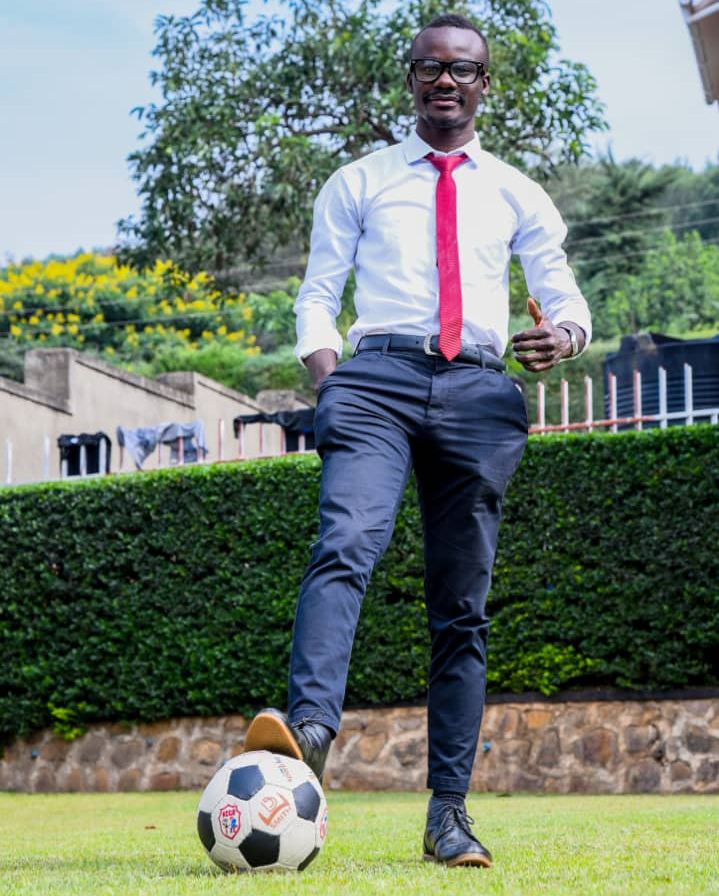 Asked how his development is going to help the football fraternity, Smith is optimistic that if all goes well, the importation of balls will become unnecessary.
"It has come in at a time when our sports industry is growing rapidly. We won't have to import footballs again if we happen to succeed at this. It means the football industry will have to get affordable and quality balls made in Uganda and perhaps boost Uganda's economy and provide employment opportunities as well."
"It is also going to promote local sport, especially the struggling teams in regional and FUFA Big League competitions, that can't afford to buy footballs, schools, academies, companies and individuals will also have a chance to have specially customised soccer balls," Smith said.
Smiths' ambition to play football since childhood was shattered by his parents but that did not stop him from chasing his dream. He joined Ibanda Warriors that plays in the Western Regional League where he eventually retired.
"I grew up with ambitions of becoming a professional footballer but unfortunately, I didn't get the chance because my parents never really saw anything good in football," Smith stated.
With our culture of importing goods, when one hears of a product made from Ibanda, questions are inevitably about whether the product is up to the standard something that Smith says they are working hard to do.
The Smith Foundation was in 2018 nominated in the 2018 Young Achievers Awards in the Outstanding Sports category for using sport to impact communities alongside other nominees like world athletic champion Joshua Cheptegei and Uganda's first Paralympic medallist David Emong.
In the same year, he was also nominated in the WorldRemit Future Stars Program that recognises young people from across Africa for using sport to empower children.
Smith encourages his fellow youth not to lose hope since it's never too late to have an impact in their communities.
"It is never too late to positively impact our communities, Try out everything, do your best, the universe is watching, one day it will pick you," he stated.