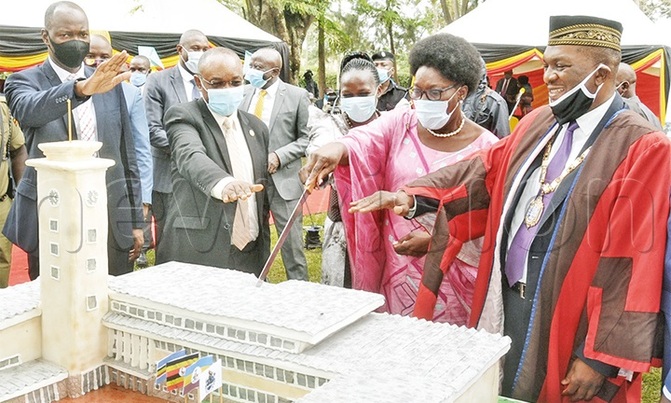 We need to have a well-planned city to avoid slums, especially in places like Budondo, Mafubira and Bugembe
By Doreen Musingo and Pascal Kwesiga
The Speaker of Parliament, Rebecca Kadaga, has appealed to leaders in the newly-created Jinja city to focus on building it and desist from political fights. Jinja is among the seven cities that became operational yesterday.
Others are Fort Portal, Mbale, Arua, Gulu, Mbarara and Masaka. "I am happy you have achieved your dream. Fights will not help. You need to focus on the type of city you want. This is not only for Busoga, but the whole country," she noted.
The Speaker was presiding over the launch of Jinja city at the Town Hall yesterday. The function was attended by the local government minister, Raphael Magyezi and leaders of the new city.
The Government said it would launch Mbale, Fort Portal and Gulu today. Masaka, Mbarara and Arua would be launched tomorrow.
Magyezi told journalists at the Uganda Media Centre on Tuesday that interim leaders would be installed and stakeholders taken through the new guidelines for cities during the launch ceremonies.
Kadaga called for proper planning of the city to prevent slums from sprouting around it.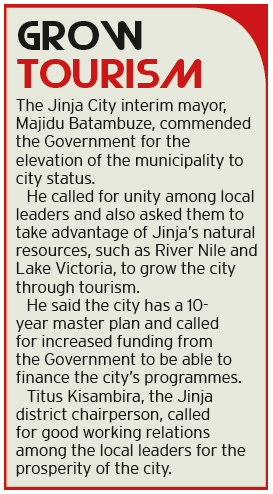 "We need to have a well-planned city to avoid slums, especially in places like Budondo, Mafubira and Bugembe," she said.
Kadaga noted that high on the city's agenda should be industrialisation, improved health sector and education to attract more investors. This, Kadaga added, will create more jobs for people.
Milestone Magyezi noted that the elevation of the seven municipalities to cities is a big milestone for the Government, adding that the budgets will have to be revised to operationalise the new cities.
On Tuesday, Magyezi said a certificate of financial implication for the cities indicated that an additional sh1.5b would be needed for each city.
Magyezi yesterday said Jinja's sh36b budget would have to be revised to take care of the new administrative and political realities. He asked the city authorities to review its development plans, as well those of the division councils.
"We need you to ensure humanity and transparency in your operations. Interim leadership is only taking care and supporting the growth of the city as we prepare for the general elections," Magyezi stated.
He assured the interim leadership that the cities would get additional funding from the central government to be able to discharge their new responsibilities.
Magyezi cautioned leaders against corruption and urged them to work to grow the city through tourism, industrialisation and trade.