WHEN RETIRING, YOU WERE EMPHATIC THAT YOU WERE GOING 'HOME'. WHAT DOES THAT MEAN?

I am satisfied that I have played my part, others can continue from there, so I can come home without hesitation and engage in my private and social life.


IT SEEMS YOU HAVE BEEN IN A RUSH TO GET HOME. BY 2017, YOU HAD STARTED INDICATING YOU WOULD LEAVE OFFICE ONCE YOU CLOCKED 70 YEARS.

It is not a question of being in a rush, because it is your home, anyway. You have to know that you have been given a responsibility and that responsibility is governed by the supreme law of the country.

When I was appointed Chief Justice, the country was coming from a strange period, where we had gone for two years without a Chief Justice and the matter was being litigated in court. So you had a situation where the office of Chief Justice was being litigated on in courts, over which he presides, which is unusual.

What I emphasized from the beginning was, 'I have been appointed when I am already 65, the Constitution says on reaching 70, you shall vacate office'. So, I wanted to give confidence to people in the Judiciary and the country, that had gone through two years without a substantive Chief Justice, that once I reached 70, I would obey the command of the Constitution.


WE HAVE BEEN SEEING IN THE MEDIA THAT JUST TWO WEEKS TO YOUR RETIREMENT, YOU HAD TAKEN ON NEW CASES, WHY?

That was a mistake because we had a meeting and the Supreme Court was going to have a session of something like 60 cases. My colleagues were asking if they could put me on some of the panels. I said I couldn't take on new matters when I had a very limited period…. When they prepared the cause list, I found that they had put me on two very big appeals. I immediately called the head of the court and she agreed that there is no way I can be on an appeal.


SOME OF YOUR COLLEAGUES IN THE JUDICIARY, INCLUDING THE DEPUTY CHIEF JUSTICE, THINK THE CONSTITUTION SHOULD BE AMENDED FOR THE AGE LIMIT OF JUDGES, WHICH IS CAPPED AT 70 YEARS, TO BE LIFTED. WHAT IS YOUR TAKE ON THIS?

Let the debate start. If someone wants to amend the Constitution, it is provided for. So let someone bring the proposals before Parliament. Let the House debate it and if they agree, let it be. But I hope that in the debate they will also consider why the framers of the Constitution put the provision in the first place. You have to look at the nature of the job and the history of judges who retired after reaching 70.

What happens to them within the next 10 years of retirement and their health status? The nature of the job, which takes you away from the rest of society and you live a sedentary life reading books and writing all the time, takes a toll on your life. But if there is that debate, I have no problem.


YOU HAVE SERVED IN ALL THREE ARMS OF GOVERNMENT; DO YOU THINK YOU HAVE PERFORMED TO THE BEST OF YOUR ABILITY?

I have given it my whole wherever I have served; be it as state attorney, minister or as a representative of the people of Bunyaruguru. They can tell you that this man did what he could and even now in the Judiciary that I have done the best, although not with both the human and financial resources that I would have wanted.

I ask people to look at the Judiciary when I came in, even from the point of view of remuneration of judges and where it is now. I want them to see the equipment that has been given to judges during my term to do their work.

The introduction of the electronic case management system, if properly implemented, will help. Every year, we pay money to rent where the Supreme Court is. The premises are not even suited for court work. For example, we do not have cells to keep prisoners and that is dangerous. The judges use the same staircases with the parties and lawyers and it speaks volumes about their security.

I have finally persuaded the Government to commit funds to construct homes for the Supreme Court and the Court of Appeal, which are renting premises at close to sh10b annually. These are major developments. We have seen improvement in the disposal rate of cases, although the case backlog is not yet eliminated.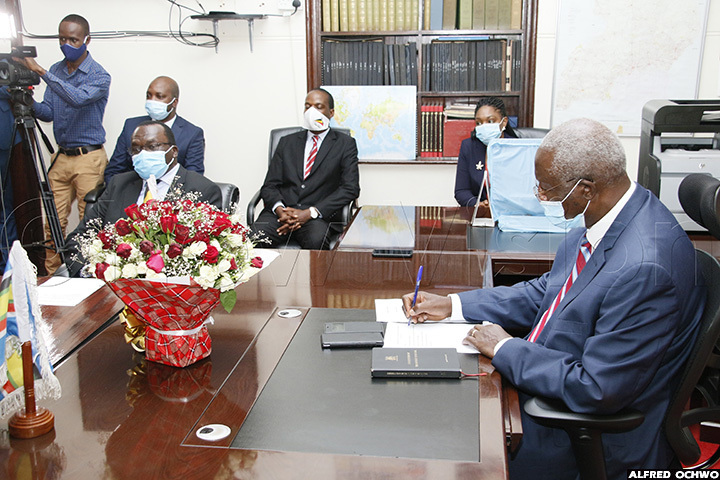 WILL IMPROVED REMUNERATION OF JUDGES HELP STEM CORRUPTION IN THE JUDICIARY?

Remuneration helps to motivate any worker and I think there are studies which show that a well-motivated workforce produces better results. That is different from dealing with a corrupt person, because for them, no matter what you pay them, they will go for something else. What we need is digging deeper when recruiting judicial officers and find out about the history of a candidate's integrity before being recommended for an appointment.

This will help us to make sure those with corruption tendencies do not find themselves on the bench. Once a corrupt person is on the bench, it is difficult to get rid of them. The law is such that you cannot even recommend the removal of a judge without evidence of wrongdoing, because the Constitution protects a judge in order to guard their independence from people who lose cases and simply claim they lost because of corruption.


THERE IS A FEELING THAT THE NEW JUDICIARY LAW WAS CRAFTED IN SUCH A WAY THAT IT GIVES YOU A BEFITTING SEND-OFF PACKAGE FOR UPHOLDING THE LIFTING OF THE PRESIDENTIAL AGE LIMIT. WHAT DO YOU SAY?

That is rubbish. That law has been worked on since 1998, when I was the minister for justice and constitutional affairs. That is when the Chief Justice, Samuel Wako Wambuzi, called me to propose that since Parliament had the Administration of Parliament Act, we should also have the Administration of the Judiciary Bill. It has nothing to do with the court ruling in the presidential age limit case.


DON'T YOU THINK PEOPLE THAT LEAVE POLITICS TO JOIN THE JUDICIARY COME ALONG WITH THEIR POLITICAL COLOURS AND THESE MAY INFLUENCE THEIR DECISIONS ON THE BENCH?

That might not be true. There are people who were active in politics, but have turned out to be the best judges, so how do you explain that? Why would you say that one who was a minister is independent and the other is not, simply because they disagree on a reasoning?


IS THE CONSTITUTION A FINER DOCUMENT NOW THAT IT HAS GONE THROUGH SEVERAL AMENDMENTS?

Our constitution is young and it is being tested with time. New situations are arising, which were not anticipated in the making, new players are coming on the scene, for instance, the challenge we have now of COVID-19.

Nobody thought it would come ahead of an election. So the debate now is what do we do, because it is killing people all over the world. Someone says I have a right to hold a public rally, but a scientist will tell you if you gather 10,000 people, they will die if one is infected.

So, how do you balance the situation with the Constitution that was drafted without that anticipation? The Constitution must be a living situation to deal with things that the country faces as they come.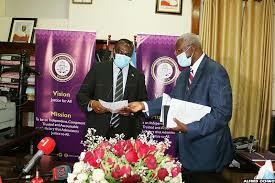 THE ELECTORAL COMMISSION SAYS THE CAMPAIGNS FOR THE 2021 GENERAL ELECTIONS SHOULD BE VIRTUAL OR WHAT HAS BEEN TERMED AS SCIENTIFIC. WHAT DO YOU SAY ON THE PROPOSAL IN REGARD TO THE LAW?

What is available is to organise elections as the Constitution says. To allow people the freedom to have open air campaigns. It seems people are saying let us pray COVID-19 forgives people when they are gathered for a political rally to exercise their rights. Will that be tenable? Let us debate what should be done to balance safety with the right of the people to exercise their right to choose their leaders as enshrined in the law.

If we do not balance it and look at the Constitution only in one way, which says I must attend a public rally, without regard to health situations, then if you attend the rally and the person next to you coughs and gives you COVID-19 and later you go home and give it to your children, will you stand with your head high and say at least I exercised my political right? I do not think the proposals are cast in stone. Let us have the conversation on how to exercise the constitutional rights with regard to safety. Whichever way the debate goes, let us be able to balance the national interests against our rights.


DO YOU THINK THE TIME HAS COME FOR A YOUNGER OR PERHAPS A FEMALE CHIEF JUSTICE?

I would say anybody who shows ability for the job and has integrity and knowledge of the law, coupled with the required experience, whether man or woman, young or old, should be appointed.

There is no formula, Justice Benjamin Odoki was appointed at 58 years and served for 12 years, but I was appointed at 65. It should not be a matter of constituencies, but someone who is able. Woman or young should answer that criteria, not that it is now a turn for a woman or young person.