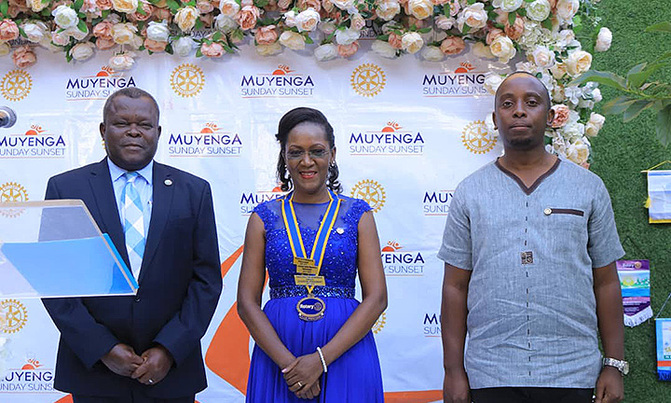 Rising through the ranks of one of the biggest non-profit organisations in the world, the banker took the reins as new President of the Rotary Club of Muyenga Sunday Sunset.
KAMPALA - Years of selfless service have prepared Florence B. Lule to take on difficult tasks and lead teams of people to accomplish daring feats.

Rising through the ranks of one of the biggest non-profit organisations in the world, the banker took the reins as new President of the Rotary Club of Muyenga Sunday Sunset on Sunday.

She becomes the fourth President at the club which has been widely praised in circles for its fast membership growth and profile of community projects.

Lule took over from Abraham Dalton Mpumwire, a city lawyer who has been at the helm of the club for the last one year, juggling roles to get some of the club's ambitious projects to take off.

The club set out to promote tree planting with a countrywide campaign resulting in 10,000 trees planted in Buddo and Nakifuma in 2018 and 10 acres planned for this year around Ssese islands.

Over the last 12 months, the club has provided family planning services to over 60 poor women in the Aloi Sub-county, Alebtong district.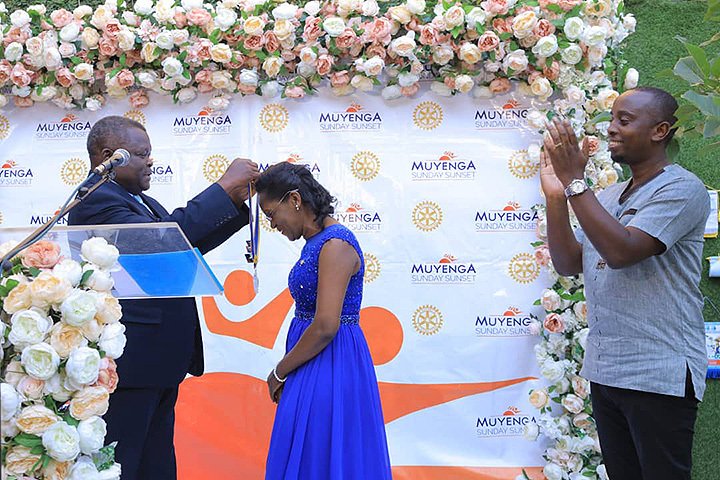 It has also provided food and clothing to less privileged and disabled children and youth of Kiwanga Integrated Handicapped Home and enabled access to clean water to over 1000 needy people in Wabigalo, Kibuli Kampala.

The club is also among the top contributors to the Rotary Foundation, having donated over $11,000 during the concluding Rotary year.

A number of other initiatives have, however, been slowed down by the COVID-19 pandemic and Mpumwire's flagship ideas will have to be carried forward by the new team.

"I will be there for you and I will support you," he pledged to his successor, confessing that the position had given him a new perspective on selfless service and virtuous leadership.

In her acceptance speech, the new club president pledged to build upon the foundation laid by her predecessor and consult him from time to time regarding the club's flagship projects.

"I am humbled to serve above self. I am privileged to become President. My work has been cut out for me," she stated.

Lule disclosed her early misconceptions about membership to the global leadership organization and echoed her predecessor's view that joining the organisation is not a preserve of the rich.

"At first, I thought that Rotary was for travelling overseas. I would have my passport ready at all times. My husband, Ssalongo Lule is my best friend and he helped me understand it," she stated.

She credits her parents for instilling in her Godly values in her and teamwork as her guiding principle and approach to leadership.

"In Rotary, we have a set of values that we live by even outside the organisation," she explained, revealing that she would focus on growing club membership, implementing impactful sustainable projects in maternal and child health, disease prevention, education and literacy, economic empowerment and community development, and water sanitation and hygiene.

To achieve these goals, Lule indicated that partnerships with other Rotary clubs, encouraging members to donate more to The Rotary Foundation and recruitment of corporate companies into Rotary will be at the centre of her stewardship of the club.

Unlike her predecessors, the gathering of members and well-wishers at her installation ceremony on Sunday was kept small, with hundreds taking part online, in line with social distancing rules.

She appealed to members to support the club's contribution to the Rotary Foundation in order to support its programmes, including a global campaign to eradicate Polio.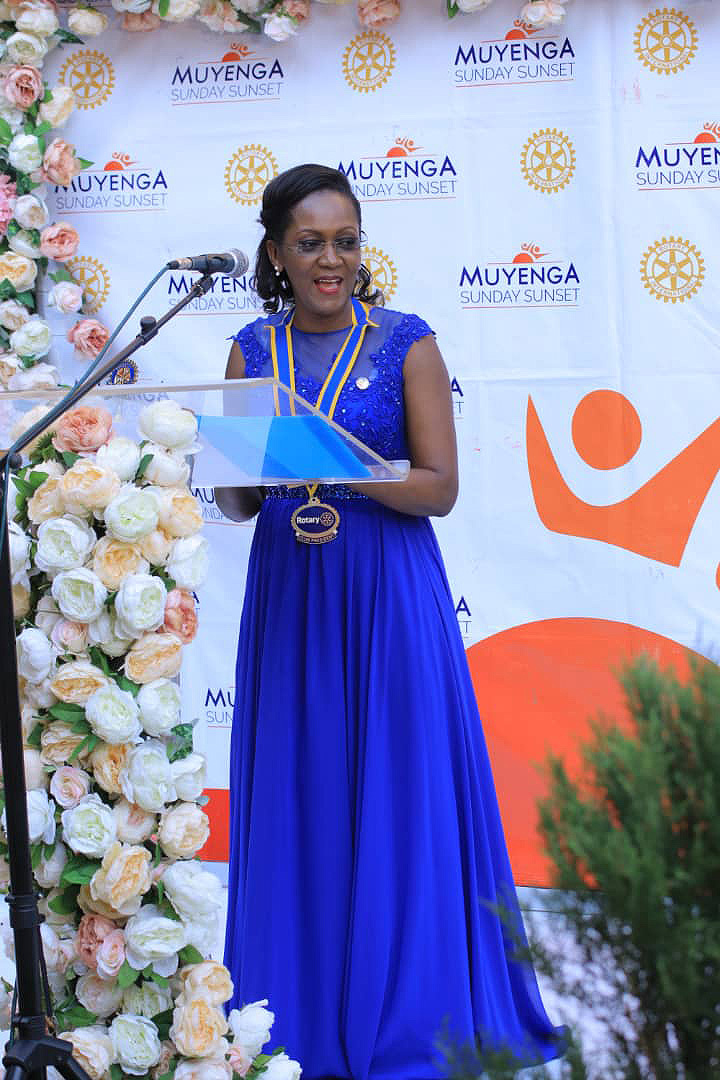 Countries have endorsed a plan to eradicate polio that focuses on making the polio vaccine more available. In 2018, Rotary launched a campaign to end polio in Uganda.

Former Buganda Kingdom Prime Minister, John Baptist Walusimbi, the Guest Speaker at the ceremony, praised Muyenga Sunday Sunset club for accomplishing a lot in a short time.

A Rotarian since the 1980s, he said the organization provides opportunities for grooming leaders through its structures a rare chance for people to serve society and address community challenges

"When I joined Rotary 30 years ago, Polio was a big problem but it is now gone. Rotary gave Mulago Hospital $1m, which is a lot of money even today," he explained.

Statistics indicate that there are more than 35,000 Rotary clubs worldwide and over 1.2 million members known as Rotarians.

Members ascribe to Rotary International, an international service organization that bring together business and professional leaders to provide humanitarian service and advance good will and peace around the world.

It is a non-political and non-sectarian organization open to all people regardless of race, colour, creed, religion, gender or political preference.