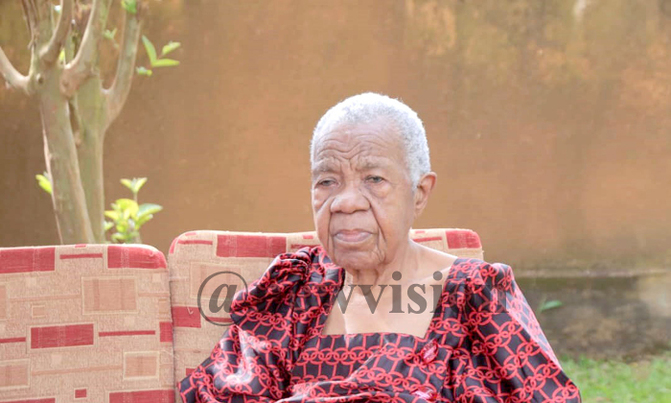 Faith Were 'Mukulu' was a modern day sports woman trapped in a different generation as she dedicated 50 years to sports service.
Three months shy of her 91st birthday, the confident and energetic nonagenarian looks back at what her life in sports service was as she broke barriers to see to it that netball and athletics rose to the forefront.

Early Life
She pioneered the growth of the Uganda Netball Association where she became the first female netball referee in Uganda and East Africa with a first class. Her knowledge of the game was head and shoulders above anyone's and for that reason alone, she traversed Uganda and East Africa teaching the sport.

"In our time, sports was not about money but more about love and passion. We were never paid for playing. I used to play netball and athletics which sometimes required me to run from one activity to the other," Were explained.

Born on October 5 1929, to Daudi and Abigail Were, she was raised in Mukono where her parents had moved from Busia before their marriage in 1918. She attended Misindye-Goma Primary School, Mukono Primary School and Nsangi Primary School where she completed her primary leaving certificate.
She later joined Ndejje Teachers Training College (TTC) where she got her grade one teaching certificate in 1948-1951. She upgraded to a grade two certificate between 1960-1963 at Busubuzi TTC, Ndejje TTC and finally Kibuli TTC.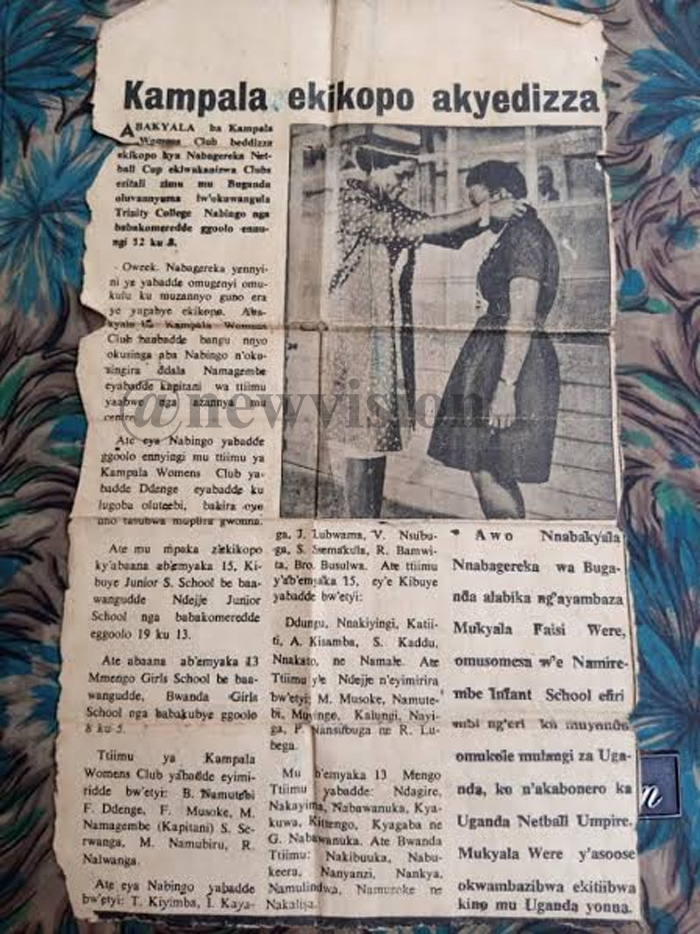 Start of Sports service
Getting started in sports was not easy because she grew up at a time when boys and girls were assigned sports based on their gender at the height of the British colonial rule in the 1930's and 1940's.

Boy's thanks largely to their genetics were expected to play the more gender appropriate and contact laden football while the girls could only apply their deft touch to netball. This left athletics as the only discipline that was gender neutral which gave many individuals a chance to double up wherever they could.

Perhaps it's because of these circumstances that Mukulu whose time at the Ndejje only managed to fuel her appetite for netball and athletics.

With her teaching certificate in hand she was posted to Kako Primary School as a games teacher in 1952. A year later she joined Namirembe Infant Primary School where she spent the next 31 years of her life teaching and imparting sports knowledge to the kids.

"I was a games mistress at Namirembe Infant School and because I did so well with my school I was chosen as a national team matron (athletics)," explained Were.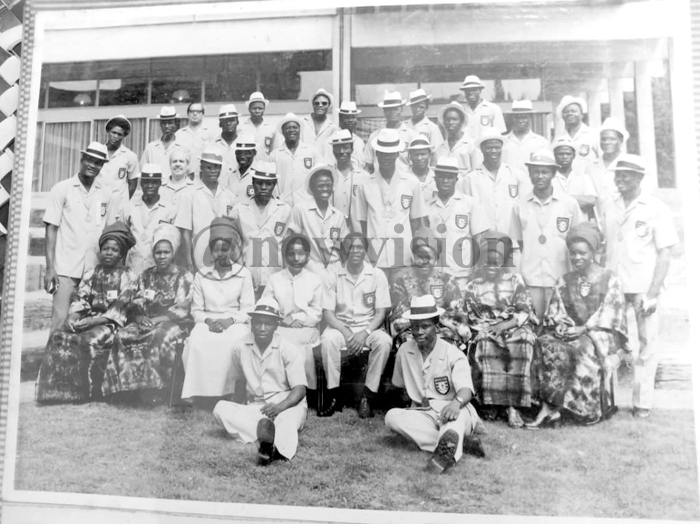 Her work with Namirembe was so good that she created one of the best netball and athletics teams in the country.

She broke bounds by becoming an administrative member of the Uganda Netball Association in 1954 which led to her greatest sports management roles of her life. Athletics

At only 25 years old she was asked by the National Council of Sports (NCS) to become national team matron for girls or what is in the modern day known as a team manager.

"At first I didn't want the role because I was still young and I thought it would mess with my faith but the head teacher at Namirembe advised me to take the opportunity," Were said.

For a young lady who gave her life to Christ in 1948, the role was a challenge but it was God's plan.

"As much as I had rejected the role three times, it worked wonders because the players respected me and even started calling me Mukulu which I started using officially as well," she said.

She found fulfilment in the Uganda Athletics team which was very good and was revered within East Africa where they dominated.

In that key role she was able oversee the national teams that travelled for games in Kenya, Tanzania, Nigeria and Zambia. She travelled to New Zealand for the Commonwealth Games and oversaw the national teams for various global netball showpieces.

"I was in charge of ensuring team discipline and we had good players like the great John Aki-Bua who did so well in the Munich 1972.I never experienced a lot of hardship while in charge of the team because all Uganda's players where very engaged in doing well."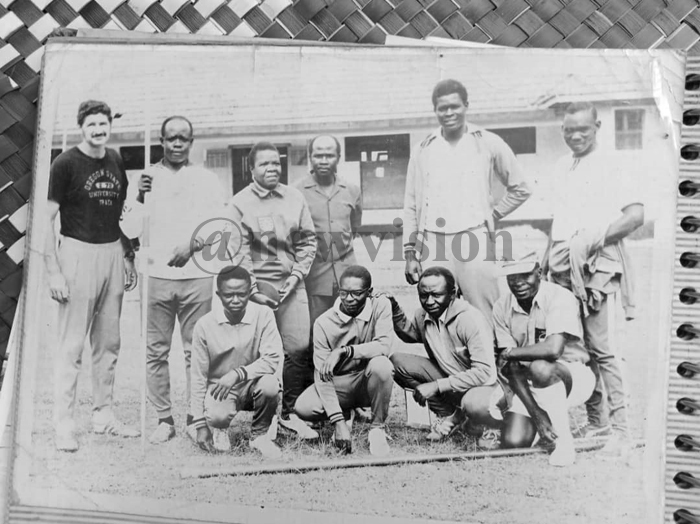 After she finally accepted her new role after a fourth appointment by the national council of sports, in 1966 she led the national athletics team to Kenya and Tanzania for various competitions. She then travelled with the national tem to the East and Central African Championships in Lusaka Zambia 1971, All Africa Games Nigeria 1973, and Commonwealth Games New Zealand 1974, World Netball Championships 1979, East and Central African Games 1985.

Netball
While in Netball, she practically carried the sport on her shoulders as she took her role to grow the sport to another level. She went on to Open the Buganda Netball Association, she started the first women's netball team called Kampala City Council currently known as the Kampala Capital City Authority in 1965.

She also started the Nabbagereka Netball Cup which was a tournament geared towards taking netball to the masses.

"Growing up very few schools used to play netball because it was only a select few who took part in playing the sport like Gayaza, Nsube, Buddo but me and a few colleagues who included rev. Kakooza, Israel Kanankulya decided to start the Nabagereka Netball Cup to take the sports to other schools," she said.

In the same period she took on her role as team manager for the national athletics team. In 1968 she became the first female netball referee in Uganda and the rest of East Africa.

She was one of five referees selected to officiate in the 1979 World Netball Cup in Trinidad and Tobago . It was a rude awakening for her as she had to watch the national team lose badly but in essence they learnt from the experience.

"I officiated in the 1979 World Cup and the person who had earlier coached me nominated me to take part. Uganda had a torrid world cup that year because they were first timers and simply out of depth. The whites were on another level they would jump like monkeys and would pass the ball sometimes in the air which was nothing the team had ever seen," she recounts.

She credits former minister Bidandi Ssali as he helped the women's team to travel.

She led the national netball team to the East and Central African Netball Championships in Lusaka 1985 as head of delegation before seating as an executive member in the National Council of sports from 1988-1989.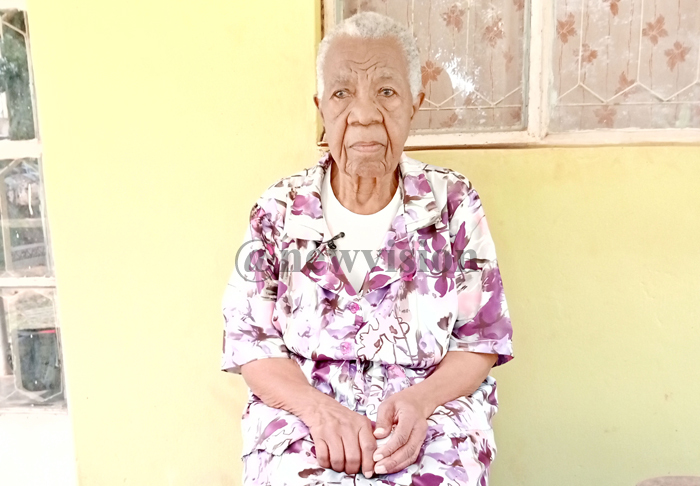 She officially retired from active sports in 1990 but has tried her level best to keep tabs on the national teams for netball and athletics.

Reservations
"My only disappointment is that Ugandan netball has gone quiet. Yes the team has been to the World Cup but so did we in 1979. I would like to hear more about the sport because during my time I would go on radio and educate the masses about the sport of netball," she said.

Her only regret is that the best athletes like Aki-Bua are no more but would have loved for the rest to see them at their best.

"John Aki-Bua was very good but he wasn't the only one. Our boys were very good here and within East Africa and so were the girls. If only you had seen Mary Musanyi, Christine Kabanda and Beatrice Ayaa at their best you would have been impressed."

She has advised girls to love what they do and also urged government to continue investing in sports like netball.

"I advise young girls to love netball so much because we also loved it. They should put emphasis on our sports as women," she concluded.