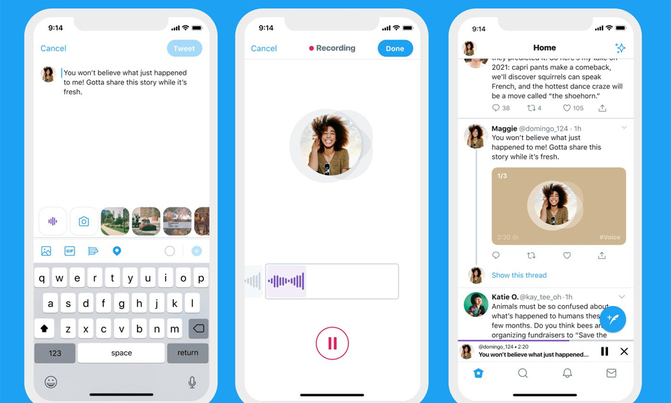 I know several who do not speak as well as they write, will they hire services of other people's voice over their Tweets?
In the Twitter world, there is a word 'tweep'; it is a term fondly used to refer to the real tweeting warriors whose fingers itch to type whatever comes to mind, and dare I add the ones that hate Facebook so much that they used to think Facebook users are not 'in their class'.
Well, there is some news for all tweeps out there, your platform is becoming a Facebook Version 2.0.
News this week is that Twitter has introduced what they call Voice Tweets, which are essentially Voice Notes as used in the Facebook-owned WhatsApp application. Essentially, instead of typing out your tweet, you can now record yourself speaking and submit.... or 'Tweet' the voice note.
I was mostly active on twitter back in the day when there was a 140 character limit. The limit made sure that you had to put out your message in 140 characters exactly, so if you had no summary writing skills you were not a good tweep.
When suddenly the owners of the platform decided to allow paragraphs, some of us went back to Facebook for we already had that and more and saw no use running 2 similar platforms doing the same thing.
It was a bit disturbing therefore when I saw the voice note thing, but I understand it is the direction dictated by business decisions lately. There is massive pressure to diversify, mostly by copying what others are doing and trying to pull it off as if it is unique.
See, building a beautiful platform and getting people to use it is one thing, making money out of it is another.
Companies like Twitter and Facebook have people buying shares in them with the hope that the big number of subscribers on the platform will start paying some money or attracting advertisers who will pay to push their adverts to the platform users; in the case of platforms like Twitter and Facebook we the users are actually the product that is sold to the advertiser.
In this particular business regard, Twitter has struggled a bit, unlike Facebook which from the beginning would allow the use of pictures and videos and audio files and so shifting to advertising was seamless. Twitter is just playing catch up and this seems to be due to pressure from their investors.
The real question is; the tweeps who are mostly keyboard warriors who like to hide their opinions in words typed behind twitter handle aliases, will they allow to add a voice to their tweets? I know several who do not speak as well as they write, will they hire services of other people's voice over their Tweets?
Ohhh, I cannot wait for all the arguments, accusations and counter-accusations from feminists and the ones they accuse of misogyny. This is going to get very interesting, but only if these Ugandan tweeps use the new functionality.
But will they?