COVID-19 |

A total of 100 hundred Health Centre III and IVs in different parts of the country, will receive handwashing stations.

This is aimed at combating the spread of COVID-19, among the patients and health workers.

The facilities will be provided by UPEnergy Uganda, a distributor of energy products.

The donation was received and flagged off by the Ministry of Health Director of Clinical and Curative Services, Dr. Charles Olaro, at Nabweru Health Centre III in Nansana, Wakiso.

Olaro raised concern over the laxity in washing hands by the public which he says might lead to high COVID-19 infection cases.

Washing hands is one of the commended guidelines by the Ministry of Health and World Health Organisation in the prevention of COVID-19 transmission.

President Yoweri Museveni has on several occasions emphasized the need for handwashing stations and sanitizers at all places of work, where people can wash and sanitize their hands to stop the massive infections of the virus.

Olaro stressed that hand washing is an important infection preventive method which is very cheap. "One just needs to use water and soap, " he added.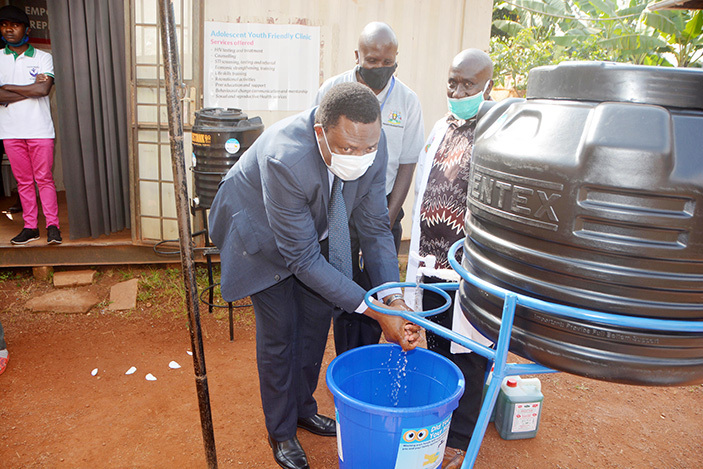 Benefits of Handwashing

According to a recent study by the Ministry of Health, hand washing reduces diarrhoea by about 40% and respiratory tracts by 20%.

Olaro said if people wash their hands, they can kill coronavirus.

"As the health ministry, we continue to urge people to wash hands, because it is one of those methods which they can use to prevent COVID-19. By now probably, if we had not done handwashing, the infection rate would be high," he said

Dr. Peter Mwanja, the in-charge of Nabweru Health Center III, was optimistic that the donation will reduce infection rate at the different facilities, adding that patients are adhering to hand washing.

The director Strategic Partnerships, UPEnergy, Moses Amone is hopeful that health workers, mothers and patients who access health centre will be able to use the hand washing facilities to ensure that they are safe from COVID-19 and other diseases.