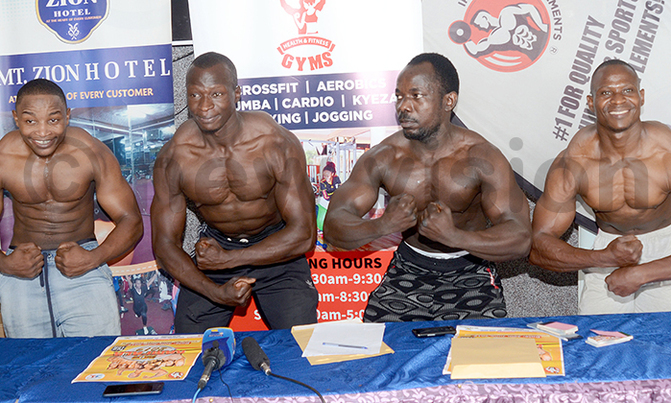 Mr Uganda and Mr Kampala bodybuilding championships are some of the competitions that were scheduled for this year
Unlike football, boxing and basketball that involve a lot of contact, it's a different case for bodybuilding
In fact, the risk of getting into contact among bodybuilders during competitions and training sessions is at a minimum compared to football and other high-risk disciplines.
With the lockdown that was introduced in the country due to coronavirus pandemic being relaxed, there is hope that sports activities will also resume since it's a source of income to many people in that sector.
However in bodybuilding, the sport is about chiseling muscles and fitness levels are paramount but with the gyms still locked, that means that it is not possible for bodybuilders to train.
According to bodybuilder Yakoub Bin Hassan, if the gyms are opened then they can set up different procedures so as to avoid the spread of COVID-19.
"We appeal to the government to reopen gyms because the gym is one of the greatest pillars of staying healthy for us bodybuilders and it's where we get money to look after ourselves and family. As bodybuilders, I believe we can operate under different measures in the gyms so that we avoid the spread of the virus such as washing hands always or sanitise when you enter or leave the gym.
Cleaning equipment before and after using it, avoid touching your face or mouth during your workouts. Avoid physical contact while in the gym, bring your own towels, and no group training. No showering at health clubs among other procedures" stated Hassan.
Hassan also feels that the resumption of the sports activities will help with the fitness levels of many athletes and in the end, it will help to support the immune systems and wellbeing of the athletes.
"The participation in sport has known health benefits, including promoting physical fitness and mental wellness. Sports provide a social construct and interaction which is necessary in a time of uncertainty for our athletes.
It is widely recognised that physical activity, performed for the right amount of time and intensity can provide benefits to the immune system. In addition, sports can provide a template for young athletes to learn concepts of teamwork, leadership, work ethic, and integrity," he added.
Mr Uganda and Mr Kampala bodybuilding championships are some of the competitions that were scheduled for this year but it's not known if they will go on as planned.
In bodybuilding, the number of times one eats and the time intervals matter but Hassan believes that if sports resumes the bodybuilders will be able to improve on their diet.
"Many of us (bodybuilders) we depend on sports. So if it resumes that means we shall be able to get funds to buy the food items we need to support our bodies. We are supposed to eat six times a day to keep our bodies in shape," noted Hassan.