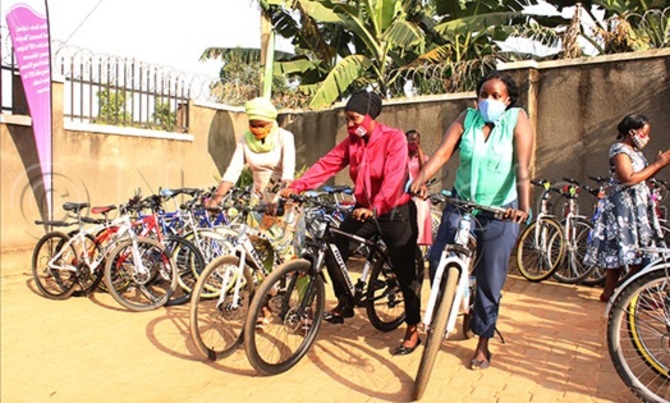 REPRODUCTIVE HEALTH |

The sexual reproductive health rights advocates (SHRH) have received 200 bicycles, which will help them reach out to people living with HIV in districts of Mubende, Wakiso, Mukono, Busia, and Kampala.

The handover of the bicycles took place at Senge Village in Wakiso on Thursday.

The support is an initiative from AIDSFONDS and the International Community of Women Living with HIV Eastern Africa (ICWEA).

The support comes after the government put in place strict measures on public transport to prevent the spread of COVID-19.

According to Lillian Mworeko, the executive director ICWEA, this called for revealing one's HIV status to either the RDC or a boda boda rider so as to get access to medication during this COVID-19 lockdown.

Mworeko says this prompted many people living with HIV to skip taking their antiretroviral treatment because they do not know who they can trust.

Juliet Amoli, an SHRH advocate in Mukono district says it has been a challenge for them to effectively reach out the vulnerable communities that need sexual and reproductive services.

She adds that this support comes at a critical time where people living with HIV/AIDs deep in villages need to be supported most.

Some of the roles of SRHR advocates include conducting health talks and education at the community level, monitoring the availability of essential commodities, and where possible report missing commodities and counseling their peers on treatment adherence, among others.

"A person living with HIV will feel stigmatized when they ask a boda boda rider to ferry their antiretroviral drugs," Amoli says.

"Some risk and walk as far as 3km back and forth visiting these health centers for sexual reproductive health services and antiretroviral treatment, which puts their health at risk," she adds.

Amoli also explains that with the help of the bicycles, their work will be much easier than it was before during this COVID-19 crisis.



According to Mworeko, in early June, ICWEA launched a 20,000 Euro project which is aimed at benefiting 200 girls and women in the five districts which will end in September.