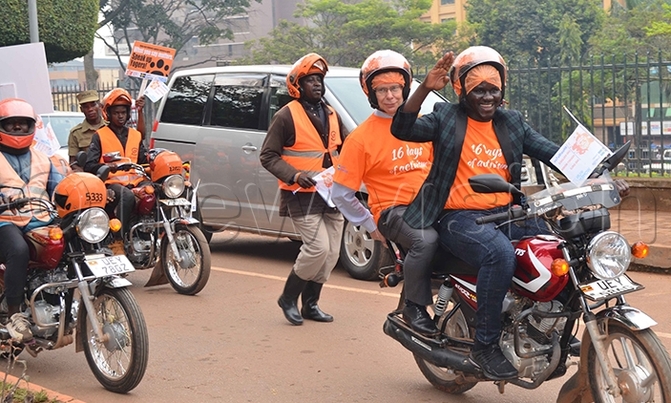 For a month, Brenda Namata did not have access to her antiretroviral (ARVs) refill. It was because of the lockdown, introduced to slow down the spread of COVID-19.
Transport both public and private had been suspended. It meant Namata had to walk to her health center to get her refill but it was so far away.
Six months before the lockdown she had fractured her leg, she could not walk and was out of work.
Having used up her little saving under lockdown, Namata was forced to limp to her sisters' home in search of better care.
"I resorted to rationing intake of my ARVs with hope that it would sustain me until the lockdown is lifted. I also had nothing to eat yet my positive status demands that I eat adequately,"
But she worried, even though the lockdown found her spouse in the village, he is HIV negative.
Namata knows she has to take her ARVs consistently to ensure she does not infect him with the virus but, under lockdown she was unable to.
"He was given blue pills to take for six months so that he does not contract the virus but he abandoned it," she reveals.
"Maybe I could have walked to the hospital for my ARV refill but, I don't think I could have managed to walk back. Instead, I walked to my sister's home she would care for me," says Namata.
Amid the suspension of both private and public transport, HIV positive Ugandans struggled to get ARVs which threatened their ability to live normal lives like everybody else.
To go to the hospital, people had to get a special movement permit from their local leader. Some were reluctant for fear of disclosing their status and facing discrimination.
But discontinuation or interruption of antiretroviral therapy (ART) results in viral rebound, the level of HIV in the blood may increase and the treatment may stop working, according to avert.org.
Saving Lives
Health centers supported by the Infectious Diseases Institute (IDI), are using SafeBoda an 'Uber' for motorcycles to make home deliveries of ARVs and condoms during the lockdown.
As of 2018, an estimated 1.4 million Ugandans were living with HIV, and an estimated 23,000 had died of AIDS-related illnesses, according to statistics from the Uganda Aids Commission.
Namata discovered she had HIV when she became pregnant with her first child and had gone for antenatal care. She went on to give birth to a healthy girl who is HIV negative.
For persons living with HIV medication is free of charge.
"My doctor called to ask why I was not coming to the health center anymore, and why I hadn't come for my refill. I told him I had a broken leg, I could not walk. He said he would send someone to deliver the drugs which were okay," reveals Namata.
Two days later she got the delivery. "We agreed to meet in front of Capital pub in Kabalagala. He was a SafeBoda man with a bag full of drugs. He handed me mine and was off to make other deliveries," says Namata.
Similarly, Sumaya Namuli who has had HIV since 2004 is on ARVs. Under lockdown, she was running out of drugs.
She had ARVs to take for two more days when she luckily received a call from her doctor to ask if she would make it to the hospital for a refill.
But there was no way the 35 years old divorced mother of six, whose last two children are also on ARVs would make it to the health center under the COVID-19 lockdown as there was no transport.
"The doctor said they would make arrangements for delivery which was fine. Two days after the phone call I received the drugs," she says.
It was delivered to an agreed meeting point in her neighbourhood in Sseguku Katala in Wakiso district by a smartly dressed man on a motorbike.
"It was nicely packaged in a bag and with nothing to show they are ARVs," she says.
Planning ahead
In anticipation of a lockdown, IDI and the Ministry of Health (MOH) weighed on structures in place to ensure people on ARVs continue getting their drugs on time.
Dr. Benson Nasasira from IDI who is stationed at Kisenyi Health Center IV in downtown Kampala, says they started giving clients longer appointments from February.
He says some people were getting three months appointment to return for checkup and refill, while others were given six months in the event that they faced difficulty in traveling.
For nearby areas "We opted to use SafeBoda's which are more formal and organized having been in operation for a while,' says Dr. Nasasira.
Making the delivery
According to Dr. Nasasira, those who miss appointments are called to find out if there is any way to access drugs.
"If there is no way and they are comfortable, we deliver the drugs using SafeBoda," he says.
The person agrees on a preferred drop off point, and they can choose to pick the drugs personally or not from the delivery person.
"Even if you say leave it at a supermarket, kiosk or bring it home whichever is suitable we follow to ensure the drugs are delivered," says Dr. Nasasira.
One can also call the Ministry of Health COVID-19 toll-free lines (0800-203-033 or 0800-100-066) and request for delivery of ARVs.
"We have a Call for Life System which uses interactive responses to remind clients of their appointment and report their status to get help."
"For those in need of ARVs, the delivery is free, we incur the costs to ensure there is continuity of care for persons living with HIV," says Dr. Nasasira
But there are challenges
Julian Namukasa a counselor with IDI also working at Kisenyi Health Center IV says the situation is not usual under lockdown because of undisclosed HIV statuses.
"Some people because of their undisclosed status normally pick drugs from far away districts like Kampala and refill every three months. Now there is no transport," she says.
Dr. Nasasira agrees delivery of ARVs to people who come from far away districts to conceal their status, is still a challenge.
"We are not able to go beyond Kampala and Wakiso because of the high cost of delivery," he says.
"Even for those nearby, when delivering the ARVs some people change their mind because their partner is at home and they still haven't disclosed their status.
They may pick up the phone and say do not come or refuse to pick their call, make the phone busy or switch off.
Because of fear of stigma and discrimination that may follow if they make their status known, circumstances change quickly," he says.
According to Dr. Nasasira stigma is still an issue that is being addressed, but many gains have also been made.
"When you look at the cost of transmission of HIV to a partner, or child, then the short term cost of delivering ARVs, it can't be compared. It costly picking drugs for life," says Nasasira.
"We want each one getting their ARVs under lockdown. We will call if one is around Kampala and Wakiso and deliver the ARVs, Prep, plus condoms as long as one is comfortable with the delivery, adds Namukasa.
"For those far away we pre-call and ask one to walk to the nearest facility to get their refill. Some people are in areas with facilities with balances of pills, they can't refuse to provide a refill. If one doesn't know any, they can ask to be directed," she says.
Upon getting drugs, one calls on the Call for Life System and updates it on their status to have their next appointment fixed on the phone.
The United Nations Population Fund (UNFPA) Uganda, is also using SafeBoda to make home deliveries of condoms to community agents for the door to door delivery during the lockdown.
"We aim to distribute one million condoms in three months to 41,000 people," says Cedric Muhebwa a programme analyst for social Change Innovation at UNFPA Uganda.
"A stock out would mean people being exposed to unprotected sex and STDs including HIV," says Muhebwa.
A timely intervention
On May 11, 2020, the World Health Organization (WHO) and the Joint United Nations Programme on HIV/AIDS (UNAIDS) warned against disruption of HIV treatment in sub-Saharan Africa during the COVID-19 pandemic.
In a statement, they warned that a six months disruption of antiretroviral therapy could cause 500,000 additional deaths including from tuberculosis, and new HIV infection from mother to child would bounce back.
"In Uganda the prediction is a 104 percent rise in HIV infection from mother to child, bringing us all the way back to 2010," said the UNAIDS Executive Director Winnie Byanyima.
Dr. Nasasira says when one is consistently on ARVs their viral load is suppressed.
"It minimizes the spread of HIV among adults and even by breastfeeding mothers to their breastfeeding child or by pregnant mothers to their unborn child," he explains.
He says maintaining one on ARVs also ensures, one maintains a healthy and stable life without being disturbed by opportunistic infections including tuberculosis so that one has a normal life like everybody else.
"SafeBoda deliveries have ensured people in Wakiso and Kampala get their ARVs. If we hadn't used safeboda to deliver the ARVs, a proportion of people would not have accessed ARVs in three months," reveals Dr. Nasasira.
According to Dr. Nassira transmission of HIV in sexual partners as a result of not taking ARVs or using Condoms has been prevented as a result of delivering ARVs and condoms home using SafeBoda's during the lockdown.
"It has been a success. We are looking at if we can develop it further and continue using the SafeBoda post-pandemic," says Dr. Nasasira.