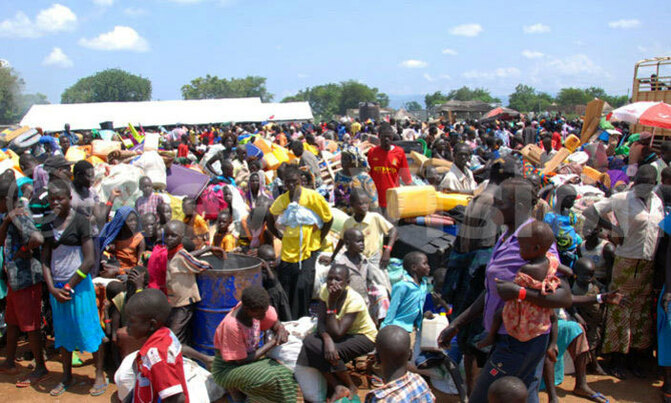 Flora is a 30-year-old mother of four. She and her family previously lived in the Central Equatoria State of South Sudan. They fled to Uganda to seek refuge following the wave of conflict in Juba that left their house burnt to ashes.
At Bidi Bidi camp, Flora and her children live is a small tumpline. The family has not been able to build a makeshift house because she has no money to pay the builders.
"When it rains, everything gets wet. We have nowhere to seek shelter. We sometimes use the blankets to cover ourselves," she says.
Life in the refugee settlement has not been any better for Flora and her children, and it has been made worse since Uganda confirmed its first case of the coronavirus (COVID-19) disease on March 21, 2020, that saw the country go into lockdown.
Now with COVID-19 and under lockdown, food shortage has become worse. The World Food Programme (WFP) in April 2020, announced a 30% reduction in relief food it distributes to over 1.4 million refugees in Uganda.
The struggling mother of four has now become a victim of domestic violence as she reports being battered by her husband whenever the food ration given to them runs out.
She says while it is true that in South Sudan women provide food for the family, men in the refugee camp still expect women to play the same role even though women cannot produce food.
"It is like they are not aware that food here is rationed and worst of it all, the food was cut by 30% yet it has to take us for a month. He sometimes sells the food to buy local gin yet when he returns he wants food," says Flora.
A difficult life for women and children
Uganda has 1.4 million refugees of 31 nationalities and of whom as per the most recent UNHCR/OPM demographics of refugees in settlements in Uganda, it is estimated that 79% of the refugees in Uganda are women and children.
With the outbreak of the COVID-19 pandemic, women are being faced with various challenges. Samuel Kiiza, the Water, Sanitation and Hygiene (WASH) Manager at Plan International Uganda says with COVID-19, issues of sexual and reproductive health rights and access to essential health services continue to be a problem to women and girls.
"The pandemic has made it hard for women and girls to access relevant menstrual hygiene management (MHM) related information as the mothers and fathers are not empowered to confidently discuss the seclude subject," says Kiiza.
"This presents a risk for girls making inappropriate decisions about their periods & bodies increasing risks of infections and teenage pregnancies," he says.
Kiiza adds that women in refugee settlements have limited access to health infrastructure. Since most settlements have large populations.
"They are always more than the available services and to access the services they have to trek long distance. And now with the lockdown, they have to endure the long journeys to the few available health facilities," he says.
The Commissioner for Refugees at Office of the Prime Minister (OPM) Gerald Menya, says since the lockdown, cases of Sexual and Gender-based Violence (SGBV) have increased because everyone is confined in the home.
Statistics from some sources indicate that over 78% of refugee women both in the settlements and urban centres continue to experience domestic violence mostly at the hands of men. Cases of rape, defilement, forced marriage are the most common forms of violence against refugee women and the girl child.
Menya says that under the lockdown, some women and adolescents with chronic illnesses, including those living with HIV are finding it hard to access medicines and care due to the closure of specialized health facilities and limited movement of health workers.
"The scarcity of resources in refugee communities during the lockdown has culminated into heightened sexual violence and risky sexual behaviours of young girls in exchange for money to meet family needs. This practice has exposed the girls to dire consequences such as teenage pregnancy, HIV, and sexually transmitted diseases," he reveals.
Titus Jogo, the refugee desk officer for OPM in Adjumani, says with COVID-19 lockdown, many women are missing routine health services. Many are already missing on the sexual and reproductive health services, as well as maternal, new-born, and child health services.
According to Jogo, many women in the refugee settlements Economic challenges during the outbreak pose a serious threat to young women's work and business activity and expose them to increased risk of exploitation and abuse.
He says women and the girl child facing severe economic shocks are more likely to take on high-risk work for their economic survival.
"Responses to the outbreak must protect and support young women's economic empowerment and recognise the additional burden of unpaid and domestic work on women and girls," he adds.
Providing a solution
According to the United Nations High Commissioner for Refugees (UNHCR), in April 2020 under lockdown, its Feedback Referal and Resolution mechanism (FRRM) helpline received 2,347 calls and resolved over 1930 queries over the phone.
To support women and young girls subjected to sexual and gender-based violence under lockdown, refugee settlements with fully functioning community-based structures received guidance on how to manage survivors, got updated referral pathways, and contact information of service providers, from UNHCR and partners.
For children, community-based child protection networks have also been increasingly mobilized and are undertaking sensitization and outreach activities, and separated children continue to be identified during food distribution.
Emergency response
On April 23, 2020, under the leadership of the UN Resident coordinator Rosa Malango, the UN emergency appeal and facility for the response and impact of COVID-19 in Uganda was launched.
The appeal amounts to $316.4 million including $77.6 million for refugees.
It includes $31.7 million for health and nutrition, $12.1million for food and security, $16.3 million for protection, $3.3 million for education, $3.7 million for livelihoods and resilience, $4.5 million for NFIs and $5.9million for WASH.
Also, expert screening of SGBV cases at health facilities is ongoing and in some locations, caseworkers have been embedded with the health team to provide immediate support says UNHCR in its May 12, 2020, COVID-19 Bi-monthly report.
UNHCR, WFP, and OPM will also implement the provision of cash assistance to all refugees in Kampala to support over 42000 refugee households to replace lost income during COVID-19 lockdown.
The UNHCR cash scheme is meant to help refugees in Kampala bear the costs of non-food items and rent over three months. As of June 17, 2020, Uganda had 732 cases of COVID-19.