All the returnees are currently undergoing institutional quarantine at designated centres as mandated by the health ministry.
While addressing parliament on May 28, Sam Kutesa, Uganda's minister of foreign affairs, said the Government was committed to allowing Ugandans stranded abroad to return home in a phased and orderly manner.

Following Kutesa's address, several Ugandans have been returned home and currently being quarantined at different isolation centres. The first group of Ugandans were flown into the country from Turkey, on Monday, whereas 32 nationals returned from Sudan on Tuesday. More 16 Ugandans also returned from Belgium and Netherlands on Tuesday night.

Henry Okello Oryem, the minister of state for foreign affairs, noted that 70 Ugandans are expected to be flown from Southern Africa while 200 would come in from the United Arab Emirates.

"From Afghanistan, we expect 108 Ugandans, 134 from the US and 120 from India," noted Oryem.

While receiving the group of Ugandans that returned from Sudan on Tuesday evening, Oryem intimated that 2,392 Ugandans were earlier registered as being stranded from 66 different foreign countries, hence needed to return home.

"A work plan has been developed to allow the return of an average 300 persons every fortnight, all of whom will have to be tested before being quarantined," remarked Oryem.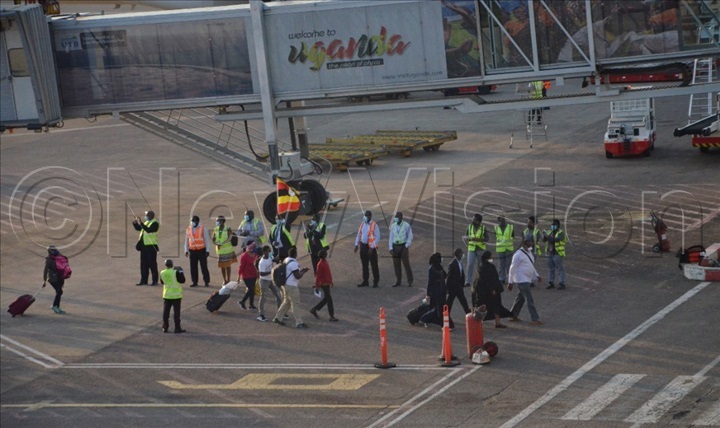 Dr. Benson Tumwesigye from the health ministry had earlier noted that the return of Ugandans will largely depend on the readiness of the ministry and airport to handle such passengers.

All the returnees are currently undergoing institutional quarantine at designated centres as mandated by the health ministry.

Three large executive tents were mounted by the World Food Programme (WFP) at the airside to handle processes for airport health in ample space.

"The tents will enable us address COVID-19 requirements such as social distancing, temperature screening, profiling and observation of arriving passengers," Eng. Ayub Sooma, the director of airports and aviation security, said.

Standard Operating Procedures issued by the health ministry dictate that all incoming passengers shall be required to test for COVID-19 before boarding the plane to Uganda, and likewise, those leaving Uganda for other countries, shall be required to have valid health certificates from the ministry of health or undergo a rapid test at the airport before departure.

Oryem earlier explained that by allowing Ugandans to return home, the Government was not re-opening the international airport to regular passenger flights. All the returning travellers will be required to meet the cost of their own travel back home as has been the international practice for many countries.