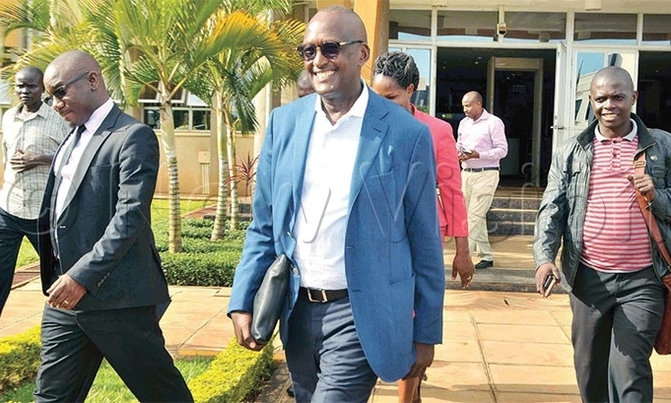 Tumukunde, currently on bail is indicted with treason and unlawful possession of firearms charges.
KAMPALA - City Hall court has deferred the trial of former security minister Lt. Gen (rtd) Henry Tumukunde to August 20.

Grade One Magistrate Valerian Tuhimbise, on Monday, was compelled to adjourn the case after state attorney Viola Tusingwire informed court that investigations in the matter are still underway.

"Since inquiries are still underway, the case is accordingly adjourned to August 20. Prosecution is advised to speed up the investigations," Tuhimbise ruled.

Tumukunde, currently on bail is indicted with treason and unlawful possession of firearms charges.

Prosecution alleges that the 61-year old Tumukunde on March 5, 2020, during the morning show at NBS Television in Kamwokya, he made treasonous utterances.

He purportedly said, "If I was Rwanda, I would wish to support people who want to cause change in Uganda.

The DPP says such talk was aimed at encouraging Rwanda to invade Uganda to cause unlawful change of government.

Prosecution further alleges that Tumukunde on March 13 at Impala Avenue Kololo possessed a modified AK-47 rifle N0. 19865-BU3618 and a star pistol N0.EL-860030 without holding a valid firearms certificate.

In March, Tumukunde declared his intention to stand for presidency in the upcoming 2021 general elections.

Tumukunde fact file

While at Makerere University, Tumukunde was involved in anti-government politics and later joined the National Resistance Army, which brought NRM to power.

Tumukunde army career, spanning over 30 years, saw him serve as the head of the Internal Security Organisation (ISO), Chieftaincy of Military Intelligence (CMI), Commander of Uganda Peoples Defence Forces (UPDF) fourth division and later Security Minister.

In 2005, he publicly opposed the lifting Presidential term limits.

Consequently, on May 28, he was compelled to resign his seat in Parliament as Army representative.

Subsequently, he was arrested and detained for more than a year. He was later remanded for years on charges of spreading harmful propaganda, for which he was acquitted, and military conduct, for which he was convicted and sentenced to a severe reprimand in 2013.