The colourful handover ceremony took place at Kampala High Court on Monday. Having retired from office, the 70-year old Katureebe hanged the rob on Saturday.
JUDICIARY
KAMPALA - Out-going Chief Justice Bart Katureebe has handed over office to his deputy Alfonse Owiny-Dollo pending appointment of the substantive Chief Justice.

The colourful handover ceremony took place at Kampala High Court on Monday. Having retired from office, the 70-year old Katureebe hanged the rob on Saturday.

In his remarks, Katureebe asked his successor not to be afraid of making decisions for fear of becoming unpopular.

"I am sure I have made decision some of you didn't like but no decision I have made without good motive for the Judiciary. Do not be afraid to make decisions because you will become unpopular, for as long as they are backed by law," Katureebe said.

Katureebe attributed his achievement to God's mercy. "When I was appointed in 2015, I looked at the Judiciary and where I wanted it to be. Chief Justice emeritus Samuel Wako Wambuzi advised me to push for the administration of the judiciary Act. I am glad that on my last day in office, the President called me, saying I have signed your Bill."

Owiny-Dollo who now doubles as the substantive deputy Chief Justice said he is committed to steering the Judiciary until the substantive Chief Justice is appointed.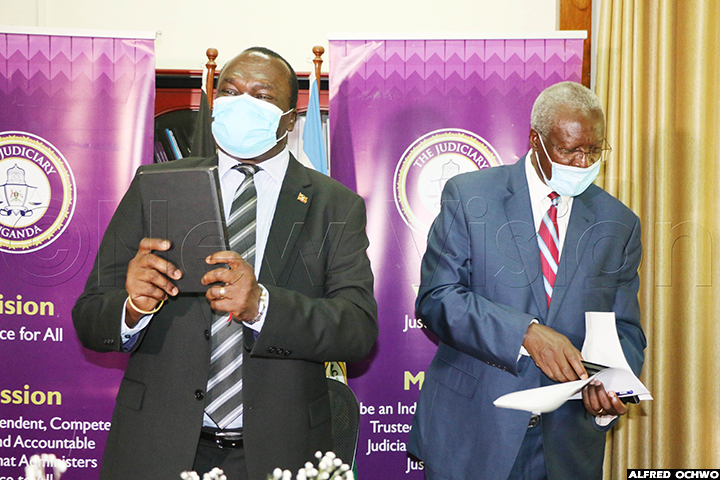 "I am here to receive the instruments of responsibility from my brother in an acting capacity until a substantive Chief Justice is appointed. I hear from the media that I am among those considered by the appointing authority. I am willing to handover to the substantial Chief Justice and if it is me, I will hand over to myself," Owiny-Dollo said.

Owiny-Dollo describes Katureebe as a smooth and smart operator, who always stood firm during his five-year tenure at the helm of the Judiciary particularly when a disagreement arose.

"I have been privileged to know Katureebe for quite a long time having served together in the Constituency Assembly. Nobody can reverse the will of destiny. I have leant a lot from him," Owiny-Dollo noted.

During the handover, Katureebe revealed that he declined to be a teacher and magistrate after completing studies in 1975.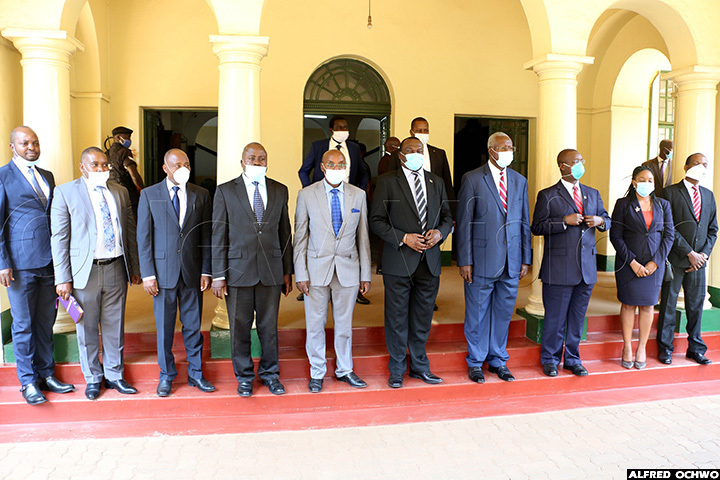 "After graduating, I was asked to stay and teach but I was not interested. They told me to apply for magistrate's post but I refused to fill the application. Consequently, they posted me at the Directorate of Public Prosecution from where I was transferred to the Solicitor General Chambers where I worked for 8-years but see I have been here and if this is not the work of God, then I do not know," Katureebe noted.

Katureebe's profile

Katureebe was born on June 20, 1950 in Rugazi, Rubirizi district.

He went to Rugazi Primary School for his elementary schooling from 1957 until 1962.

He later joined St Joseph Junior Secondary School and Kitunga Hill School for ordinary level.

He attended Namilyango College for advanced level and later Makerere University for Law.

Katureebe worked as a state attorney in the Ministry of Justice from 1975 until 1983.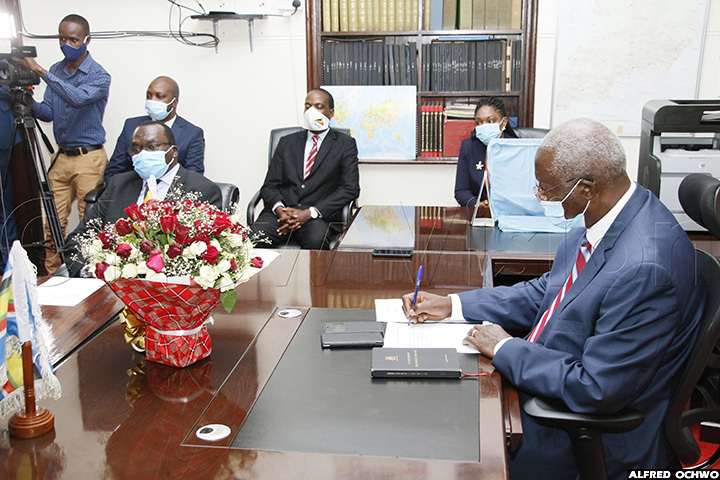 He served as the deputy minister for regional cooperation from 1983 until 1988.

Between 1991 to 1992, Katureebe served as the deputy minister of industry and technology.

He also served as the State Minister for Health and a member of the National Resistance Council between 1992 to 1996.

From 1994 until 1995, he was the elected member of the Constituent Assembly representing Bunyaruguru County.

From 1996 until 2001, he served as the minister of justice, constitutional affairs and attorney general.

He went back to private practice in 2001, starting his own law firm Kampala Associated Advocates.

Katureebe was then appointed a justice of the Supreme Court in 2005.

On March 5, 2015, Katureebe was appointed Chief justice until June 20, 2020, when he clocked retirement age of 70.