"In Lule, the other Ugandans thought the Baganda saw the return of Kabakaship and were determined to get him out."
Today in history: June 20 1979

The NCC staged a coup, removing Yusuf Kironde Lule as president of Uganda for allegedly making wide ranging appointments in government without consulting them. This sparked off massive riots in Buganda with chants of 'No Lule, No work' for the next four days.

Lule was removed after only 68 days in office and replaced by Godfrey Lukongwa Binaisa by the National Consultative Commission, which was then the supreme governing body of the Uganda National Liberation Front (UNLF).

Yusuf Kironde Lule served Uganda as president for the shortest term - just 68 days. He was 68 years old the day he was asked to relinquish the presidency.
The first black principal of Makerere University College, Lule was installed president by the Uganda National Liberation Front (UNLF) shortly after the fall of Idi Amin Dada. Political analysts say making Lule, a Muganda, the first post-Amin president on April 13, 1979, was a strategic move to win support from the powerful Baganda ethnic group.

As the conservative principal of Makerere University College - now Makerere University Kampala (MUK) during colonial times (1940s and the 1960s), Lule is credited with encouraging black students to join Makerere University.

Some say Lule's involvement in the anti-Amin struggle was the effort of just a few weeks spent in hotel rooms and caucuses after flying to Tanzania from Scotland in the UK.
Makerere University historian Dr. Ndebesa Mwambutsya says although Lule played a small role in deposing Amin, the Uganda National Liberation Army (UNLA) fighters and its political wing, the Uganda National Liberation Front (UNLF), were faced with the dilemma of choosing a unifying president.
"(Then Tanzanian President Julius) Nyerere told them to look around for people and when they did, most of the politicians that had served in the past regimes were not clean," says Mwambutsya.
"They saw Lule as a clean man having been in the civil service. So, he was called from exile in England where he was teaching. But the most unique thing that made Lule an attractive candidate was that he was a Muganda and Buganda was a large and influential tribe in the politics of Uganda.

They saw Lule as a unifying factor and at the end of the day, he was elected the interim president," Mwambutsya explains.
With Amin toppled, a ministerial system of administration was adopted and a quasi-parliament - the National Consultative Commission (NCC) - was created. The NCC and the Lule cabinet reflected widely differing political views. Lule did not know he had very limited powers.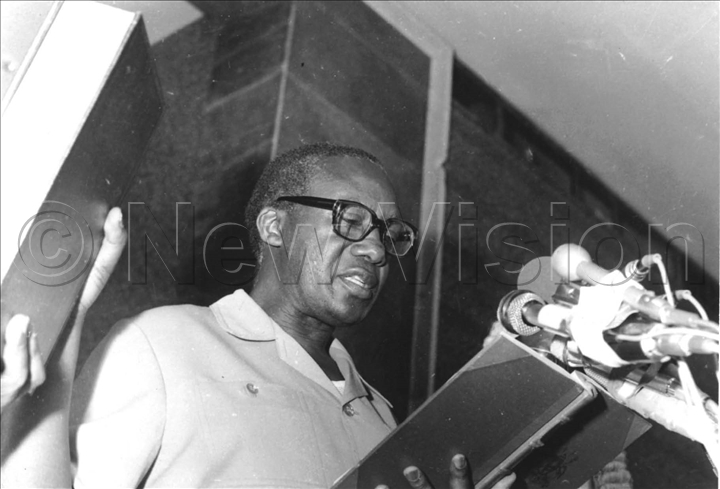 The real power was in the hands of Nyerere, Paulo Muwanga, who was preparing the return of Apollo Milton Obote, and the UNLF cohorts.
So, when he tried to assert his authority as President, he did not know he was committing a grave mistake. His plans to reform recruitment into the armed forces were seen as undermining the army.

They were also viewed as a threat to the dominance of the so-called traditional areas for army recruits such as Acholi and Lango. Lule's proposal to disband UNLA to replace it with a newly-created National Army was viewed as a malicious move to sideline those who formed the bulk of the liberation force.

On June 20, 1979, the NCC staged a coup, removing Lule as president for allegedly making wide-ranging appointments in government without consulting them. Godfrey Lukongwa Binaisa was picked to replace him.

However, Binaisa's election sparked off massive riots in Buganda with chants of 'No Lule, No work'. Mwambutsya, however, says some radical members of the NCC saw Lule as too conservative as a teacher, too autocratic as an administrator, and too willing as a Muganda to listen to advice from people from his ethnic grouping.


He had, during his inaugural speech as President, made a blunder by making off-the-cuff comments in Luganda, a move that did not go down well with the non- Baganda who held real power in the UNLF. "Some people accused Lule of turning the UNLF into a Baganda property.

In Lule, the other Ugandans thought the Baganda saw the return of Kabakaship and were determined to get him out," he explains. Prof. Phares Mutibwa, in his book Uganda Since Independence: A Story of Unfulfilled Hopes, says Lule had no experience in running a country or working with men of very diverse backgrounds, who were custodians of varying and mutually incompatible ideologies and political aspirations.


"Out of office, Lule went into exile in Tanzania, where he was put under house arrest by Nyerere. "He suffered ill health and his doctor pleaded with Nyerere to have him released for treatment," adds Mwambutsya.

He was allowed to travel to the UK for treatment. But when his health improved, he formed the Uganda Freedom Fighters that merged with Museveni's Popular Resistance Army in 1981, to form the NRA (the fighting wing) under Yoweri Museveni with Lule as head of the National Resistance Movement, the political wing.


He was the unlucky man that missed the chance to become president as he died of kidney failure at Hammersmith Hospital in London on January 21, 1985, shortly before the NRA captured power. Early life Lule was born to Abdullah Kironde of Mpigi district in January 1912.
A close friend to Kabaka Daudi Chwa, Kironde sent Lule to a primary school in Mpigi before he joined King's College Budo and later Makerere University College to study education, specialising in Sociology. He graduated top of his class and became a lecturer in the department of education at Makerere College.


He later got scholarships to study at Fort Hare University at Alice, South Africa, and the UK before coming back to Uganda to continue his lecturing career at Makerere, becoming the first black principal in 1964.
In 1970, however, Obote removed him from the helm at Makerere University and replaced him with Prof. Frank Kalimuzo. Lule went back to the civil service and headed several commissions before going into exile in the UK following Amin's coup of 1971.


Prof. Senteza Kajubi said Lule kept a very low profile politically in the 1940s and the 1970s because of his position. "He was a civil servant and the British and later Obote did not allow civil servants in politics.

He was a very principled, but sometimes a rigid man that could stick to his position all times," he said. Former Member of Parliament Wasswa Ziritwawula, describes Lule as a true nationalist. "When he was called on to serve after Amin, he did it as a servant," Ziritwawula said.