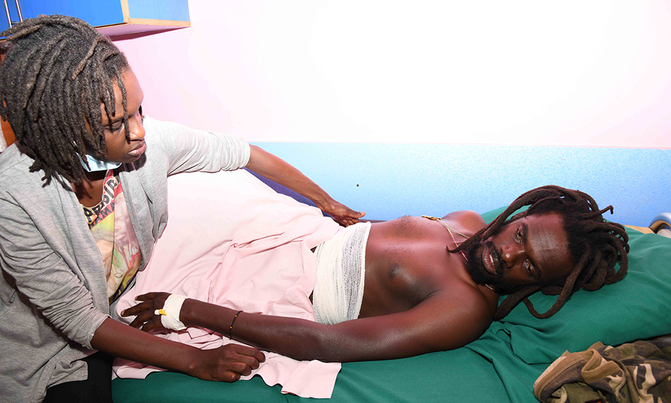 Buchaman was in October 2019 appointed presidential adviser on ghetto affairs.
"Why would they beat me to that extent? What did I do to shame me, an advisor to the President?"

Those were the words of singer Mark Bugembe better known by his stage name, Buchaman, from his hospital bed at Malcolm Medical Centre in Kibuye.

Buchaman who was in October 2019 appointed presidential adviser on ghetto affairs by President Yoweri Museveni, was on Thursday arrested for allegedly disrupting a meeting organised by the National Environment Management Authority (NEMA) in Makindye, a Kampala suburb.

NEMA with the help of the Police was assessing the damage rising Lake Victoria water levels has done in Makindye when a meeting with locals was interrupted by a group led by Buchaman.

He however says that a group of people that was evicted from wetlands, approached him to help fight for them after they got wind of the meeting organised by NEMA. This, he says, prompted him to go to the venue of the meeting to see what was going on.

From his hospital bed, Buchaman accused the Kampala Resident City Commissioner, Faridah Mayanja, of directing security personnel to attack him.
"A group of men who were not attached to us came and caused commotion but the RCC ordered Police to arrest me. The handled me like a phone thief and tore my clothes," Buchaman said.

The singer was taken to Nateete Police Station along with some of the evictees before they were released on Police bond.